Written by: Brach Eichler Injury Lawyers
Last Updated : August 28, 2023
Jersey City Rollover Accident Lawyers
Were you injured in a rollover car crash? Did it occur due to another driver's careless or negligent actions? If so, the Jersey City car accident lawyers of Brach Eichler Injury Lawyers might be able to help you hold them accountable for what they've done. You should recover the maximum available compensation for the medical treatment and other costs you incurred from your injury. Our legal team will be your advocate and protect your rights during this overwhelming period in your life.
A rollover accident results from a sudden shift in momentum, which causes a vehicle to tip onto its roof or side. The impact of multiple cars or one car crashing into a stationary object can be enough to send it rolling out of control across the road. Rollover accidents can lead to debilitating injuries, catastrophic property damage, and even death.
The Jersey City rollover accident lawyers of Brach Eichler Injury Lawyers have years of experience representing people like you. We've been able to secure over $425 million for our New Jersey clients. We let our reputation speak for itself. We're proud of our achievements and the awards and accolades we've received since opening our firm. Results may vary depending on your particular facts and legal circumstances.
Call us for a free consultation at (201) 583-5765 right now and learn more about what we can do for you in your time of need.
Common Causes of Rollover Accidents
Rollover car accidents typically involve SUVs and other vehicles with a high center of gravity. However, they can happen to any type of car. If the circumstances are just right, even a small car could roll over during a collision.
The most common causes of rollover car accidents include:
Sudden changes in the vehicle's direction
Unsafe lane changes
Turning the steering wheel too hard
Taking a turn too quickly
Failing to yield the right of way
Weaving in and out of traffic
Running a red light
Driver error and inattention are the most common reasons car crashes happen. It takes a great deal of focus to operate a motor vehicle. Even a split-second of looking at something other than the road ahead or making the wrong judgment call could lead to a rollover accident.
Brach Eichler Injury Lawyers understands what you're going through and wants to help. It can be frustrating when you're in pain and trying to recover your physical health. If you can't return to your job, you can't earn an income to support yourself or your family. Some people develop physical or mental disabilities after an injury in a car crash, preventing them from performing routine tasks. Our team can help you through this stressful experience. We'll remain by your side until the very end of your case.
Seeking Compensation from an Insurance Claim
New Jersey is a no-fault car insurance state. That means you can't pursue compensation from the at-fault driver until you file a claim with your own car insurance company first. Personal injury protection (PIP) coverage pays for medical treatment, lost wages, property damage, and other expenses resulting from the crash. The minimum required limit by state law is $15,000, but you may have chosen higher limits when you purchased your auto insurance policy.
After exhausting your PIP limit, you could file a claim with the other motorist's liability insurance company. You could seek compensation for your past and future losses, such as:
Property damage
Pain and suffering
Lost wages
You can count on the qualified Jersey City rollover accident lawyers of Brach Eichler Injury Lawyers to pursue the maximum compensation possible. If the insurance company denies your claim, we might be able to file a lawsuit and go to battle for you in court.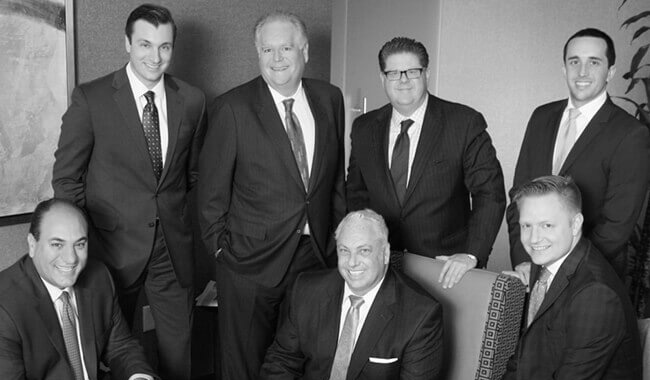 It's All About Results
We are the trial attorneys with the experience and knowledge to get you the results you deserve. At Brach Eichler Injury Lawyers, we take time to get to know you, as well as your case. We are committed to excellence. It is important for our team to understand your fears, concerns and expectations. We are always available to answer any questions, and are willing to come to you if you are unable to come to us.
Contact Our Experienced Law Firm
Filing a Lawsuit for Financial Compensation
Many accident victims think a denied insurance claim is the end of the road for them. That's not necessarily true. Even if the insurance company denies your claim, you could still seek compensation from them by filing a lawsuit in civil court.
It's crucial to review your PIP policy first. In New Jersey, some insurance policies include a "limited right to sue" option that prevents accident victims from filing a lawsuit unless their injury involves:
A displaced fracture
Loss of a fetus
Significant scarring
Loss of a body party
Significant disfigurement
Permanent injury
Death
If you chose the "unlimited right to sue" option, you could initiate a lawsuit regardless of the type of injury you sustained.
The deadline for pursuing this type of case is called a statute of limitations. New Jersey has a two-year statute of limitations. This means you have two years from the date of the crash to file suit, or you could lose your right to hold the other driver accountable for their negligence in court.
You're not limited to monetary losses, such as medical expenses and lost wages. You could also seek punitive damages during a civil lawsuit. An award of punitive damages is intended to punish the at-fault driver for their misconduct instead of compensating the accident victim.
You must provide clear and convincing evidence that the at-fault driver acted with malice or wanton or willful disregard for other people for a jury to issue this financial award.
The jury could also diminish your losses based on your percentage of shared fault. New Jersey uses modified comparative negligence to determine the compensation each party involved in an accident deserves. For example, if you suffered $40,000 in losses, but a jury finds that you were 25% to blame, you could seek no more than $30,000 in compensation. If your percentage of assigned fault is more than 50%, the jury will bar you from recovering any amount of compensation whatsoever.
Contact Brach Eichler Injury Lawyers for a Free Consultation
The Jersey City rollover accident lawyers of Brach Eichler Injury Lawyers have a proven track record. We have successfully represented accident victims throughout the Garden State and helped them reached their desired outcomes. When you hire us, you'll receive the personalized attention and guidance you need to get your life back on track.
Our dedicated team is available 24 hours a day, seven days a week. We're here when you need us most to answer your call and discuss your case. We treat every client as a priority from start to finish of the legal process. You will not have to go through this alone.
Brach Eichler Injury Lawyers takes cases on contingency, so you owe no legal fees unless we win. If we lose your case, you will never have to pay us.
Our compassionate and experienced Jersey City rollover accident lawyers are ready to help you get on the road to recovery. Do not hesitate to call Brach Eichler Injury Lawyers at (201) 583-5765 for a free consultation if you were injured in a rollover car accident.