New Jersey Workplace Accident Attorneys
Written by: Brach Eichler Injury Lawyers
Last Updated : September 6, 2023
New Jersey Workplace Accident Attorneys
If you are being denied benefits after being injured in the workplace, the attorneys at Brach Eichler Injury Lawyers are here to help you fight for the compensation you deserve.
When you are injured at work, you should be covered by workers' compensation, which pays your medical bills and replaces some of your lost wages. Unfortunately, injured workers often get their legitimate claims denied. Frequently, employers charge their workers aren't covered because they are independent contractors or their injury isn't work-related. Without workers' comp benefits, these workers face severe financial hardship. But even if they get their full workers' comp benefits, injured workers are not fully compensated; they haven't gotten full wage replacement, and they've gotten nothing for their pain and suffering. However, there is a way to obtain full compensation under certain circumstances.
At Brach Eichler Injury Lawyers, our attorneys are devoted to winning full compensation for our clients. If you've been denied workers' comp benefits, we'll use all our knowledge and skills to appeal that denial, so you can access the benefits you deserve. But we go even further; we thoroughly investigate the circumstances of our injury to determine whether third-party negligence played a role. This is because the law allows you to pursue a negligence lawsuit to recover full personal injury damages if someone with whom you do not have an employer-employee or co-worker relationship caused an accident that injured you. Fighting for the full range of benefits and your full compensation is something we are passionate about. And our passion produces positive results.
Do I Need A Workplace Accident Lawyer?
While you may be under the impression that legal assistance is unnecessary to pursue a workers' compensation claim, various issues can arise, however, that make obtaining benefits challenging. Noncompliance with certain filing deadlines, incomplete application forms, and medical records are among them.
An experienced workplace accident attorney knows how to validate the initial claim and ensure it is filed on time so you can start receiving benefits as soon as possible. An attorney will vigorously contest the denial of a claim and handle any disputes over a disability rating. Further, a New Jersey workplace accident lawyer is equipped to perform an independent investigation to determine the cause of the accident and identify each liable party.
As alluded to above, New Jersey's workers' compensation laws protect negligent employers and co-workers from lawsuits. It does not protect third parties, however, such as subcontractors, employees of subcontractors, and industrial machinery manufacturers. If any one of those third parties was responsible for the accident that harmed you, the path is clear for you to sue for personal injury damages, and Brach Eichler Injury Lawyers is ready to fight aggressively for you.
A New Jersey workplace accident attorney can negotiate a possible settlement or, when necessary, take your case to trial to seek fair and full compensation.
With that in mind, an insurance company may contact you soon after your accident to offer you a workers' comp stipulation or a similar lump-sum personal injury settlement to resolve your case. This likely amounts to a low-ball offer that minimizes what the insurer should pay for your physical and financial hardships. Let a dedicated workplace accident lawyer negotiate on your behalf to make sure you are fully compensated.
Why Choose Brach Eichler Injury Lawyers To Handle My Workplace Accident Case?
Brach Eichler Injury Lawyers has recovered more than $425 million for our clients. We have decades of experience in personal injury litigation.
Brach Eichler Injury Lawyers has been recognized as the best law firm in New Jersey with a tier-1 ranking for personal injury litigation. Brach Eichler Injury Lawyers combines experience, expertise, and attention to detail to deliver quality results while excelling at client care during an exceptionally trying time in your life.
We also handle workplace accident cases on a contingency fee basis. You pay us nothing until you receive a financial award.
Rate of work injuries in New Jersey and throughout the country
You're not alone if you have been hurt in a workplace accident. According to the U.S. Bureau of Labor Statistics, private industry employers throughout the United States reported about 2.9 million nonfatal workplace injuries and illnesses in 2016, which occurred at a rate of 2.9 cases per 100 full-time equivalent (FTE) workers. This was a significant decrease of about 48,500 workplace injuries from 2015. In New Jersey, the rate of nonfatal workplace injuries for 2016 was 3.0 per 100 FTE, just slightly above the national average. But the Garden State saw 101 fatal work injuries in 2016, the leading causes of which were:
Transportation — 36
Falls — 26
Contact with object or equipment — 21
Violence — 12
Exposure to harmful substances and environments — 6
The rate of workplace injuries should be a cause of concern for New Jersey workers and employers alike.
The most common workplace injuries
Both workers and employers have a responsibility to help reduce workplace injuries. For this to happen, it helps to understand the major causes of workplace injury, which are:
Overexertion — These injuries include muscle strain, lower back strain, and strain on the heart from physical activities at work.
Slipping/tripping – Encountering a slick surface or an impediment on the ground can send an unsuspecting worker crashing painfully to the ground.
Fall from a height — A fall from one level of a structure to another, as often happens at a construction site, can be deadly.
Reaction injury — When you slip/trip but don't fall, you can still injure yourself trying to remain upright.
Falling objects can be an object that falls from a shelf or a tool dropping from a scaffold. The heavier the object and the longer the drop, the more serious the injury.
Walking into objects — When a worker accidentally bumps into a hard object, such as a wall, door, or table, trauma to the head, foot, knee, and neck is common.
Vehicle accidents — Whether you drive for business purposes or are present around moving vehicles, the danger is constant, and the results can be deadly.
Machine entanglement — Getting a body part caught in machinery is painful and can result in crush injuries, limb loss, and shock from blood loss.
Repetitive motion — Repeating the same task repeatedly without rest can cause painful inflammation and joint and tissue damage.
Violence — Assaults in the workplace can cause serious injury and death.
Workplace accidents can cause a wide range of serious injuries and others that could be fatal. Some of the most frequent types of injuries include:
Fractures
Neck injuries
Sprains
Internal organ injuries
Lacerations
Burn injuries
Muscle strains
Traumatic brain injuries (TBIs)
Paralysis
When a worker is tragically killed on the job, that person's family is usually entitled to wrongful death benefits through workers' comp. Again,  a civil lawsuit is also possible when third parties bear responsibility for what happened.
Together, alert workers and employers can greatly reduce the incidence of workplace injury. Where there is a will, there is a way.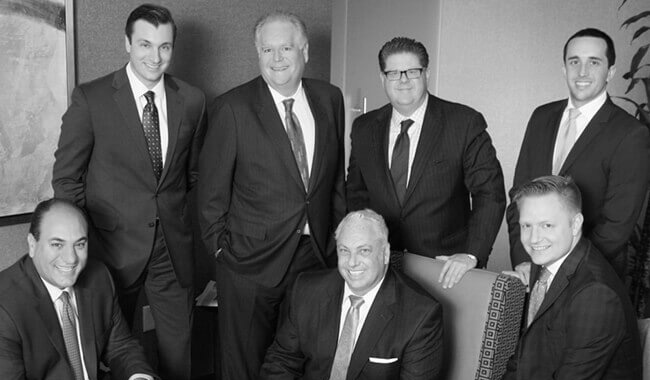 It's All About Results
We are the trial attorneys with the experience and knowledge to get you the results you deserve. At Brach Eichler Injury Lawyers, we take time to get to know you, as well as your case. We are committed to excellence. It is important for our team to understand your fears, concerns and expectations. We are always available to answer any questions, and are willing to come to you if you are unable to come to us.
Contact Our Experienced Law Firm
Is your workplace contributing to employee injuries?
Unfortunately, too many employers do not stress a culture of safety in the workplace. In fact, by cutting corners on safety, they make the workplace much more dangerous than it has to be. This is evident in the number and kind of safety standard violations that are seen in the workplace. In 2014, the Occupational Safety and Health Administration reported that the most frequently violated safety standards were:
Fall protection
Hazard communication standard
Scaffolding, general requirements
Respiratory protection
Powered industrial trucks
Ladders
Electrical, wiring methods, components, and equipment
Machinery and machine guarding
Electrical systems design, general requirements
A quick comparison between this list of violations and the most common types of injuries reveals a close correlation, if not direct cause and effect. Unfortunately, an injured New Jersey worker cannot automatically sue an employer for a safety violation, even when that violation produces an injury. The worker can sue, however, if a third party violates the safety standard.
How third-party negligence lawsuits work
As mentioned above, a worker who gets full workers' comp benefits still suffers an economic loss and recovers nothing for the pain and suffering the injury causes. Those damages are only available through a negligence lawsuit. New Jersey's workers' compensation statute protects negligent employers and coworkers from lawsuits but does not protect third parties, such as subcontractors, employees of subcontractors, and manufacturers of industrial machinery. So, if one of those third parties was responsible for the accident that harmed you, the path is clear for you to sue for personal injury damages, and Brach Eichler Injury Lawyers is ready to fight aggressively for you.
Frequently Asked Questions (FAQs) About Workplace Accidents
An accident on the job site can instantly turn a worker's life upside down. Here are some clients who often ask questions when they meet with us for a free case evaluation. To discuss the details of your New Jersey workplace accident claim, call us today at (973) 364-8300 or contact us online. You also might find a review of some of our client testimonials informative.
What should I do if I was involved in a workplace accident in New Jersey?
Whenever you are involved in an accident on the job, immediately seek medical attention. Remember that many injuries have delayed symptoms. You must report this accident to your employer within 14 days; put your report in writing and keep a copy for your records.
The state Division of Risk Management (DRM) should also be notified after any accident involving serious bodily injury within 24 hours of the employer's knowledge of the event. There is a two-year statute of limitations on claims filed with the Division of Workers' Compensation, but you should strongly consider retaining an attorney as soon as possible.
It can also be beneficial for you to take as many pictures or videos as possible of your accident scene after the accident and also collect the names and phone numbers of any eyewitnesses. 
What happens if my employer does not have workers' compensation insurance?
An employer that does not have workers' compensation coverage in New Jersey is required to be self-insured. This means that the employer is administering workers' compensation claims in house or has contracted with third-partyty administrator to provide these services. You can check with the state or a workplace accident lawyer for verification if an employer claims to be a self-insured entity. Certain employers may so indicate to discourage injured workers from filing claims. The state can levy fines on employers who fail to comply with state workers' compensation laws as well as bringing possible criminal charges against them.
What is "maximum medical improvement"?
Maximum medical improvement (MMI) describes the point in a person's recovery at which their condition cannot be further improved. In other words, a worker has exhausted all of their available treatment options. Temporary total workers' comp benefits are paid until the worker has reached MMI (or has returned to work or reached the 400-week maximum). Employers may often be in a rush to declare that a worker has achieved MMI and often send an employee to doctor who is more likely to reach that same conclusion, which will result in a benefits termination. An experienced workplace accident lawyer can arrange for an independent medical exam to bolster your case.
New Jersey Workplace Accident Statistics
The New Jersey Department of Health reported that there were 71,700 non-fatal work-related injuries and illnesses in 2017, the lowest number of any year since 2000. This translated to a rate of 2,600 non-fatal work-related injuries and illnesses per 100,000 full-time employees.
According to the New Jersey Department of Health, there were 28,200 cases involving days away from work in 2017, which was an increase from the 27,400 in 2016 and 27,700 in 2015. This translated to a rate of 1,000 cases involving days away from work per 100,000 full-time employees.
The New Jersey Department of Health reported that the 28,230 total non-fatal work-related injuries involving days away from work in 2017 included 18,120 men and 9,830 women. Of these injuries, 23,600 were classified as service-providing industries.
Contact our determined injury lawyers for your workplace accident case
Brach Eichler Injury Lawyers assists injured workers with workers' compensation disputes and third-party lawsuits related to workplace injuries. If you've been hurt on the job and you want to know your right to benefits and damages, schedule a free consultation with a knowledgeable and concerned injury attorney at our firm. Call us today at (973) 364-8300 or contact us online.