New Jersey Dog Bite Attorneys
Written by: Brach Eichler Injury Lawyers
Last Updated : August 30, 2023
New Jersey Dog Bite Injury Attorneys
If you are pursuing full compensation for physical and emotional harm from a dog attack, contact the personal injury attorneys of Brach Eichler Injury Lawyers to discuss your case.
Even the most loyal dogs can bite someone who comes to their home or when they get loose. More than 4.5 million dog bites occur annually around the USA, and the owners need to be held accountable for what has occurred. A dog bite can result in pain, scars, and even fear due to what took place. Owners are responsible for controlling their dogs at all times and preventing such problems from occurring.
Should you or someone you care about be the victim of a dog bite, seeking medical treatment as soon as possible is essential. You should also make a police report so there is documentation of the incident. The next step should be to find an excellent lawyer to represent you in the case. You can be entitled to compensation for your pain, suffering, injuries, and medical care. If there is long-term nerve damage, that should also be compensated.
The personal injury attorneys at Brach Eichler Injury Lawyers can help you understand your legal rights if a dog has attacked you. We will review your case, address your concerns, and help you through the claims process.
Why Choose Brach Eichler Injury Lawyers To Handle My Dog Bite Injury Case?
Having recovered over $425 million for injured clients, Brach Eichler Injury Lawyers is New Jersey's premier personal injury law firm. The personal injury trial attorneys at Brach Eichler Injury Lawyers have consistently been named a Best Law Firm in New Jersey in the Tier 1 Category for Personal Injury.
Edward Cappozzi, Esq, chairs Brach Eichler Injury Lawyers's Personal Injury Department. Edward has been certified as a civil trial attorney by the Supreme Court of New Jersey, a certification only given to attorneys who have proven their superior knowledge, skills, and abilities in a courtroom. Only 2% of New Jersey's personal injury attorneys are certified civil trial attorneys.
Mr. Capozzi has secured at least one – and sometimes as many as three – of the state's top 20 verdicts or settlements yearly from 2012 until 2018. He received the President's Award from the New Jersey Association for Justice in 2015 and the Personal Injury Hall of Fame Award from the New Jersey Law Journal in 2014.
Alex Cappozzi, Esq., is also a part of our Personal Injury Department. Alex has been recognized as an up-and-coming star. He is one of the youngest attorneys in New Jersey to achieve a multimillion-dollar verdict at trial for an injured client. His accomplishments have been featured in the New Jersey Law Journal and the Top 50 Verdicts in New Jersey. In 2018, Super Lawyers named him a "Rising Star."
Do I Need a New Jersey Dog Bite Attorney?
You probably have many questions if you've suffered a brutal dog attack. Who will pay for the enormous medical debt you have acquired because of the attack? You may also wonder if you need a lawyer to pursue a claim against the dog owner. Maybe you are unsure as to the type of damages you can claim.
Determining what is owed to you can be a complicated process. Also, dealing with insurance companies can be frustrating and overwhelming. Remember, they do not operate with your best interest in mind.
An experienced dog bite attorney will prepare and file all of your paperwork. They will also make sure that all your medical bills are paid. They will make you a priority and always keep your best interest in mind, negotiating a fair and just settlement on your behalf.
New Jersey is a dangerous state for dog attacks
According to the Insurance Information Institute, more than 90 million dogs are held as pets in the United States, and those dogs bite about 4.5 million people a year. Although most dog bites require no medical intervention, more than 18,000 dog attacks result in yearly insurance claims. In 2017, insurers settled dog bite injury claims for $686 million. In New Jersey, dog attacks are a significant problem; New Jersey ranked 9th in the United States that year in the number of dog bite claims and 5th in the dollar amount of insurance settlements, $29.9 million.
Serious injuries and wrongful death from dog attacks
Young children and older adults are most likely to die from a dog attack. In 2017, there were 39 dog-bite fatalities nationwide, of which 15 were eight or younger and 18 were age 50 and older. Among young children, victims are predominately boys (73 percent), while the victims among older adults are predominantly women (75 percent).
When dog attacks are not fatal, victims can suffer debilitating injuries that include:
Blood loss
Broken and crushed bones
Lacerations and punctures
Nerve damage
Scarring and disfigurement
Shock
Torn muscles, tendons, and ligaments
Psychological trauma
Large dogs can injure even when they don't bite. Large breed dogs that jump up on people, knocking them to the ground, can also cause serious injuries, for which the victim should be compensated.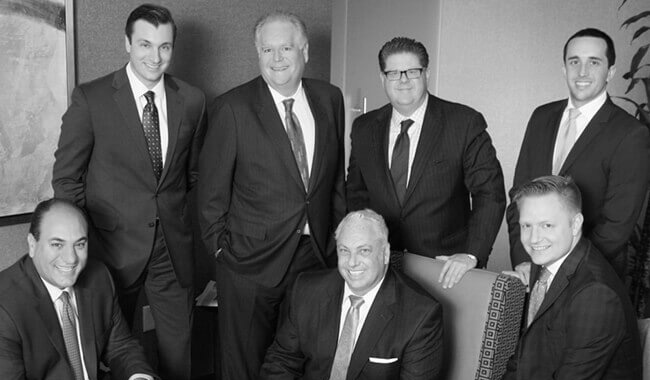 It's All About Results
We are the trial attorneys with the experience and knowledge to get you the results you deserve. At Brach Eichler Injury Lawyers, we take time to get to know you, as well as your case. We are committed to excellence. It is important for our team to understand your fears, concerns and expectations. We are always available to answer any questions, and are willing to come to you if you are unable to come to us.
Contact Our Experienced Law Firm
What to do after a dog attack in New Jersey
A dog attack can be a harrowing experience, so it's easy to get flustered or suffer a kind of mental paralysis. What you can do now depends on how badly hurt you are, but you must remember that adrenaline often masks pain, so it might be hours before you realize how badly injured you are. It's vitally important to get immediate medical care, which can include antibiotics and possibly a tetanus booster for even a minor bite.
Other important considerations include:
Identifying the dog — Cellphone pictures of the animal can be helpful
Identifying the owner — This may not be easy if the dog is roaming free. If a dog leaps a fence to attack you, note the address. If the owner is present at the attack, get identifying information.
Get contact information from witnesses — If anyone sees the attack and stops to assist, get contact information from them to strengthen your legal case later.
Document your injury — In addition to creating a medical record by getting emergency care, you should take pictures of your injuries.
Most people will not have the presence of mind to preserve evidence for a potential lawsuit while reeling from a vicious attack. That's why contacting an experienced dog bite attorney is important as soon as possible, so your rights can be protected.
Always take a dog bite seriously
Don't blow off a dog bite; it can be very serious. The injuries can be far more intense than you originally thought. There is the risk of infection, it can take time to heal, and the emotional trauma can linger. In some instances, dog bites can result in death or severe disfiguration. Contact us about the possibility of a case as soon as you can. The owner of the dog is responsible for their behavior. You aren't considered at fault as long as you didn't provoke the dog.
Contacting us right away can help to get your case moving forward. The full extent of the injuries may not be known immediately. With our help, you can get the medical care and the compensation you deserve. You may be unable to work or return to other activities for some time due to the dog attack.
Parents must inform children of the danger
As a parent, you must always be aware of what is happening around you. Talk to your children about the risk of dog bites. While you don't want to scare them, you need them to be well aware of the risks. They need to know not to approach any dog they don't know. Instead, they should wait for it to come up to them. They shouldn't make noise or run, which can make the dog nervous.
An adult should be notified immediately if a stray dog is around the yard or if a dog is acting strangely. Children need to avoid taking toys or food from dogs or bothering them while they are sleeping. Females can protect their puppies, so children should always keep their distance.
Concerned about your dog? Reduce the risk of your dog biting
You can take steps to reduce the risk of your dog biting anyone. Learn about the temperament of various breeds. Don't own any breed that is known for being aggressive. Keep your dog on a leash when you are walking them. If you let your dog out in the yard, ensure they can't get out. Pay attention to how your dog is acting around others. If their behavior is unusual, take proactive steps to ensure nothing happens.
Settling an insurance claim for a dog attack
Very often, liability for a dog bite is covered by homeowner's or renter's insurance. An insurance company may contact you offering to work out a settlement. Initially, they may seem reasonable and conscientious, but you'll soon find they only want to reduce the amount they have to pay. To get the full value for your claim, you need professional representation from a dedicated attorney who has your best interests at heart. Brach Eichler Injury Lawyers puts clients first. We've built our reputation on staunch advocacy in various injury cases where we've maximized the recovery for our clients.
Contact our determined NJ attorneys for your dog bite injury claim
Brach Eichler Injury Lawyers provides aggressive representation for victims of dog attacks throughout New Jersey. Let us help you obtain the full personal injury compensation you deserve. We're dedicated to fighting for you, and we work on a contingency fee basis, so we don't get paid unless you do. Call us today at (973) 364-8300 or contact us online to schedule a free consultation.