Written by: Brach Eichler Injury Lawyers
Last Updated : August 28, 2023
Jersey City Rear-End Collision Lawyers
Did you get hurt in a car accident? Was it due to another driver crashing into the rear of your vehicle? If so, contact the Jersey City car accident lawyers of Brach Eichler Injury Lawyers to determine your legal options. You might be entitled to compensation, and we could help you hold the other motorist liable for the harm they caused. You shouldn't be forced to pay for your medical treatment when another person was at fault for your injuries.
Rear-end accidents are typically the result of tailgating. When someone follows a car too closely, there isn't enough distance for them to come to a complete stop quickly if necessary. Although tailgating is a common cause of rear-end crashes, they can also result from driver distractions, unsafe lane changes, and even driving under the influence of alcohol.
At Brach Eichler Injury Lawyers, our team of Jersey City rear-end collision lawyers will be your advocate during this devastating experience. We'll protect your rights and fight for the justice you rightfully deserve. Call us for a free consultation at (201) 583-5765.
Why Choose Brach Eichler Injury Lawyers?
Some people make the mistake of choosing not to hire a lawyer after their car accident. Many don't want to seek legal representation because they're afraid they can't afford it. Others think handling a case alone is pretty straightforward.
Unfortunately, without an experienced Jersey City rear-end collision lawyer in your corner, you're more likely to receive less compensation than you need. That's because you could miss a strict filing deadline, submit an incorrect or incomplete legal document, or encounter an obstacle you don't know how to overcome.
Brach Eichler Injury Lawyers only takes on personal injury cases, so we have the experience, skills, and knowledge to recover compensation for our clients. When you hire us, we can complete a series of steps for you, so you can focus on healing your injuries.
Car insurance policies – The language used in insurance policies can be confusing. We can request all available copies and determine the available coverage amounts. It's critical that there's enough money to fully compensate for your medical bills, vehicle repair costs, and other losses.
Investigate – We'll open an investigation into the crash and determine who was at fault. We can also collect evidence to prove what happened and show you suffered injuries. Some of this evidence might include:
Pictures from the accident scene
Traffic cam footage
Police reports
Copies of your medical records
Statements from eyewitnesses
File the claim – We can file the insurance claim and negotiate for a settlement we believe is fair based on the losses you suffered.
File a lawsuit – If the insurance company refuses to settle for the number we demand, we can file a lawsuit.
Compensation You Might Be Entitled To Following a Rear-End Car Accident
You could pursue compensation for your total losses by filing an insurance claim. New Jersey has a no-fault system, which means you have to file a claim with your own car insurance company before filing with the at-fault driver's insurance.
All drivers must buy and maintain Personal injury protection (PIP) coverage with a minimum limit of $15,000. When you file a claim, your medical providers will submit your bills to the insurance company for payment. PIP can also cover lost income, car repair expenses, out-of-pocket costs, and other monetary losses. Once you use up your coverage limits, you must find another source of compensation.
If the at-fault driver has liability coverage, you could file a claim with their car insurance company. The losses you can seek in a liability claim are:
Pain and suffering
Lost wages
Emotional distress
Car repair or replacement costs
The settlement amount you receive will depend on various factors. Typically, the more severe the injury, the higher the compensation. If you suffered minimal physical harm and didn't require a doctor visit, you might not be entitled to an insurance settlement. Brach Eichler Injury Lawyers can review the details of your case to determine its monetary value.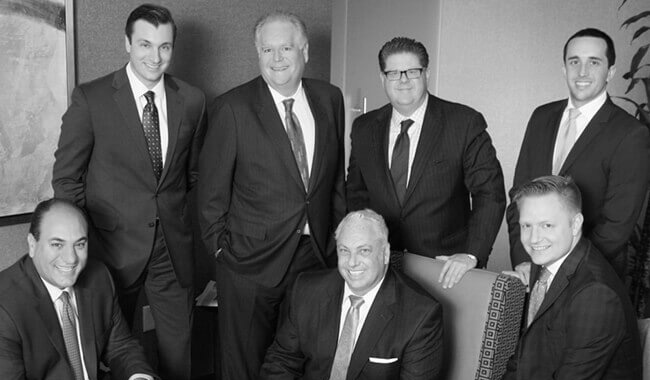 It's All About Results
We are the trial attorneys with the experience and knowledge to get you the results you deserve. At Brach Eichler Injury Lawyers, we take time to get to know you, as well as your case. We are committed to excellence. It is important for our team to understand your fears, concerns and expectations. We are always available to answer any questions, and are willing to come to you if you are unable to come to us.
Contact Our Experienced Law Firm
Wrongful Death Laws in Jersey City
New Jersey defines wrongful death as one that results from the neglect, default, or wrongful act of another person. If you want to pursue a lawsuit against the driver responsible for your loved one's death, you must abide by New Jersey's two-year statute of limitations. That means you'll need to initiate your lawsuit within two years of the date your relative died from the rear-end collision.
Only the personal representative or executor of your loved one's estate can pursue this case. However, they must do so on behalf of any surviving family members, including:
Spouse and children or grandchildren
Parents
Siblings, nephews, or nieces
Dependents
A wrongful death lawsuit must be intended to compensate the deceased's estate and the surviving relatives for losses they endured due to the victim's death. The losses you could pursue are:
Loss of comfort, companionship, guidance, and comfort
Funeral and burial costs
Medical expenses associated with the fatal injury
Loss of household services, such as chores, cleaning, and childcare
Lost financial support based on how much the deceased would have earned if they lived an average life expectancy
Suffering the loss of someone you love can be excruciating. It's difficult enough to grieve without simultaneously taking on the responsibility of a legal case. You can depend on Brach Eichler Injury Lawyers to take over filing and managing the lawsuit so you can focus on yourself and your family.
Contact Brach Eichler Injury Lawyers Today
Our Jersey City rear-end collision lawyers take cases on contingency. That means we don't charge upfront for our legal services. If we recover compensation for you, we'll collect our legal fees and costs. If we lose, you won't owe us anything.
You can discuss the accident you were involved in during a free initial consultation with a lawyer from Brach Eichler Injury Lawyers. We know you might already suffer the financial setbacks of an injury. Medical bills can be expensive, and we want to ensure we don't add to the burden you're facing. We're happy to review the details of your case and provide the guidance you need to make an informed decision moving forward.
If a rear-end car accident caused your injuries and you want to hold the at-fault driver liable for their actions, call Brach Eichler Injury Lawyers at (201) 583-5765 today. Our Jersey City rear-end collision lawyers are available 24/7, so you can reach us when you need us most.