Written by: Brach Eichler Injury Lawyers
Last Updated : November 30, 2023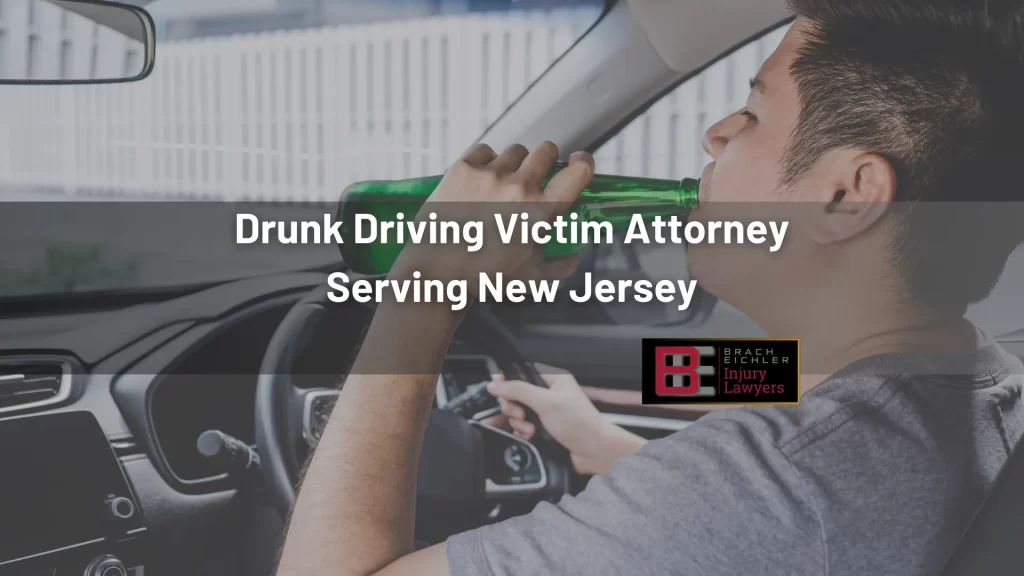 Being involved in a car accident due to the negligence of another driver can be a terrifying experience. Drunk drivers drive recklessly, with no regard for the people around them, and cause catastrophic accidents. Contact Brach Eichler Injury Lawyers if a drunk driver injured you or someone you love. We fight to protect individuals and families whose lives have been impacted by drunk driving. If you were hurt, or if you lost a loved one in a drunk driving crash, let us stand up for you and demand the compensation you deserve.
Despite an intensive, 40-year campaign by numerous civic organizations, drunk driving remains a problem throughout the United States. And, even though New Jersey has some of the strictest DUI laws in the country, as well as rigorous enforcement, this problem continues to plague the Garden State. If you or a loved one has been injured by a drunk driver, our injury attorneys at Brach Eichler Injury Lawyers can help.
Prosecution of a drunk driving accident serves a dual purpose: first, we fight for our clients who have a right to recover full compensation for their injuries, but we also hope that our client's case will serve as a warning to anyone who might think about getting behind the wheel after consuming alcohol or an illicit drug. We are passionate about pursuing justice in these types of cases, so you can be assured of our relentless advocacy on your behalf.
Do I Need a Lawyer?
The aftermath of any car accident is overwhelming and scary, but you don't have to go through it alone. An experienced drunk driving accident lawyer can help you every step of the way. At Brach Eichler Injury Lawyers, we'll use our vast network of legal resources to collect evidence in your favor, investigate the scene of the accident, and build you a strong case.
You should know that after an accident, you will very likely be approached by an insurance company representative that will attempt to pressure you into taking a small, lump-sum fee. They want you to accept their first offer so that they can avoid a trial and avoid paying the actual amount that they owe. You should refuse to speak to the representative and call us instead. We'll negotiate on your behalf to ensure that you get compensation from every possible avenue.
After a car accident, you're facing a lot of additional stress in the form of medical bills. We can help you take care of that. You're most likely eligible to receive compensation to cover current and future medical bills, lost wages, emotional damage, damage to your vehicle, physical therapy, and more. Don't let a valuable settlement slip through your fingers by trying to file a claim alone.
You should know that those that attempt a lawsuit without the help of an experienced attorney get three times less in settlements than those that retain a lawyer. At Brach Eichler Injury Lawyers, we know the legal system backward and forwards. We understand the steps you must take, the documents that must be collected, and the deadlines for filing. We'll ensure that you get the compensation you need so that you can get back to living your life.
Why choose Brach Eichler Injury Lawyers?
There many law firms in New Jersey, and choosing the best lawyer for your case can be overwhelming. At Brach Eichler Injury Lawyers, we let our results speak for themselves. We have a documented history of winning cases, with a high success rate in receiving settlements for our clients. In fact, our top-rated lawyers have won over $425 million in compensation. Results may vary depending on your particular facts and legal circumstances.
We're committed to being more than just your attorney. Let us be an integral part of your support system in this trying time. Our attorneys take every legal step with compassion and dedication. We want to see you recover significant damages and not allow a negligent drunk driver to take any more joy from your life.
Brach Eichler Injury Lawyers also has a massive network that we work with to ensure a successful outcome. Not only do we have award-winning lawyers, but we also work with legal aids, accident recreation experts, medical professionals, investigators, and more to create a rock-solid case for our clients.
We know that you have a lot of choices for legal help, but we hope that our highly successful and compassionate attorneys will be the best choice for you. Call us today at (973) 364-8300 to schedule a completely free initial evaluation.
Common drunk driving accident injuries
If you have been involved in an accident caused by a drunk driver, you're likely facing some uncomfortable, or even life-threatening, injuries. Drunk drivers have no regard for their speed or accuracy when driving and regularly cause accidents resulting in life-threatening injuries or even deaths.
Some of the most common drunk driving accident injuries include, but are not limited to, the following:
Scrapes and cuts: Getting injured due to a deep scrape or cut is common due to the sheer amount of objects in the car that can harm you. Any loose object can become dangerous amid an accident, as can the more apparent offenders such as broken glass and debris.
Soft tissue injuries: The connective tissue to your muscles, or soft tissue, can easily be hurt in a car accident. Serious damage to your muscles, ligaments, and tendons occur during sudden movements in an accident. One of the most common types of these injuries is whiplash. Whiplash is neck injury that occurs as a result of a sudden, forceful back-and-forth movement.
Head injuries: Head injuries have a broad range in terms of physical impact and damage. In many accidents, impact to the side window or steering wheel can cause bruises to the head or even deep lacerations. This impact can also lead to minor or major concussions. More severe trauma to the head can result in a traumatic brain injury or a TBI. A TBI can be completely life-changing and necessitate invasive surgery, an inability to work, and completely alter the way you go through life.
Chest Injuries: Chest injuries can often include smaller wounds such as bruises or damage from the seatbelt or airbags. However, these injuries can be more severe and involve broken ribs or injury to your internal organs. Severe chest injuries such as these will require expensive surgery and months of healing before you can move comfortably again.
Leg and Arm injuries: The impact of an accident can cause unnatural changes in the movement for your body parts, causing painful injuries. Often in car accidents, drivers and passengers hit their knees on the dashboard and cause bruises or cuts. Damage to the arms is typical since most car accident victims will instinctively cover their face and head with their arms.
No matter what injuries you're facing after your car accident, Brach Eichler Injury Lawyers will help you recover financially by receiving a full and fair settlement.
New Jersey drunk driving accident statistics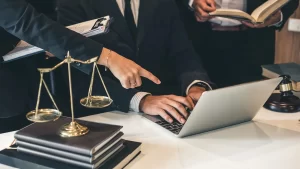 According to statistics from the National Highway Transportation Safety Administration, 137 people died in alcohol-impaired crashes in New Jersey in 2016, a 27 percent increase over 108 fatalities reported in 2015. Only Alaska and Vermont experienced a greater increase. Even when we adjust for the fact that New Jersey experienced a seven percent increase in overall traffic fatalities, the spike in drunk driving deaths is outsized. Clearly, drivers in the Garden State have not gotten the message that alcohol and driving do not mix.
What to do if you're hit by a drunk driver
When you are in a car crash, there are certain protocols you must observe. You must exchange identifying information with the other driver(s), and you must render reasonable first aid to injured occupants of the other car. However, the game plan changes when it becomes clear the other driver is intoxicated. In this case, you should anticipate irrational behavior, and, as such, you must think first of your own safety. New rules now apply:
Never engage with a drunken driver — When you discern that a driver is intoxicated, retreat to your vehicle and remain there with the window up and the doors locked until the police arrive. This rule is especially important to remember if you are apparently unharmed. Your justifiable anger together with your adrenaline may prompt you to lose control. You may want to exact justice on the spot. However, it's better that you exercise discipline in the moment knowing you will have your day in court.
Contact the police immediately — You want to do this anyway, especially if anyone in your party is injured. However, contacting the police becomes more urgent in this scenario, when you want to express your concerns to them and prompt them to investigate and eventually make a DUI arrest.
Collect identifying information — There's always a chance that a DUI driver will panic and flee the scene. Your cell phone camera is essential for collecting images of the driver's car, including the license plate, and video of his/her conduct to confirm your suspicions.
Get emergency medical attention — Even if you don't think you're hurt, you must remember that adrenaline can mask injuries. One or two days later, you may be suffering intensely. But in the meantime, you've lost the opportunity to document a direct cause and effect between the accident and your pain.
Helping yourself at the scene, by behaving rationally and avoiding conflict, will strengthen your civil case for damages.
Finally, you should contact our law firm immediately. We can often give you advice on the spot and take immediate, decisive steps to preserve evidence that will help your case at trial.
Holding drunk drivers accountable is a moral imperative that goes beyond your single case. Yes, we will fight relentlessly to recover the compensation you deserve, but we also fight for the uninjured, for all those motorists and passengers that will suffer harm if future drunk drivers are not deterred.
Contact our experienced NJ lawyers if you've been injured by a drunk driver
If you or someone you love has been injured due to the negligence of a drunk driver, you deserve compensation to cover your damages. Let Brach Eichler Injury Lawyers work alongside you to ensure that the driver responsible pays for the pain they have caused by their poor decision to drive under the influence.
Brach Eichler Injury Lawyers provides capable and aggressive representation for victims of drunk driving accidents throughout New Jersey. Let us help you obtain the full personal injury compensation you deserve. Call us today at (973) 364-8300 or contact us online to schedule a free consultation.
FREE CONSULTATION
Speak With a Skilled Auto Accident Attorney
If you have been involved in a motor vehicle accident, call us. We are here for you. The consultation is Free. You will not pay any fees unless we win your case, because here at Brach Eichler Injury Lawyers, it's all about getting results for you.
Our Verdicts & Settlements
---
$5.8 Million Settlement Brach Eichler Injury Lawyers Obtained a $5.8 Million Settlement on Behalf of Injured Client
$5.35 Million Settlement Brach Eichler Injury Lawyers Obtained a $5.35 Million Settlement at Trial on Behalf of a Pedestrian Struck by a Tractor Trailer
$4.8 Million Settlement Brach Eichler Injury Lawyers Obtained a $4.8 Million Settlement on Behalf of a Woman Injured in a Trucking Accident
$2.25 Million Settlement Brach Eichler Injury Lawyers Obtained a $2.25 Million Settlement for an Auto Accident Victim in Bergen County
* Results may vary depending on your particular facts and legal circumstances.
View All Results
Meet Our Trial Attorneys
---
The trial attorneys at Brach Eichler Injury Lawyers have decades of experience with personal injury litigation. We understand the difficulties accident victims experience. Our staff is especially skilled at dealing with medical providers and insurance companies to navigate these claims and allow you to focus on what is truly important - getting back to health.
What Our Clients Are Saying About Us
---
"My case was not a simple case, but Ed Capozzi and his team took it head on. It was a pleasure to deal with Ed Capozzi and Corey Dietz. All their knowledge and fast response to any questions I had throughout the case made it easier on me. I can't forget about Mr. Capozzi's wonderful paralegal. Everybody was kind and thoughtful. This team of attorneys never made me feel like I was just another case. They make you feel like friends. If you need an personal injury lawyer, give Ed Capozzi and Corey Dietz a call! They won't let you down! Thanks to everyone at Brach Eichler Injury Lawyers! You guys rock!"

"I would never choose another law firm!! Mr. Edward Capozzi and Valentina treated me like family. I was scared to go to court but when I did, he was very aggressive and fought for me. I got so much money for my case!! I can't say it enough, THANK YOU!! THANK YOU!!"

" Brach Eichler Injury Lawyers is a top notch law firm. I worked specifically with Mr. Capozzi, and was very impressed with his knowledge of personal injury law, and his commitment to ensuring I got the result I deserved."
* Results may vary depending on your particular facts and legal circumstances.
Speak to an attorney today!
---
If you have been injured in an accident, call us! We are here for you 24 hours a day. The consultation is free. You will not pay any fees unless we win your case, because here at Brach Eichler Injury Lawyers, it is all about getting results for you.