New Jersey Uber/Lyft Accident Lawyers
Written by: Brach Eichler Injury Lawyers
Last Updated : September 6, 2023
New Jersey Uber/Lyft Accident Lawyers
We provide skilled personal injury representation for victims of rideshare negligence. Contact Brach Eichler Injury Lawyers today to learn more about your rights as a rider in an Uber/Lyft accident.
Rideshare services, such as Uber and Lyft, have added convenience and reduced the costs of hailing a vehicle from point A to point B. Today, rideshare passengers can get to and from Newark Airport for less than half the cost of a traditional taxi, often with much less wait time. But along with the benefits of ride-hailing apps have come serious safety concerns and liability issues.
Your case may seem clear if you are injured in an accident involving a rideshare vehicle. Still, you can draw stiff opposition from a multi-billion-dollar tech giant determined not to accept responsibility for your injuries. Faced with that reality, you need proven legal representation from Brach Eichler Injury Lawyers. Our team of compassionate professionals manages your case with care and aggressively pursues the maximum compensation possible under the facts of your accident. Don't be deterred by the strength of the defendant. Rather, choose a law firm with the determination and resources to take on these Goliaths and win one for David.
Do I Need a Rideshare Accident Lawyer?
 If you or a loved one has been injured in a rideshare accident in New Jersey, an attorney can help you and your family recover. Accidents involving rideshare drivers and rideshare companies can be very difficult to resolve. Due to the complicated insurance policies of companies like Uber and Lyft, a rideshare accident victim may find the complex paperwork overwhelming. They may also face lowball settlement offers that don't come close to covering all of their medical expenses, lost wages, and other damages.
Rideshare accidents typically involve at least three insurance agencies: the ridesharing company's insurance, the rideshare driver's insurance, and the insurers of any other drivers involved. These insurance companies may try to downplay the extent of your injuries or claim that no one was liable.
Because of the insurance and liability issues with rideshare accidents, it can be difficult to recover the compensation you need unless you have the help of a skilled attorney. At Brach Eichler Injury Lawyers, our experienced team of New Jersey rideshare accident lawyers will stand up to these powerful rideshare corporations and ensure your side of the story is heard. 
Why Choose Brach Eichler Injury Lawyers to Handle My Case?
Brach Eichler Injury Lawyers is a multidisciplinary law firm founded to serve clients' needs in New Jersey. We take great pride in the quality legal representation we provide for clients injured in personal injury cases, including rideshare accidents. We are led by nationally recognized trial lawyer Edward Capozzi and a team of highly skilled personal injury attorneys. Our firm is large enough to have the resources and depth of experience to serve anyone, yet small enough to get to know our clients and build personal relationships.
Brach Eichler Injury Lawyers was built on professional relationships that began over four decades ago. Today, our talented team of lawyers effectively combines their knowledge, skills, and experience to respond to our clients' challenges. With each rideshare accident case we take on, we bring knowledge, focus, flexibility, and enthusiasm as we pursue the maximum compensation available to our clients. Our experienced attorneys are compassionate counselors and aggressive litigators who will advocate passionately for your best interests.
If you have suffered injuries in an accident involving an Uber or Lyft driver, contact Brach Eichler Injury Lawyers to schedule a free, no-obligation consultation today. We will fight to protect your rights and ensure you are fully compensated for all your expenses – past, present, and future.
Types of Rideshare Accident Cases We Handle
More often than not, rideshare accidents are the fault of a negligent or reckless driver. At Brach Eichler Injury Lawyers, we handle many different rideshare accident cases that are caused by a variety of factors, including but not limited to:
Failing to yield the right of way
Failing to obey traffic signs
Unqualified or inexperienced drivers
Road rage
Suppose you have been injured in a rideshare accident caused by one of these factors or another form of driver negligence. In that case, our experienced lawyers can help you identify the at-fault parties and hold them accountable.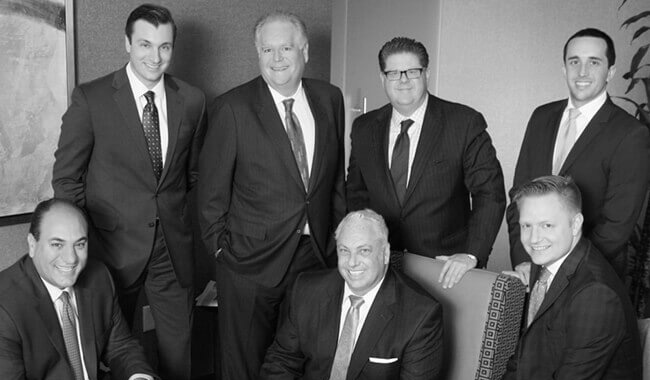 It's All About Results
We are the trial attorneys with the experience and knowledge to get you the results you deserve. At Brach Eichler Injury Lawyers, we take time to get to know you, as well as your case. We are committed to excellence. It is important for our team to understand your fears, concerns and expectations. We are always available to answer any questions, and are willing to come to you if you are unable to come to us.
Contact Our Experienced Law Firm
The insurance shuffle: When is the $1 million policy in effect?
Uber made news a few years back in the wake of a horrific accident in San Francisco that killed a six-year-old girl. Uber initially denied liability for the crash because even though the driver had been logged into the Uber app, he was not carrying a passenger. Uber does not consider its drivers employees, so it doesn't accept responsibility for their negligence under the established legal principle of respondeat superior, which requires employers to make good after negligent acts by their workers during their employment.
Uber claimed the driver's insurance would have to cover the claim for the girl's death, even though the coverage limit was too low to provide anything approaching just compensation. Eventually, Uber rethought this strategy and decided to insure its drivers for up to 1 million dollars per incident if they were in the course of service. So, today, here's how the insurance coverage shuffle works for rideshare-involved accidents:
Driver unavailable for rideshare requests — When a driver uses the vehicle for personal business and cannot accept ride requests, the Uber insurance policy does not apply. The driver's policy covers the incident, and that coverage limit is applicable.
Driver is available but not carrying a passenger. If the driver is logged into the app and can accept ride requests but does not yet have a passenger, the driver's insurance is the primary policy. Still, Uber provides additional coverage up to $50,000 per injury, with a maximum of $100,000 per incident and a maximum of $25,000 in property damage.
The driver is available and carrying a passenger — In this situation, the $1 million Uber policy covers the driver, the passenger, and an injured third party, such as the driver of another vehicle, a pedestrian, or a cyclist. However, there are circumstances under which Uber might deny coverage. If that happens, the rideshare driver's insurance company might also deny coverage because the driver was driving for pay at the time of the accident.
Uninsured/underinsured motorist coverage — Uber provides $1 million worth of uninsured/underinsured motorist coverage for accidents caused by uninsured drivers.
Lyft has a similar insurance plan. But, of course, the mere fact that insurance coverage exists doesn't mean rideshare companies will be reasonable in settling claims. Every settlement raises business costs, so they are determined to fight every claim. This is why you need proven legal representation from lawyers not intimidated by strong opposition.
Frequently Asked Questions (FAQs) Regarding Rideshare Accidents
 At Brach Eichler Injury Lawyers, we receive numerous questions from our clients about rideshare accidents. Listed below are a few of the most commonly asked questions. If you have questions about your particular rideshare accident case, please contact the compassionate and knowledgeable New Jersey rideshare accident lawyers at Brach Eichler Injury Lawyers by calling (973) 364-8300.
What should I do if I'm involved in a rideshare accident in New Jersey?
If you are involved in a rideshare accident, be sure to take the following important steps:
If anyone is injured, contact emergency medical services.
Collect the insurance information from all drivers and passengers involved.
Take pictures of the accident with your phone.
Never leave the accident scene until the first responders tell you it is safe.
Report the accident to your insurance company and the rideshare company.
As soon as you have completed these steps, it is paramount that you contact an experienced rideshare accident attorney. Hiring a skilled lawyer will greatly increase your chances of collecting the full and just compensation you deserve for your injuries.
How safe is Uber and other rideshare services? 
While you can typically expect a safe ride in a rideshare vehicle, accidents can and do happen. Some studies suggest that you may be less safe in a rideshare vehicle. A 2018 University of Chicago study suggests that rideshare drivers are responsible for a 2 to 3 percent spike in traffic fatalities in major cities since 2011. A Consumer Reports survey of vehicle data from 2019 found unaddressed safety recall issues in about 17% of rideshare cars operating in New York City and Seattle.
It's reasonable to ask, "How safe are rideshare drivers and their vehicles?" Perhaps the most important question about liability is, "When is the rideshare company responsible for an accident?" An experienced New Jersey rideshare lawyer can help you answer that question.
Let our accomplished team pursue just compensation for your NJ rideshare accident
The talented attorneys at Brach Eichler Injury Lawyers have obtained large settlements for clients injured in various auto accident cases. Let's work as a team to get the money you deserve. Consultations are free, and you pay no attorney fees unless we recover compensation through a settlement or a jury award. Call today to schedule an appointment at (973) 364-8300 or contact our personal injury law firm online.