New Jersey Elevator and Escalator Accident Attorneys
Written by: Brach Eichler Injury Lawyers
Last Updated : August 28, 2023
New Jersey Elevator and Escalator Accident Attorneys
Accomplished lawyers provide aggressive representation for injured riders. If you have been injured, contact Brach Eichler Injury Lawyers at (973) 364-8300.
Elevator and escalator-related injuries have steadily risen every year in the United States. Despite this rise in elevator and escalator injuries, the elevator and escalator industry has successfully convinced accident investigators and the media to report incidents to the public that horseplay, intoxication, unanticipated power surges, or some other type of misuse cause most injuries. We know from experience that these theories are not true! Sometimes, the fault for elevator and escalator injuries falls on the manufacturer for using a defective design or failing to incorporate a safer alternative design. However, many times, the fault for victims of elevator and escalator injuries is due to sloppy and careless maintenance. Lawsuits for elevator and escalator injuries cost thousands to litigate. The attorneys at Brach Eichler Injury Lawyers have the resources to properly investigate these complex cases and the experience to challenge these large corporations.
Proven results in catastrophic elevator accidents
Our lead trial attorney, Edward Capozzi, obtained a $4.9 million verdict against Schindler Elevator whose car plummeted several stories causing severe neck and back injuries to an occupant. As a result of his great achievement and commitment to his client, Mr. Capozzi was inducted into the New Jersey Personal Injury Hall of Fame! Later that same year, Mr. Capozzi recovered $1.075 million from Schindler Elevator after its elevator again plummeted, causing an occupant severe injuries.
Common causes of elevator accidents in New Jersey
Mr. Capozzi and staff are prepared to undertake elevator accidents throughout the Garden State. Most such accidents occur due to:
Mis-leveling — When the elevator fails to stop on the same level as the floor, it creates a trip and fall hazard. When the mis-leveling is extreme, there's a danger of a would-be passenger falling beneath the car into the open shaft. This situation is also dangerous for a rider in the elevator, who may be tempted to escape the stalled car and fall into the shaft. Passengers should always be prudent in assessing the danger of a misleveled elevator and wait for assistance whenever necessary.
Sliding door malfunction — Elevator doors are equipped with sensors and bumpers that re-open them when they contact a passenger entering or exiting. When these devices malfunction, the doors can trap a passenger or a body part. If the car then begins to move upward or downward, a catastrophic result is all too likely.
Open shafts — The most treacherous and potentially deadly elevator malfunction occurs when doors inexplicably open when the car is not on the floor. A would-be passenger who does not notice the gaping shaft or who is inadvertently pushed forward by a waiting crowd who cannot see the hazard can plunge the full depth of the shaft with tragic results.
Sudden drops and excessive speed — Passengers' safety depends on the elevator car's smooth ascent or descent. Jerky movements, sudden acceleration, or abrupt stops can knock passengers off balance, causing impacts on the walls or floor of the car. The severity of the injuries generally depends on deviation from the normal speed of the car.
We thoroughly investigate the facts of every accident, consulting qualified experts in mechanical engineering to help us pinpoint the cause and determine what party was at fault. Then, we pursue your claim aggressively to recover the full compensation you deserve.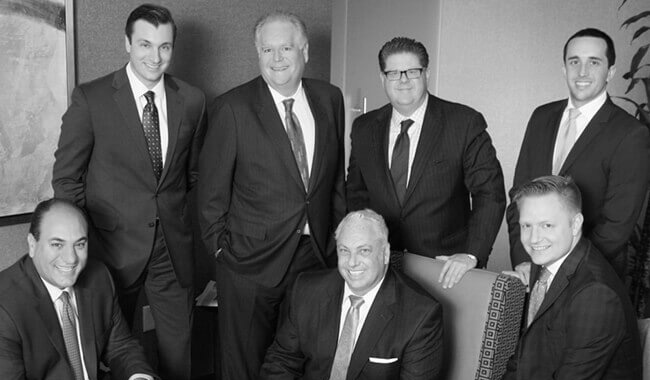 It's All About Results
We are the trial attorneys with the experience and knowledge to get you the results you deserve. At Brach Eichler Injury Lawyers, we take time to get to know you, as well as your case. We are committed to excellence. It is important for our team to understand your fears, concerns and expectations. We are always available to answer any questions, and are willing to come to you if you are unable to come to us.
Contact Our Experienced Law Firm
Tragic harm to kids from in-home elevators
Less than a decade ago, there was a series of catastrophic incidents involving grandchildren of seniors who had elevators installed at home. The elevators had seemed like a good idea at the time for older adults whose joints could no longer tolerate frequent trips up the stairs. Unfortunately, these elevators had been designed with adults in mind without a thought to curious children who might open the outer doors and become trapped if the elevator was called to another floor. Fatal and disabling crush injuries resulted.
Unfortunately, many seniors have had such elevators installed without design modifications in light of these injuries. And, as always, safety regulations that would force design changes have been excruciatingly slow to develop. As attorneys for victims of elevator accidents, we urge seniors with in-home elevators to be vigilant in protecting their grandchildren against potential hazards.
Escalator injuries in New Jersey
Studies show that about 10,000 escalator injuries yearly require emergency room care, and about 50 percent require hospitalization. Women are more likely to suffer injuries to the lower extremities (feet and toes), while men are more likely to sustain head and neck injuries. Escalator accidents often result from mechanical issues, such as:
Sudden acceleration
Abrupt stopping
Reversals of direction
However, when an escalator accident occurs without an apparent mechanical malfunction, the possible negligence of the injured rider is often an issue. For example, age is a risk factor, as older adults are more likely to be hurt, and alcohol intoxication is a factor in as much as 50 percent of the injuries to adult men. If the defense can show the victim was not sufficiently alert and careful, the victim's recovery can be reduced or totally barred. This is another reason to hire an experienced attorney to not only investigate and prove any malfunction but also to protect you against allegations of contributory negligence.
Contact our accomplished NJ lawyers for elevator and escalator accidents
Brach Eichler Injury Lawyers provides aggressive representation for victims of elevator and escalator accidents throughout New Jersey. Let us help you obtain the full personal injury compensation you deserve. Call us today at 973-364-8300 or contact us online to schedule a free consultation.