New Jersey Car Accident Lawyer
Written by: Brach Eichler Injury Lawyers
Last Updated : September 29, 2023
New Jersey Car Accident Attorneys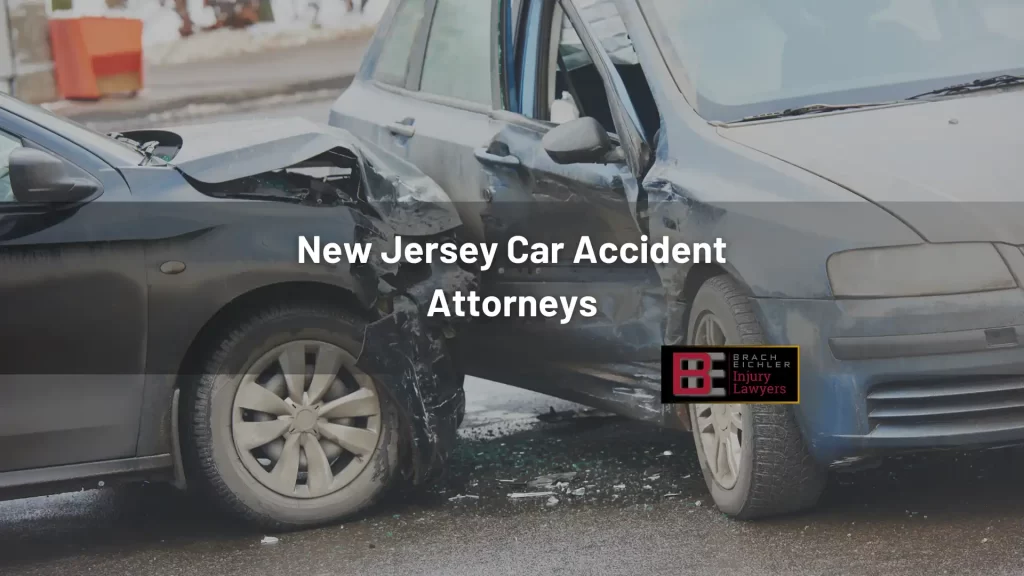 Skilled and determined representation for all levels of injury. If you have been seriously injured in an accident, contact our injury lawyers today at (973) 364-8300.
Motor vehicle accidents are a leading cause of injury and death in the United States. If you have been injured in a motor vehicle accident, you understand how distressing and frustrating the experience can be. Often, your injuries do not become apparent until a day or two after the accident. It is not uncommon for people to appear to be fine at the scene of the accident, only to later find that they are in debilitating pain. Whether you have been involved in a minor fender-bender or a catastrophic crash, Brach Eichler Injury Lawyers is here to help.
Our trusted New Jersey car accident lawyers have recovered over $425 million for our clients. We secured the largest auto accident settlement in 2017 and a $2.25 million auto accident settlement in September 2019. Results may vary depending on your particular facts and legal circumstances. Brach Eichler Injury Lawyers has been named the best law firm in New Jersey, and we receive glowing reviews from past clients. With five offices across New Jersey and New York, we have the skills and resources to serve you.
Don't wait to demand the compensation and justice you deserve. Contact us today for a free consultation. Call (973) 364-8300, contact us online, or hit the Live Chat button to speak with a chat operator 24 hours a day.
Benefits of Hiring Our New Jersey Car Accident Lawyers
We can offer you top-of-the-line legal assistance, applying the law precisely to the facts of your case. Don't just sit back and hope for the best after you have been in a car accident. You need a professional on your side to help you get the compensation you deserve for your specific case.
With our law firm on your side, here are some benefits you gain in your case that you don't want to do without:
Hiring a lawyer for a New Jersey car accident settlement can yield up to 3 ½ times the compensation you would get working directly with the insurance company.
You don't pay us anything unless we win your case. Therefore, you have nothing to lose by working with us, but plenty to gain.
At no cost to you, we can help you to get your vehicle fixed in the least amount of time.
We have decades of experience handling personal injury vehicle accident cases. We know the laws and how to apply them inside and out. We handle new cases every day!
We have a very high success rate with these types of cases.
We have specialists in our law office that will take care of your medical bills. You won't have to pay them out of pocket or deal with collectors about them while you wait for the settlement.
Why do I need a car accident lawyer if I've been hurt in New Jersey?
The aftermath of a car accident is exhausting. Trying to heal from your injuries is hard enough. Dealing with the other driver's insurance company is complex and confusing. Their insurance company might try to convince you that you're owed much less than your medical bills cost. They might even try to deny that their client was responsible for the wreck.
You don't have to go through this agonizing process all alone. A skilled and compassionate car accident lawyer can negotiate with insurance on your behalf. They can also use information from your wreck and their experience from past cases to help determine how much money is fair and reasonable in your case. Car accident victims who work with an attorney average three and a half times more compensation than those who deal with insurance on their own.
What types of car accident cases does Brach Eichler Injury Lawyers handle?
The experienced New Jersey car accident lawyers at Brach Eichler Injury Lawyers handle all types of car accident cases. We can help with:
Most Dangerous Intersections in Jersey City, NJ
When driving in Jersey City, some intersections are much more dangerous than others. Brach Eichler Injury Lawyers has compiled a list of the intersections with the most accidents as a reference when you are out on the road.
Sources
https://nj1015.com/njs-most-dangerous-intersections/
https://tooledesign.github.io/6134_JerseyCityVZAP/
What should I do after a car accident?
When you've been in a car accident, the priority is making sure you are safe and healthy. See a doctor immediately if you didn't get medical attention at the accident scene. Not all injuries are obvious right away, and a doctor can evaluate whether you might have any long-term injuries. The physician can help you heal as quickly as possible, plus these medical records will be vital pieces of evidence if you decide to file a claim for your accident.
It's also important to document the crash and collect as much evidence as possible. Take pictures of your injuries and damages to your vehicle and other vehicles involved in the wreck. Photograph all road and weather conditions at the accident scene, including warning signs, construction, traffic lights, or skid marks.
Talk to witnesses
Talk to witnesses at the scene to understand what they saw and get their contact information, as well as the other driver's name, contact information, driver's license number, insurance information, and license plate number. If police are dispatched to the scene, get a copy of the official accident report.
No matter what, do not admit fault for the accident or speak with the other driver's insurance company without your lawyer. It's difficult to know who was responsible for the accident without a full investigation because multiple factors can lead to wrecks, including mechanical failures and poor signage or lighting. Additionally, insurance agents might try to use what you say against you or talk you into a low settlement before the crash details are fully understood.
Contact an experienced NJ car accident attorney who can deal with these insurance agents on your behalf and help ensure you get the full amount you're owed. They can also help protect your legal rights and ensure the accident is properly investigated.
What damages can I recover in a car accident case?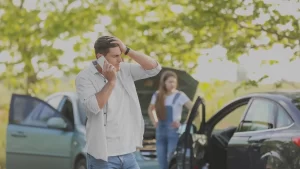 At Brach Eichler Injury Lawyers, we have helped clients get hundreds of thousands to millions of dollars for their injuries. The amount of money you will be able to recover depends on the details of your case. However, compensation typically covers things like:
Property damages
Rental car charges while your vehicle is being repaired
Reduced capacity to earn income
Pain and suffering
Brach Eichler – PI FAQ #2 – Do I need to go to the emergency room after a car accident?
How New Jersey Law Impacts Your Car Accident Claim
New Jersey law allows the victims of car accidents to recover compensation for their medical bills through personal injury protection from their insurance policies, regardless of fault. If another driver is at fault, victims may be able to file a claim to recover compensation for injuries sustained, pain and suffering, as well as lost income from missed work.
Motor vehicle accident lawsuits have a time limit for filing. In New Jersey, there is a two-year statute of limitations. You must file a lawsuit within two years of the accident or lose the right to compensation for injuries. Knowing that a special time limit applies to a claim against the state or local government is important. You must provide formal notice within 90 days of an accident and then wait six months to file a lawsuit against a governmental body or agency.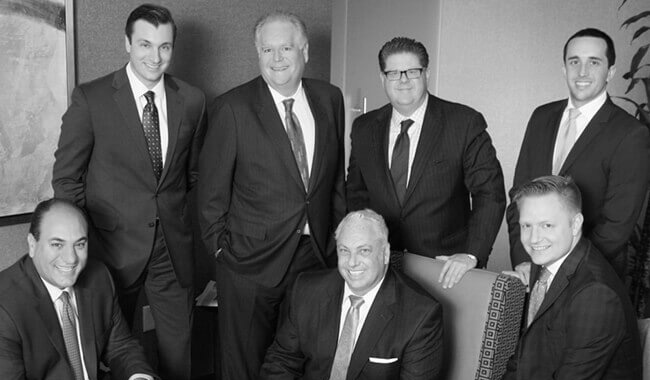 It's All About Results
We are the trial attorneys with the experience and knowledge to get you the results you deserve. At Brach Eichler Injury Lawyers, we take time to get to know you, as well as your case. We are committed to excellence. It is important for our team to understand your fears, concerns and expectations. We are always available to answer any questions, and are willing to come to you if you are unable to come to us.
Contact Our Experienced Law Firm
Common Mistakes to Avoid after a Vehicle Accident in New Jersey
It's easy to make a beginner's mistake after such a stressful event as an auto accident. Common errors include:
Accepting an early offer – The insurance company is going to try to get you to take a fast offer. They are going to pay you they least amount of money they can get away with. This is a trick to reduce the overall cost of the claim and they know you need money and you are worried. Allow us to represent you and demand the right amount of money. We will look at your overall injuries, lost wages, your damages to the vehicle, and medical costs. We go beyond that and look at the future lost wages and the future medical bills you are likely to incur due to those injuries.
Worrying about finances first – While we do understand you need money to pay your bills, you need to let us handle that. As your lawyer, we will be fighting for you every step of the way. We are going to take on the challenge of confronting the insurance company and telling them why they need to pay you a specific amount of money. Allow us to do this job and you can focus your attention on resting and getting better. Don't consume yourself with phone calls that go around and around with the insurance company or the endless forms they want you to complete.
Waiting until it's too late – You need to contact us to consult about your vehicle injury compensation case as soon as you can. In some situations, the law only gives you up to 90 days to file. Delaying could cost you the right to compensation. In other scenarios, you have up to two years to file. The sooner we are on board, the more we can help.
Location Matters with Your New Jersey Auto Accident
Our clients usually don't realize that where their vehicle accident occurred plays a role in the outcome. Once we know the location, we share with you what can be done and what we believe the outcome will be. We ask you questions and get in contact with witnesses. All of this allows us to create a powerful case on your behalf. Counties we have worked in recently include Burlington County, Camden County, Cumberland County, Essex County, Gloucester County, and Passaic County. We have handled car accident claims like yours in Marlton, Newark, New Brunswick, Paterson, Sicklerville, Elizabeth, Cherry Hill, Toms River, Trenton, Union City, Voorhees, Willingboro, Jersey City, Mount Laurel, and beyond. Because we handle cases from every region of the state, we can help no matter where your NJ motor vehicle accident occurred.
We Understand How a NJ Car Accident Affects Your Entire Life
The New Jersey car crash lawyers at Brach Eichler Injury Lawyers are compassionate professionals. We understand that the accident has completely changed your life and will work hard to deliver the results you deserve. We have the skills to ensure you are fairly compensated for all your losses. We have a proven track record of success that we are proud to share with you. We want to see you get the money you need and deserve due to this terrible ordeal.
Our Responsive Attorneys Never Leave You in the Dark
As your New Jersey car accident lawyer, we realize all the legal process is new to you. While we deal with vehicle injury cases daily, most people have never been in this position before. We are patient, and we answer every single question you have. We want you to have accurate information on every level throughout the case. We are candid and honest with you about what is unfolding with the case, too.
We always return your calls or emails in a timely fashion. You have enough on your plate, and we aren't going to add to your stress. We work for you from the day you reach out to us until the day you get your settlement check. Here are some of the common questions we are frequently asked.
"How do I know if I have a case with my vehicle accident?"
Typically, you have a vehicle injury case if someone else was negligent, and that led to the accident taking place. Second, you must have injuries that are the result of that accident. You may have those injuries immediately upon impact. However, many of them may not surface until days or weeks after the accident. We strongly urge you to talk to us after any vehicle accident. We can help you to determine if you indeed have a case. Some cases are more complex than others, so it doesn't hurt to consult a professional.
"How much do I have to pay to hire you?"
You pay nothing to get your claim started. We are the best auto accident attorneys in New Jersey and we can often get you a great settlement for each client. You don't pay us anything at all unless we win the case for you. There won't be any lingering legal fees out there for you to worry about.
"How much will I get?"
We strive to get you the best settlement we can. However, there are quite a few variables you must take into consideration. We go through the complex calculations based on your injuries, lost wages, vehicle damage, and other factors to arrive at the amount we plan to ask for on your behalf. Once you talk to us about the specifics of your case and we evaluate the evidence, we can give you a set amount that we feel your case is worth.
"How much time do I have to file a car accident lawsuit in New Jersey?"
Car accident lawsuits are limited by "statute of limitation" laws, which vary by state. After the deadline has passed, it might be impossible to pursue a lawsuit and get compensation for your accident.
In New Jersey, you typically have two years from the date of the accident to file a lawsuit. However, there are exceptions to this time limit and special restrictions depending on who you are suing. For example, if you're filing a claim against the state or local government, you must give them formal notice within 90 days of the accident. An experienced car accident attorney can help you understand these filing deadlines and timely file your claim.
"How do I know who was liable for the accident?"
Multiple parties might be responsible for your accident, including:
The driver of the other car
The driver's employer
The car's manufacturer
The local or state government
An outside party, such as the bar that served the driver alcohol
Since so many different parties could be responsible, it's difficult to know for certain who was liable without a full investigation.
"What if I am partially responsible for the accident?"
New Jersey is a no-fault state, which means your insurance pays for medical bills, no matter who was at fault. However, insurance agencies have various policies on how much they will cover.
If you are pursuing a claim against the other driver, any fault on your part could limit the amount you can recover from them. After an accident, courts and insurance adjusters will look at the evidence to determine each party's degree of negligence. They will then assign them a percentage of fault. According to New Jersey's comparative negligence law, you can only collect from the other driver if you were less at fault than them. For example, if you were 60% at fault, then you are not entitled to get money from the other party.
How to Move Forward after a New Jersey Auto Accident
The best way for you to move forward is to get in touch with us. We can share with you what we feel you need to do next to keep the claim moving forward. We can assist you with anything you may need to help you obtain the necessary information and documentation for the claim.
Filing a Police Report after a Car Accident in New Jersey
We advise clients to always file a police report with any vehicle accident to protect their claim. It doesn't matter if the crash was just a minor fender bender or a major accident. It doesn't matter if the other driver is asking you not to. By law, you need to report any such accident. If the weather is bad, there may be cold reporting status in place, but you still need to file that report as soon as you can.
If you didn't call the police, it isn't necessarily too late to file a police report. You can call the police now. Don't put it off because the longer you do, the harder it becomes for us to build a case for compensation. One of the documents we use to create your claim is the original police report. It has a wealth of information that we use, including whom to contact for the other party's insurance and any possible witnesses we should speak to.
The police report should be ready within a few days and you can obtain a copy. If you aren't able to request a copy due to your medical care needs, we can get it for you. You may be able to access it online rather than going to the police station.
Car Accident Facts and Figures
Car crashes are one of the biggest killers in America. An estimated 37,000 people die in car accidents in the U.S. each year, and an additional 2.5 million people are seriously injured.
The National Highway Traffic Safety Administration reports that one person dies every 14 minutes in a motor vehicle accident. Nearly a third of these fatalities involve a drunk driver and 8% involved drivers under 21 years old. In New Jersey alone, there were nearly 600 fatalities from car accidents in 2018.
According to the New Jersey state police, the majority of people killed were either drivers or passengers in a vehicle, but pedestrians and cyclists were also victims. Middlesex, Camden, Essex, and Burlington Counties experienced the most fatalities from these types of accidents in 2018.
Car accidents happen daily in New Jersey; will you be fairly compensated for yours?
When a car accident happens, you may simply be in the wrong place at the wrong time. Accidents happen all over on a daily basis. They happen in good weather and adverse conditions. They happen at low speeds and high speeds. They can occur on a residential street or a busy highway. They can also happen in parking lots, at stop signs, and at traffic lights.
While you can't always avoid a vehicle accident, you can do your best afterward to demand fair compensation. As your New Jersey car accident lawyers, we help you to get results you can be happy about. Nothing can erase what happened, but the money we recover can help you to take care of your needs now and in the future.
Statistics show vehicle accidents are on the rise because of driver distraction. Distractions can be due to music, cell phone conversations, or texting while driving. It can be hard to prove what distracted a driver, but we try to do so based on evidence. For example, a stoplight camera may catch them on the phone while driving.
You can let the vehicle accident take all your power and decide your future. If you don't fight back, you may not get a good settlement or any settlement at all. An insurance company — even your own — isn't your friend. They strive to reduce the funds they pay out and won't fight to get you what you deserve.
It isn't fair that you are in pain, your quality of life has suffered, and you owe high amounts for medical bills. This happened due to another driver not doing what they should, and now you need us to help you fight the insurance company. We will do all we can to get you that money, and one day, it will all be worth the fight. You will be thankful you hired us as your New Jersey car accident lawyer to resolve your case for you.
We will take the time to help you with your unique case and to get results you can trust. We will treat you well and help you with all the aspects of your case. Hiring us for your legal needs will make the process easier for you both now and in the future. We will always directly communicate with you and inform you where the case is and the next step in the process.