Written by: Brach Eichler Injury Lawyers
Last Updated : November 28, 2023
Our trial lawyers hold powerful corporations fully accountable for defective products. Contact Brach Eichler Injury Lawyers to discuss your case.
Did you suffer serious injuries, or was your loved one killed by a dangerous or defective product in New Jersey? You deserve to get justice, and Brach Eichler Injury Lawyers can help you get it. Our firm will be committed to fully investigating your defective product's cause and ensuring all negligent parties are held accountable.
When you buy a consumer product, you have the right to expect it will be safe for any reasonably foreseeable use. Unfortunately, manufacturers place dangerous, defective products on the market every year, injuring hundreds of thousands of consumers and even causing wrongful death. If a defective product has injured you, you can recover personal injury damages, such as medical costs, lost earnings, and compensation for your pain and suffering. But holding a large corporation accountable for their misdeeds is a daunting task.
These companies are determined to protect their bottom line, so they defend product liability cases vigorously. You have a tough burden of proof, and they have deep legal resources and many defenses under the law. Under such circumstances, you must retain knowledgeable, skilled, and determined representation to fight for your rights. At Brach Eichler Injury Lawyers, we have a strong track record of success against powerful opponents. We have recovered more than $300 million in compensation for injured clients, including large recoveries for victims of defective products.
Do I Need A Defective/Dangerous Products Lawyer?
Even when a person knows that the product that harmed them was dangerous or defective in some way, you should never expect a manufacturer to be willing to admit as much. The typical response from manufacturers to most defective product claims is that the users were the parties at fault and they somehow used a product incorrectly.
An attorney will be beneficial to you because they will conduct their own independent investigation into your accident. A lawyer can work with experts when necessary to determine how a product was defective or became dangerous.
You can take several steps to help your injury claim, with the most important being ensuring that you receive medical attention as soon as possible after a defective product accident, even if you do not think you were hurt. Another valuable step can be for you to take as many pictures as you can of your accident scene and try to retain as much of the product and its original packaging as possible and store it somewhere safe where other people cannot access it.
You could find yourself dealing with an insurance company for the negligent party soon after your accident, and you will want to let an attorney handle all conversations with insurers on your behalf. Never provide any recorded statement, as many people unknowingly admit to certain forms of negligence during these statements used against them to reduce or possibly deny injury claims.
Why Choose Brach Eichler Injury Lawyers To Handle My Defective/Dangerous Products Case?
Brach Eichler Injury Lawyers has decades of experience with personal injury litigation and has recovered over $300 million for our clients. We have been ranked a Top 40 Law Firm by the New Jersey Law Journal.
Edward P. Capozzi is a member of the Million Dollar Advocates Forum and Multi-Million Dollar Advocates Forum, who recovered at least one (and as many as three) of the top 20 verdicts or settlements in New Jersey every year from 2012 to 2018.  Super Lawyers Magazine also named him a Super Lawyer every year between 2011 and 2018.
Charles X. Gormally is a member of the New Jersey State Bar Association and American Bar Association who has also been certified as a civil trial attorney by the Supreme Court of New Jersey. He has been licensed in New Jersey since 1979 and in New York since 1990.
You will also want to choose Brach Eichler Injury Lawyers because you will not have to pay anything upfront for our help. We can represent you on a contingency fee basis so you will only pay when you receive a monetary award.
Common defective products causing harm to consumers in New Jersey
The U.S. Consumer Product Safety Commission estimates the overall costs of defective products to be as much as $700 billion annually. Common products with defects that frequently injure consumers include:
Auto parts, such as ignition switches, gear shifts, brakes, tires, and airbags
Children's toys, clothing, and furniture
Water heaters
Household appliances and electronics
Industrial and household chemicals
Medical devices
Power tools
Pharmaceutical drugs
Agricultural equipment
Construction tools or equipment
Manufacturing equipment
Tainted food
Car seats
Heavy machinery
Bedding and clothing
Electronics
Cosmetics
The New Jersey Product Liability Act (NJPLA) is the sole basis for relief for people injured by defective products in New Jersey and controls all claims or actions caused by products, except for harm caused by a breach of express warranty. The NJPLA relates to causes of action for negligence, misrepresentation, implied warranty, and Consumer Fraud Act violations under a theory of strict liability.
Types of Defects in New Jersey product liability cases
There are three types of product defects for which an injured consumer can recover compensation:
Design defect — Cases of this sort deal with a poor plan for a product so that an inherent flaw in the product's conception renders it unreasonably unsafe.
Manufacturing defect — In these cases, the design was sound, but a problem with the manufacturing process produced a flaw that made the product unreasonably unsafe. The defect can be due to poor materials, workmanship, or process.
Labeling defect — When a product is inherently dangerous, it can be rendered reasonably safe if adequate warnings about the risk exist. However, when the warning labels fail to alert the consumer, producers can be liable for label/warning defects.
Producers are usually held to a strict liability standard with defective products, so the plaintiff does not have to prove the producer was negligent. Rather, to prevail in a product liability case in the Garden State, a plaintiff must prove these four elements:
The product was defective
The defect existed when the product left the defendant's control
The defect caused the plaintiff's injuries
The plaintiff was a reasonably foreseeable user
These elements require precise proof, which generally relies on expert testimony. We consult a range of experts in the specific field related to the type of product that produced your injuries to assemble the evidence necessary to make your case. However, our task is further complicated by case law and defenses available to the producer.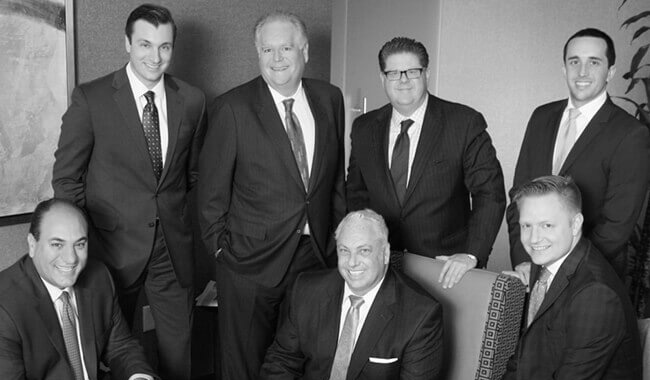 It's All About Results
We are the trial attorneys with the experience and knowledge to get you the results you deserve. At Brach Eichler Injury Lawyers, we take time to get to know you, as well as your case. We are committed to excellence. It is important for our team to understand your fears, concerns and expectations. We are always available to answer any questions, and are willing to come to you if you are unable to come to us.
Contact Our Experienced Law Firm
What is strict liability?
Strict liability means defendants can be held liable for their actions regardless of their intent or negligence. Two years after the Supreme Court of California established the doctrine of strict liability with its decision in Greenman v. Yuba Power Products, Inc., 59 Cal.2d 57 (1963), section 402A of the Restatement (Second) of Torts was modified to include the additional requirements that a product needs to be "unreasonably dangerous," defective, and expected to and reaching the consumer without substantial change in the condition in which it is sold for there to be liability.
How long do I have to file a defective product liability lawsuit?
A person in New Jersey will have two years from the date they suffered injuries because of a defective product to file a lawsuit. It is important to note that when the person harmed by a defective product is a minor, the statute of limitations can be tolled (delayed) until the minor turns 18, at which point they will have two years to file a claim. 
Common defenses available in a NJ defective product case
To illustrate how complex a defective product case can be, let's examine what it takes to prove a design defect under New Jersey law. First, the Supreme Court of New Jersey has placed the burden on the injured plaintiff to prove that a reasonable alternative to the design existed when a product was defectively designed. This requires technical knowledge that plaintiffs (and lawyers) generally do not have. The testimony of a reliable expert is critical to the case's success. If the plaintiff meets this burden, there are still numerous defenses available to the defendant:
Unavoidable unsafe aspect/product — A manufacturer cannot be held liable for a design defect if the defect relates to inherent characteristics of the product that an ordinary consumer would know to be unsafe or if the harm resulted from an unavoidably unsafe aspect of the product and an adequate warning or instructions accompanied the product. Courts have held that "unavoidably unsafe products" are those which "in the present state of human knowledge, are quite incapable of being made safe for their intended and ordinary use. … Such a product, properly prepared, and accompanied by proper directions and warning, is not defective, nor is it unreasonably dangerous." In such a case, the plaintiff must show the warning was inadequate, rendering the product unreasonably unsafe.
Misuse of product — A manufacturer is not liable for harm resulting from the intentional misuse of a product in a manner that the manufacturer could not reasonably have anticipated. However, foreseeable misuse is not a defense. NJ courts take an expansive view of foreseeable misuse, which is good news for the plaintiff.
Alteration of a product — Generally, plaintiffs are not barred from filing a product liability claim even if they significantly alter the product. However, manufacturers are not liable when the change creates the defect that caused the injury.
Plaintiffs in product liability cases must also be aware of the two-year statute of limitations for personal injury in New Jersey. Injured parties must file a lawsuit within two years of the date of injury or lose their right to sue. The statutory period may be extended under certain circumstances, such as a latent injury. There is also a 10-year statute of repose for cases of defective home construction. Plaintiffs have no cause of action against a contractor if a defect in construction causes injury more than 10 years after improvements to real property have been substantially completed.
These rules are highly technical and require specific knowledge of the law. This is why you should immediately refer your product liability claim to a proven law firm with the resources necessary to manage the case successfully.
Defective Product Statistics
According to the United States Consumer Product Safety Commission (CPSC), about 240,000 toy-related injuries were treated in emergency departments and seven reports of toy-related deaths among children younger than 12 years of age in 2016. Of the 34 deaths associated with playground equipment investigated between 2009 and 2014, there were 19 hangings or other asphyxiations, 12 deaths caused by second products, five slides, five swings, and eight head or neck impact injuries.
About 30,700 people were treated every year in emergency departments for product instability or tip-over injuries related to televisions, furniture, and appliances from 2014 through 2016, including:
19,500 injuries associated with furniture
10,100 injuries associated with televisions
1,100 injuries associated with appliances
According to the CPSC, There was an average of 48 electrocution deaths associated with consumer products between 2010 and 2013. Another 62,300 emergency department-treated injuries were associated with nursery products among children younger than 5 years of age in 2016, and there were also 284 deaths associated with nursery products among the same age group between 2012 and 2014.
Our attorneys have managed cases of serious injury arising from the failure of a product. We are prepared to manage cases related to car crashes, explosions, fires, poisoning, electric shock and electrocution, chemical burns, and a wide range of other harm.
Contact our determined personal injury lawyers in NJ for your product liability claim
If a defective product has caused injury to you or a loved one, the seasoned attorneys at Brach Eichler Injury Lawyers are prepared to pursue the full compensation you deserve. To schedule a free consultation with a skilled and aggressive attorney, call us today at 973-364-8300 or contact us online.