New Jersey Premises Liability Attorneys
Written by: Brach Eichler Injury Lawyers
Last Updated : August 30, 2023
New Jersey Premises Liability Attorneys
Premises liability is the area of the law that holds landlords accountable for hidden hazards on their property that cause harm to visitors. A common scenario is the slip and fall. This is where an unsuspecting visitor encounters a slick surface and falls to the ground. Injuries from such accidents can cause intense pain, lifelong disability, and even wrongful death. Unfortunately, due to the requirements of the law, the landlord's fault is often very hard to prove. If you or a loved one has been harmed by a slip and fall, trip and fall, falling merchandise, or another premises liability accident, you can rely on the accomplished personal injury attorneys at Brach Eichler Injury Lawyers to assert your rights. Our seasoned trial lawyers have recovered over $425 million in compensation for our injured clients. We are determined to prosecute your case aggressively to deliver your desired results.
What you must prove to recover compensation from a slip and fall injury
To recover compensation for a slip and fall or other premises liability claim, an injured plaintiff must prove the necessary legal elements:
Duty — The plaintiff must be a person towards whom the landlord had a duty of care.
In other words, whether the landlord is accountable can depend on who you are relative to the landlord. Three major categories of premises liability plaintiffs exist: business invitees, licensees, and trespassers. The landlord's duty is different for each. If you are a business invitee, such as a customer at a restaurant, the landlord owes you the highest duty of care. He is expected to inspect the premises to discover hidden hazards and correct them or provide adequate warning to keep you safe. A licensee enters the property for their benefit, like a social guest coming for dinner. A landlord only owes an invitee a duty to warn when he has actual knowledge of a hazard. Finally, as for trespassers, the landlord only owes a duty to warn of artificial conditions that could cause death or serious bodily harm.
Breach — This means the landlord failed to perform his duty towards the plaintiff.
In the case of an invitee, the landlord might have been lax in inspecting the premises. As a result, did not discover a hazard in time to protect the invitee. For a licensee, a breach means neglecting to warn about a known hazard that is not open and obvious to a reasonably attentive person. Towards a trespasser, the breach could be a failure to post signs around a pit the landlord had dug.
Causation — The plaintiff must prove that the landlord's failure to perform his duty led directly to an event that injured the plaintiff.
Damages — The plaintiff is entitled to recover for economic and non-economic losses stemming from the injury event.
Economic losses include medical bills (present and future) and lost wages (present and future). Non-economic damages, collectively called "pain and suffering," include compensation for physical pain, mental suffering, loss of quality of life, enjoyment, and other real but intangible losses.
As your personal injury advocate, our task is to assemble the evidence necessary to prove each element in this list. We must prove all four for you to recover anything. We must present compelling evidence for you to recover the full and fair compensation you deserve. This is not a task you should entrust to a novice lawyer. Premises liability cases often present difficulties in proving these elements. It takes an experienced and dedicated attorney to assemble the evidence and present a persuasive case for recovery. Our track record speaks for itself; we are highly capable of delivering results.
Difficulties proving liability for premises liability injuries
There are inherent difficulties in proving liability in a premises liability case. These include:
Reasonable person standard — Proving a breach of duty requires a plaintiff to show that a reasonable person in the landlord's position would have behaved differently. Such proof depends on a thorough examination of the totality of the circumstances. Your attorney must have the capacity to build a compelling case that considers every detail in the timeline of your accident.
Destruction of evidence — If the hazard that caused the accident was a wet floor, a loose tile, or even a pothole, a wily landlord can easily eliminate any incriminating evidence before an attorney can return to the scene to verify the hazardous condition. Victims of premises liability accidents can help themselves, if they can, by taking cell phone photographs of the accident scene.
A landlord also has effective defenses to a premises liability case:
Comparative negligence — This defense asserts that the plaintiff bears some responsibility for the accident. For example, the hazard was obvious, but the plaintiff simply was not paying attention.
Assumption of risk — The plaintiff paid attention and recognized the hazard, but he or she made a conscious decision to proceed at his or her own risk.
Exculpatory clauses — The law of New Jersey disfavors these agreements because they encourage a lack of care among landlords. However, a clear agreement can relieve a landlord from responsibility under certain circumstances.
Other considerations complicate premises liability cases, such as the probability of certain chronic pain injuries. But you can rest assured that when Brach Eichler Injury Lawyers takes your case, we will employ a comprehensive approach that covers every aspect of the case to maximize your chances of a full recovery.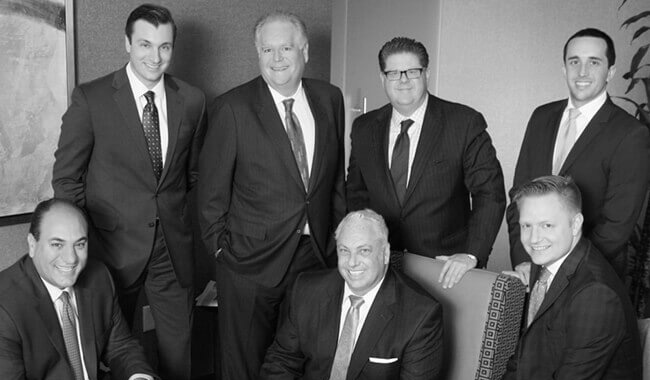 It's All About Results
We are the trial attorneys with the experience and knowledge to get you the results you deserve. At Brach Eichler Injury Lawyers, we take time to get to know you, as well as your case. We are committed to excellence. It is important for our team to understand your fears, concerns and expectations. We are always available to answer any questions, and are willing to come to you if you are unable to come to us.
Contact Our Experienced Law Firm
Types of Premises Liability Cases We Handle
In premises liability cases, people are typically divided into one of three groups, and property owners can have different duties of care depending on a person's status. The three groups include:
Invitees — Individuals on the property by an owner's expressed or implied invitation, often for mutual benefit, are considered invitees. The property owner must warn invitees of dangerous conditions they are aware of. People who are on property open to the public are usually considered invitees.
Licensees — Individuals who are on property with a property owner's consent but for their own benefit are licensees. A property owner still needs to warn a licensee about dangerous conditions they are aware of.
Trespassers — Individuals on property without the owner's consent are considered trespassers. A property owner only owes the duty to a trespasser not to engage in injurious conduct or warn of conditions that pose a risk of death or serious bodily harm.
One important exception related to trespassers is the "attractive nuisance" doctrine that allows property owners to be held liable for injuries caused by hazardous objects or conditions that are likely to attract small children, such as swimming pools. Trespassers who are children can be entitled to premises liability damages in attractive nuisance cases when property owners do not make efforts to secure their attractive nuisances.
One of the most common premises liability claims is the slip and fall accident. Slip and fall accidents may be the result of such conditions as:
Cracked or uneven flooring
Dirty and/or trash-covered floors
Torn floor mats
Potholes, ice, and curbs in parking lots
Snow and ice
Stray electrical cords and wires
Inadequate lighting
Defects in pavement
Broken handrails
Exposed cords (obstacles)
Wet, slippery flooring
Unsafe premise/property
Premises liability could also include negligent security claims when a person is the victim of a violent crime or sexual assault.
Premises liability claims can present other challenges depending on whether the property you were injured on was public or private. In accidents in public places, always make sure that you quickly file a report with a manager on duty wherever your fall occurs and ask for a copy of the report.
Some of the most common kinds of places that premises liability accidents occur include, but are not limited to:
Workplaces
Small Businesses
Parking Lots and Garages
Amusement Parks
Bars
Homes
Grocery Stores
Public Spaces
Retail Stores
Office Buildings
Movie Theaters
Restaurants
Staircases
Hotels and Resorts
The injuries people may suffer in premises liability accidents can vary depending on numerous factors, but it is always important for all people to ensure they seek medical attention. Even if you do not think you were hurt in a fall or other premises liability accident, you should still go to a hospital to create a medical record and ensure there was no injury with delayed symptoms.
Premises liability accidents can often leave people in hospitals for several weeks or months and then accumulate numerous other treatment expenses for continuing care and rehabilitation. The same victims can have difficulty returning to work.
Possible injuries involved in premises liability claims may include:
A premises liability accident could also result in a person dying from their injuries. The family of a person killed because of a property owner's negligence can often file a wrongful death lawsuit against the property owner.
Can I recover damages if I am partially at fault for my accident?
Yes. New Jersey Revised Statute § 2A:15-5.1 establishes that contributory negligence, which is your degree of fault in an accident, will not bar recovery in an action to recover damages for negligence so long as their negligence was not greater than the negligence of the defendants. This is known as modified comparative fault, which is frequently referred to as a 51 percent bar. This same state law also holds that a person's damages in a personal injury case can be reduced proportionally to their negligence. This means that a person awarded $100,000 in a premises liability accident but found to have been 15 percent at fault will have their award reduced by $15,000 and receive $85,000. 
What kinds of damages could I be entitled to?
Many premises liability accident cases are resolved through settlements rather than trials. However, some cases will make it to court, and a person who proves their premises liability case will usually be awarded compensatory damages. The phrase compensatory damages are usually some combination of economic damages, awards for bills that can be calculated, and noneconomic damage, awards for more emotional or psychological harm.
Economic damages often include medical bills, lost wages, and property damage that can be proven through bills and estimates, while noneconomic damages are far more subjective awards for pain and suffering, emotional distress, and loss of consortium. New Jersey also allows for punitive damage awards, but they are rare because they have to be proven by clear and convincing evidence.
How is my case different if a public entity was the property owner?
Lawsuits that you intend to file against public entities in New Jersey will require you to file a notice of intent to sue the public entity within 90 days of the date of your accident under the New Jersey Tort Claims Act. This is dramatically shorter than the standard statute of limitations for private entities. The public entity is then allowed as much as six months to review a claim before a lawsuit can be filed.
Contact a preeminent NJ law firm for your premises liability claim
Brach Eichler Injury Lawyers provides highly professional and ethical representation for slip and fall injuries and other premises liability claims throughout New Jersey. Let us help you obtain the full compensation you deserve. Call us today at (973) 364-8300 or contact us online to schedule a free consultation.