Written by: Brach Eichler Injury Lawyers
Last Updated : August 28, 2023
Jersey City Distracted Driving Accident Attorneys
Did you get hurt in a car accident in Jersey City? Was it due to the actions of a distracted driver? If so, contact the Jersey City car accident lawyers of Brach Eichler Injury Lawyers to discuss your legal options. You might be entitled to compensation from an insurance claim or lawsuit.
We understand how traumatic it can be when a car crash occurs. It's scary, and dealing with the aftermath can cause significant stress. It's even worse when you find out it's something entirely preventable. The careless driver became distracted by something other than the task at hand and caused your injuries. They should be held liable for what they've done and suffer the consequences.
The National Highway Traffic Safety Administration collected data from 2019 to determine the dangers of driver distraction. They found that 3,142 people died in vehicle-related crashes involving distracted driving. No one should lose their life or suffer severe injuries because another person decided to behave recklessly behind the wheel. You have a right to pursue legal action and recover the compensation you need to heal.
To learn more about our legal services or for a free consultation, call Brach Eichler Injury Lawyers at (201) 583-5765 today and speak with one of our Jersey City distracted driving accident attorneys.
What Causes Distracted Driving?
Many people don't think distractions are dangerous. They have busy schedules and believe it's necessary to multi-task while driving to work or running errands. They might send a quick email or apply makeup behind the wheel of their car. Unfortunately, this is reckless behavior that can lead to devastating accidents.
According to the Centers for Disease Control and Prevention, there are three types of distractions:
Manual distractions are tasks that take a person's hands off the steering wheel to do something else. Drivers have less control over their vehicles when they're performing other tasks and driving one- or no-handed. Common examples of manual distractions include:
Composing a text or email
Drinking
Eating
Reaching for an object in the car
Visual distractions are actions requiring a person's eyes to focus on something other than the road. Texting is a common visual distraction. When someone reads or sends a text message, they can travel the entire length of a football field in five seconds if they're going 55 miles an hour. The most common visual distractions are:
Reading a text
Looking at GPS
Turning to talk to a passenger
Reading the newspaper
Cognitive distractions are things that direct the driver's attention away from the task of driving. The most common types of cognitive distractions include:
Daydreaming
Road rage behaviors
Worrying about a family member
Caring for or disciplining children in the car
You deserve to hold the other driver accountable for the suffering you were forced to endure. If they became distracted while driving and caused the crash, you could file a claim or lawsuit to seek the compensation you need to afford your medical treatment and other expenses. Brach Eichler Injury Lawyers is available 24/7 to take your call and discuss your legal needs.
Handling the Aftermath of a Distracted Driving Accident
Car crashes can be disorienting, especially immediately afterward. You might be in shock and don't know what you should do next. However, it's crucial to follow these steps to protect your rights, so you don't lose your chance to hold the at-fault driver liable.
The two most important things to do first are to hire an experienced Jersey City distracted driving accident attorney and seek medical care for your injuries. Brach Eichler Injury Lawyers can take on the responsibility of your case while you're attending your doctor's appointments. Insurance companies typically look for someone else to blame so they can avoid paying a settlement. We can investigate the crash and obtain the necessary evidence to prove their policyholder was at fault.
However, we won't be able to do that if there aren't adequate medical records. While we're handling your case, you should follow up with all your medical providers regularly. Gaps in treatment are valid reasons for the insurance company to deny your claim or provide a low settlement offer. If there's an ongoing timeline of treatment you sought after the accident, it will be difficult for them to challenge whether you were hurt.
Preparing a case for an insurance claim or lawsuit doesn't just mean gathering evidence. It's also critical that you avoid common mistakes people make. If you say or do the wrong thing, it could negatively affect the outcome of your claim. The most common pitfalls people face following car accidents are:
Admitting fault. Never admit that your actions might have contributed to the crash, even if you believe they did. New Jersey follows a modified comparative negligence rule. That means a jury could diminish your compensation if they determine you share fault for your injuries.
Posting on social media. You might think what you're posting online is harmless, but it could ruin your chance of securing a financial award. Believe it or not, insurance companies and defense attorneys look at an accident victim's social media accounts for evidence that works to their advantage. If they find a photo contradicting the injury you claimed to suffer, you could end up with no money at the end of your case.
Signing documents from the insurance company. If they send you forms to complete, forward them to us first. One of the most common mistakes accident victims make is signing documents they don't understand. The language can be confusing and could waive your right to hold the at-fault driver liable.
Skipping appointments. It's normal to miss a doctor's appointment every once and a while. People have busy schedules. However, don't make a habit of it. Significant gaps in treatment show the insurance company that your injury isn't severe or doesn't exist at all.
The Jersey City distracted driving accident attorneys of Brach Eichler Injury Lawyers can guide you through the entire process, so you know what to expect. We want to ensure you're happy with the results we achieve and can recover from your injuries and move forward with your life.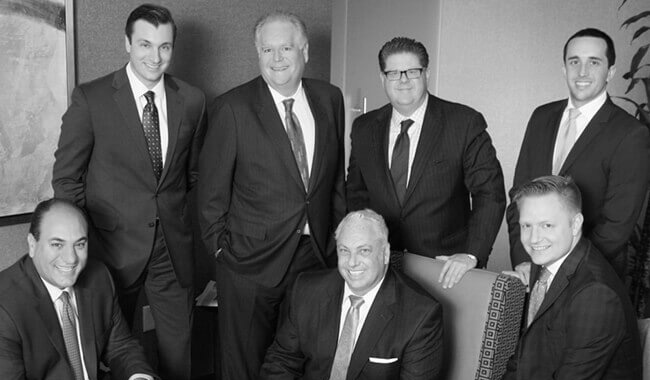 It's All About Results
We are the trial attorneys with the experience and knowledge to get you the results you deserve. At Brach Eichler Injury Lawyers, we take time to get to know you, as well as your case. We are committed to excellence. It is important for our team to understand your fears, concerns and expectations. We are always available to answer any questions, and are willing to come to you if you are unable to come to us.
Contact Our Experienced Law Firm
New Jersey's No-Fault System
New Jersey follows a no-fault system. In other states that use the fault system, accident victims can automatically hold the at-fault driver liable for their injuries, medical bills, and other losses through a liability claim. However, with a no-fault system, you must file a claim with your auto insurance company before seeking compensation from the other driver's auto insurance company.
State law requires all motorists to purchase and maintain personal injury protection (PIP) and liability coverage. PIP limits range from $15,000 to $250,000. However, most people choose to purchase the minimum required limit.
When you file a PIP claim, you can seek compensation for your medical treatment and related costs. Your doctors will submit your medical bills to the insurance company for payment until you exhaust the total PIP limits on your policy. Once you use these limits, you can then file a liability claim.
The losses you can pursue in a liability insurance claim include:
Medical bills
Emotional distress
Property damage
Pain and suffering
Loss of enjoyment of life
At Brach Eichler Injury Lawyers, we know you might face financial hardships after the accident. Hospital bills, prescription drugs, and other expenses can lead to crushing debt. We will tirelessly work to determine the monetary value of your case so you're not left with any bills to pay yourself. Some factors we might consider when calculating your total losses are:
The type of injury and its severity
The nature of the necessary and reasonable medical treatment sought
The duration of your recovery period
The total hours you were unable to work and lost income that resulted
The psychological effects of the accident
The total expenses resulting from the crash
The estimated future cost of ongoing medical care and assistance
The amount of evidence available to show the other driver's actions were to blame
Our Jersey City distracted driving accident attorneys will remain in your corner from start to finish of your case. We will not leave you to handle your insurance claim alone. If necessary, we have the resources to file a lawsuit and take your case to court. You can depend on our team to provide you with the personalized one-on-one attention you need and deserve.
Contact Brach Eichler Injury Lawyers for a Free Consultation
Brach Eichler Injury Lawyers understands the ripple effect of car accidents. The crash not only affects you but can also impact your job and family. It can upend your life and lead to emotional or mental anguish. When you hire us, we will focus our efforts on your case to help you seek justice. We're available 24/7 to answer your call, so you can speak with us whenever you need us.
Our award-winning Jersey City distracted driving accident attorneys have been recognized by various prestigious organizations, such as Best Lawyers, Bergen's Top Lawyers, and America's Top 100 Personal Injury Lawyers, to name just a few. We have also recovered more than $300 million for accident victims and are ready to do the same for you.
Call Brach Eichler Injury Lawyers at (201) 583-5765 for your free consultation if you suffered injuries in a distracted driving car accident, and let us help you get on the road to recovery.