Chair, Personal Injury
Edward P. Capozzi exclusively handles auto, trucking, NJ Transit, products liability, and other catastrophic personal injury cases. He has represented seriously injured clients in New Jersey, New York, Pennsylvania, North Carolina, Michigan, West Virginia, Florida, Massachusetts, Virginia, and Delaware. Edward is certified by the Supreme Court of New Jersey as a civil trial attorney, a distinction reserved for less than 2% of attorneys. The New Jersey Supreme Court has designated this honor to attorneys who are able to demonstrate sufficient levels of experience, education, knowledge, and skill in civil trial practice.
Known for his fierce cross-examination of medical witnesses and artistic presentations of his cases, Edward lectures across the country on trial techniques and the concept of proximate cause.
Edward is the author of The Domino Theory and The Domino Theory Second Edition, both Trial Guides publications in which he explains proximate cause and shows other attorneys how to successfully present any case to a jury. In his popular YouTube video, "Capozzi Causation Dominos," Edward demonstrates, step-by-step, how to set up each element from discovery to settlement to opening statement to arguing damages in closing – when you knock down your dominos and demonstrate the inevitable logic of your case.
Edward is an active participant, advocate, and educator in the field of law. He is a published author and lectures nationally on trial techniques and cross-examination of defense medical experts. From 2012-2018, Ed received at least one, and as many as three, of the state's top 20 verdicts or settlements. In 2018, Edward had one of the top 50 work accident settlements in the United States, according to TopVerdict*. On June 11, 2020, Edward was installed as the 59th President of the New Jersey Association for Justice.
Edward is the included the following lists:
Edward exclusively handles auto accidents, trucking, NJ Transit, elevator, and other catastrophic personal injury cases only.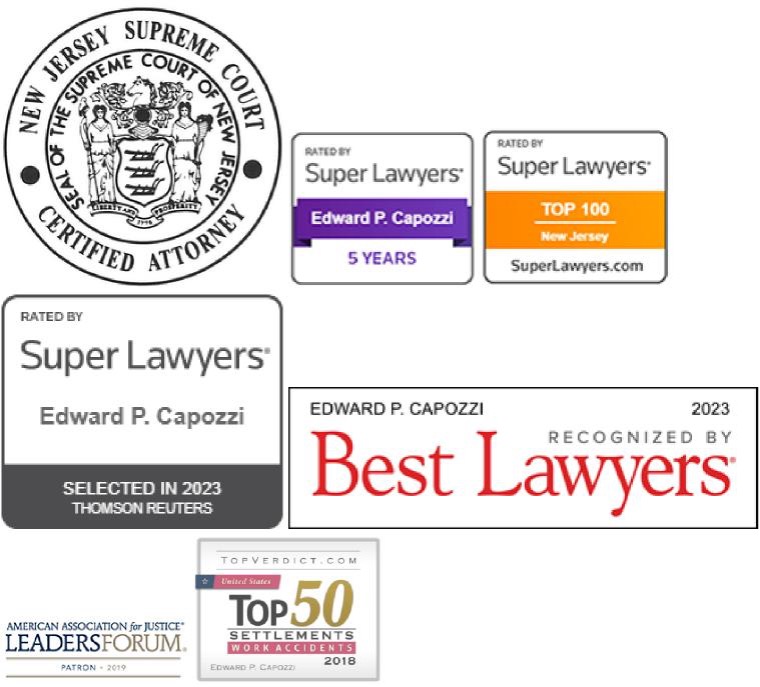 *No aspect of this advertisement has been approved by the Supreme Court of New Jersey. Click here for the Awards and Honors Methodology.
Notable Matters

Each lawsuit handled by Mr. Capozzi depends on its unique facts and particular legal circumstances. The following are a list of many results obtained by Mr. Capozzi on behalf of his clients.

$3.6 Million Dollar settlement for a fall down in Atlantic City
$1.25 Million Dollar settlement for a MVA in Westchester County, NY
$5.35 million settlement at trial for a pedestrian struck by a tractor-trailer in Middlesex County
$4.775 million settlement for a woman in Bergen County injured in a trucking accident
$4.75 million settlement for a family injured in a trucking accident in Essex County
$4.735 million verdict for a cervical disc replacement in Hudson County
$3.55 million settlement for a cervical and lumbar fusion in Passaic County
$2.88 million settlement at mediation for cervical herniated disc in Essex County
$2.8 million settlement for an employee injured by a defective street sweeper in Union County
$2.15 million settlement for the family of a man who passed away due to an elevator accident
$2.1 million settlement in a wrongful death case in Sussex County
$2 million settlement at trial for a cervical herniated disc in Hudson County
$2 million settlement in a wrongful death case in Bergen County
$1.85 million settlement in United States District Court of NJ for injuries in a trucking accident
$1.825 million settlement for a wrongful death case in Union County
$1.75 million settlement at trial for a wrongful death case in Union County
$1.7 million settlement for a herniated disc in Morris County $1.5 million verdict for a disc bulge in Bergen County
$1.375 million settlement for a slip and fall on ice in Morris County
$1.275 million settlement for a motor vehicle accident in Bergen County
$1.25 million settlement for a fractured wrist Bergen County
$1.233 million recovery for a traumatic brain injury in Sussex County
$1.195 million settlement at trial for a rear-end auto accident in Bergen County
$1.1 million settlement for a trucking accident in Bergen County
$1.1 million settlement for a fractured arm in Passaic County
$1.1 million settlement at trial for lumbar disc herniation in Hudson County
$1.075 million settlement for a dram shop case in Bergen County
$1 million settlement at trial for a lumbar herniated disc in Hudson County
$1 million settlement for a cervical herniated disc in Bergen County
$1 million settlement for a cervical herniated disc in Bergen County
$1 Million Dollar Settlement for a Wrongful Death Case in NJ Federal Court
$989K recovery for a fractured arm in Philadelphia
$975K settlement for a cervical herniated disc in Bergen County
$950K settlement for a herniated disc in Bergen County
$950K settlement at trial for an infection requiring surgery from a slip and fall in Bergen County $925K settlement for a Morris County woman injured by an unsecured, airborne tent
during a thunderstorm
$920K verdict in Essex County for a pedestrian struck by an automobile
$915K settlement at mediation for a fractured arm from an NJ Transit Bus collision
$905K settlement for cervical herniations in Middlesex County
$895K settlement for a man injured in a trucking accident in Essex County
$875K settlement at trial for a spinal injury-Bergen County
$875K settlement for a lumbar herniated disc in Bergen County
$850K settlement at trial for a cervical herniated disc in Passaic County
$850K settlement for a cervical herniated disc in Bergen County
$825K settlement for a fractured femur in Middlesex County
$800K settlement for a fall down in a supermarket in Middlesex County
$800K settlement for a cervical herniated disc in Essex County
$800K settlement for a cervical herniated disc in Bergen County
$800K settlement for a lumbar herniated disc in Bergen County
$795K for a police officer injured in a trucking accident in Bergen County
$750K settlement for a cervical herniated disc in Bergen County
$750K settlement for a client following a rear-end car accident in Essex County
$700K settlement for a victim of a train accident
$650K settlement at trial for a lumbar discectomy in Middlesex County
$650K settlement for client who sustained a back injury after a truck negligently struck his vehicle in Middlesex County
$600K settlement at Mediation for a fractured leg in Bergen County
$600K settlement at trial for a perforated colon in a medical malpractice case in Passaic County
$600K settlement at trial for a motorcycle accident in Bergen County
$595K settlement at trial for a man who rear ended a salt spreader in Essex County
$575K settlement for a lumbar injury caused by a tractor-trailer accident in Morris County
$525K settlement at trial for a cervical injury in Bergen County
$510K settlement for a slip and fall in Bergen County
$500K verdict for a cervical herniated disc in Middlesex County
$500K settlement for a man assaulted by bouncer in Bergen County
$500K settlement at trial for a herniated disc from a slip and fall in Bergen County
$500K settlement for herniated disc in Bergen County
$497K settlement at trial for a herniated disc in Hudson County
$486K settlement for a herniated disc in Passaic County
$470K settlement for a cervical herniation in Bergen County
$460K settlement at trial in Monmouth County for a shoulder surgery
$400K verdict for disc bulge in Middlesex County
$375K verdict for disc bulge in Bergen County
$371K verdict for a lacerated hand at a fraternity party in Bergen County
$350K settlement at trial for a herniated disc in Bergen County
$350K for a fractured orbital in a trucking accident; United States District Court: Trenton, NJ
$300K settlement for a fractured leg in a premises liability case in Bergen County
$300K verdict for a herniated disc in Middlesex County
$300K verdict for a herniated disc in Bergen County
$300K settlement for a herniated disc in Bergen County
$289K verdict for disc bulge in Bergen County
$287K settlement at trial for a herniated disc in Passaic County
$280K award at arbitration for a bulging disc in Bergen County
$287K settlement at trial for a herniated disc in Bergen County
$275K settlement at trial for a fractured ankle in a premises liability case in Hudson County
$250K verdict for herniated disc in Bergen County
$250K settlement at trial for a torn ligament in a woman's foot in Bergen County
$250K settlement for a herniated disc in Ocean County
$240K settlement at trial for a herniated disc in Middlesex County
$235K verdict in Hudson County for cervical herniated disc
$235K settlement in a wrongful death case in Bergen County
$225K settlement at trial for a woman injured in a motorcycle accident
$215K settlement at trial for a dog bite in Essex County
$192K verdict for a torn meniscus in Bergen County
$189K verdict for a bulging disc in Essex County
$135K verdict for a herniated disc in Middlesex County
$125K verdict for a disc bulge in Hudson County
$125K verdict for a herniated disc in Passaic County

*Results may vary depending on your particular facts and legal circumstances.

Lectures & Publications

Edward Capozzi is the author of "The Domino Theory" and "The Domino Theory, Second Edition" both are Trial Guides publications in which he shows readers how to successfully demonstrate any case to a jury.

Edward is a frequent lecturer. His presentations include:

Lecturer: "The Domino Theory: Second Edition" Tennessee Trial Lawyers, June 2023
Lecturer: "The Domino Theory, Proving proximate Cause at Trial", Texas Trial Lawyers Association, Nov, 5, 2021, San Antonio, TX
Lecturer: "The Domino Theory: Proving Proximate Cause at Trial"  Columbus, Ohio; May 2022
Lecturer: "Never Lose a Trial on Proximate Cause Again" -360 Advocacy: Auto Litigation 8.0; Las Vegas, Nevada April 2022
Lecturer: "New Jersey's Top Ten" NJAJ Boardwalk Seminar, Atlantic City, New Jersey April 2022
Lecturer: "The Domino Theory, Proving Proximate Cause at Trial", Indiana Trial lawyers Association, Nov. 15, 2021, Indianapolis, IN
Lecturer: "The Domino Theory, Atlanta Trial Lawyers Association", September 2021, Atlanta, GA
Lecturer: "Never Lose a Case on Proximate Cause Again," Michigan Trial Lawyers Association, Detroit, MI 2020
Lecturer: "Never Lose an Auto Case on Proximate Cause Again," 360 Advocacy, Auto 7.0 Seminar, Las Vegas, Nevada 2020
Lecturer: The Domino Theory, Wyoming Trial Lawyers Association, Jackson, Wyoming 2019
Lecturer: Proving Proximate Cause at Trial, Michigan Association for Justice, Detroit, Michigan, 2019
Lecturer: The Domino Theory, New York State Trial Lawyers Association, NY, New York, 2019
Lecturer: The Domino Theory, Proving Proximate Cause at Trial, Idaho Trial Lawyers Association, Boise, Idaho, 2019
Lecturer: Proving Proximate Cause at Trial, 360 Advocacy, Las Vegas, Nevada, 2019
Lecturer: The Domino Theory, North Dakota Association for Justice, Fargo, North Dakota, 2019
Lecturer: The Domino Theory, Washington State Association for Justice, Seattle, Washington, 2019
Lecturer: The Domino Theory, Nassau County New York Bar Association, Mineola, New York, 2019
"The Domino Theory and Proximate Cause," Trial Magazine, November 2018
Lecturer: The Domino Theory, Meadowlands Seminar, November 2018
Lecturer: The Domino Theory, Wisconsin Association for Justice, Green Bay, Wisconsin 2018
Lecturer: The Domino Theory, Montana Trial Lawyers Association, Bozeman, Montana 2018
Lecturer: Cross Examining the Defense Medical Expert, New Mexico Trial Lawyers Association, Alburquerque, New Mexico 2018
Lecturer: The Domino Theory, AAJ Jazz Fest Seminar, New Orleans, LA, 2018
Lecturer: The Domino Theory, Delaware Trial Lawyers Association, Rehoboth Beach, DE, 2018
Lecturer: The Domino Theory, Fireside Chat Webinar with Trial Guides, 2018
Lecturer: Deposition College: NJAJ Winter Seminar, Somerset, NJ, 2018
Lecturer: The Domino Theory, North Carolina Trial Lawyers Association, Raleigh, NC, 2018
Lecturer: The Domino Theory, West Virginia Association for Justice; Charleston, WV, 2018
Lecturer: Post Verdict Juror Discussions. Is it Ethical? NJAJ Meadowlands Seminar, Secaucus, NJ, 2017
Lecturer: Dissecting DME Reports for Cross Examination. NJAJ Meadowlands Seminar, Secaucus, NJ, 2017
Lecturer: Ten Tips for Auto Cases; NJAJ Meadowlands Seminar, Secaucus, NJ, 2017
Moderator: Verdicts from the Masters; NJAJ Meadowlands Seminar, Secaucus, NJ, 2017
Lecturer: Arkansas Trial Lawyers Association: The Domino Theory; Little Rock, Arkansas, 2017
Lecturer: NJAJ Exposing Deceptive Defense Medicine; New Brunswick, NJ, 2017
Lecturer: National Business Institute: Civil Trial: Everything You Need to Know, Newark, NJ, 2017
Lecturer: NJAJ-Boardwalk Seminar: NJ Top Ten: Atlantic City, NJ, 2017
Lecturer: Passaic County Inns of Court: Demonstrative Evidence: Paterson, NJ, 2017
Lecturer: The New York State Trial Lawyers Association: The Domino Theory: New York, NY, 2017
Lecturer: Connectionology: Traumatic Brain Injury Seminar: New York, NY, 2017
Lecturer: The Domino Theory: NJAJ Four Concurrent Seminars: 2017
Lecturer: North Carolina Advocates for Justice: The Domino Theory: Raleigh, NC, 2017
Lecturer, Top Ten in Torts: NJAJ Boardwalk Seminar, Atlantic City, NJ, 2016
Lecturer: The Domino Theory: NJAJ Meadowlands Seminar 2016
Lecturer, Advanced Trial Techniques: National Business Institute, Cherry Hill, NJ, 2016
Lecturer, The Domino Theory: Iowa Association for Justice; DesMoines, Iowa, 2016
Lecturer, AAJ Jazz Fest: The Domino Theory: New Orleans, LA, 2016
Lecturer, National Trial Lawyers Summit: The Domino Theory: Miami, FL, 2016
Lecturer, Live Jury Trial of a Verbal Threshold Trial: NJAJ Meadowlands, NJ, 2015
Lecturer, Preparing a Verbal Threshold Trial: NJAJ Meadowlands, NJ, 2015
Lecturer, NJAJ Boardwalk Seminar, Atlantic City, NJ May, 2015
Lecturer, AAJ Jazz Fest Trucking Seminar: The Domino Theory; New Orleans, LA, May, 2015
Lecturer, NJAJ Exposing Deceptive Defense Medicine Seminar, Atlantic City, NJ, June, 2015
Moderator; AAJ Winter Convention, Palm Springs, CA, 2015
Lecturer, Work Horse Seminar, Orlando, FL, 2015
Lecturer, Auto Program, NJAJ Meadowlands Seminar, 2014
Lecturer, AAJ Jazz Fest Seminar: Damages in Trucking Cases; New Orleans, LA, 2014
Lecturer, AAJ Annual Convention; Baltimore, MD, 2014
Lecturer, Medical Experts and Records Seminar: National Business Institute, Cherry Hill, NJ, 2014
Lecturer, Proving Injuries in Verbal Threshold: Boardwalk Seminar, Atlantic City, NJ, 2014
Lecturer, The Year in Torts in New Jersey – The Top Ten: Boardwalk Seminar , Atlantic City, NJ, 2014
Show and Tell: "Proving Proximate Cause at Trial": The Domino Theory: Meadowlands Seminar, 2013
Lecturer, AAJ Annual Convention; San Francisco, CA: Cross Examination of the Defense Medical Expert, 2013
Lecturer, NJAJ Exposing Defense Medicine New Brunswick, NJ, 2013
Lecturer, NJAJ Boardwalk, Atlantic City, NJ-Deposition College, 2013
Lecturer, NJAJ Boardwalk, Atlantic City, NJ-Litigation at Sunrise, 2013
Lecturer, NJAJ-Four Concurrent Seminars: Edison, NJ: Identifying your Experts and Getting the Most Out of the Treating and Non-Treating Experts, 2013
Lecturer, NJAJ-Four Concurrent Seminars: Edison, NJ: Closing Argument, 2013
Lecturer, EMG: The Lynchpin of Causation, 2012
Lecturer, Exposing Defense Medicine, 2011
Lecturer, Facts Can't Speak For Themselves, 2010
Lecturer, 7 Keys of Persuading and Prevailing in Court
Lecturer, Trial Exam 101: Cross Examination of a Defense Expert
Lecturer, Litigation at Sunrise: Cross Examination of a Defense Expert
Lecturer, Cross Examination of a Defense Expert
Lecturer, The Trial of a Verbal Threshold Case
Lecturer, Objective Evidence Beyond the MRI
Lecturer, Pathway to Verbal Threshold Victories
Lecturer, How to Prove Spinal Injuries at Trial
Lecturer, How Can I Obtain a Large Verdict on Soft Tissue Injuries
Lecturer, Absolute Winning Techniques at Trial

Noteworthy Information

Edward has earned numerous awards including:

Best Lawyers in America® 2019 – 2022
Super Lawyers, 2013 – 2022
Super Lawyers Rising Star, 2012
Bergen County 201 Magazine -Top attorneys 2016
Bergen County 201 Magazine -Top attorneys 2015
Bergen County 201 Magazine – Top Attorney, 2014
Bergen County 201 Magazine – Top Attorney, 2013
Bergen County 201 Magazine -Top attorneys 2012
50 Top NJ Italian-American Professionals, 2012
Supreme Court of New Jersey as a Civil Trial Attorney
New Jersey Law Journal, Personal Injury Trial Lawyers Hall of Fame, 2014
New Jersey Association for Justice – Presidents Award, 2015

Professional Activities

New Jersey Association for Justice, President (2020 – 2021)
New Jersey Association for Justice (formerly the American Trial Lawyers Association-NJ), Vice President
The Melvin M. Belli Society, Fellow
Academy of Truck Accident Attorneys (ATAA) , Member
American Board of Trial Advocates (ABOTA), Advocate Member
Sussex County Bar Association, Member
APITLA-Association of Plaintiff Interstate Trucking Lawyers of America, Member
American Association for Justice, Member
Leader's Forum, Member
Bergen County Bar Association, Member
New Jersey State Bar Association, Member
American Bar Association, Member
Multi Million Dollar Advocates Forum, Lifetime Member
Million Dollar Advocates Forum, Lifetime Member