Written by: Brach Eichler Injury Lawyers
Last Updated : November 28, 2023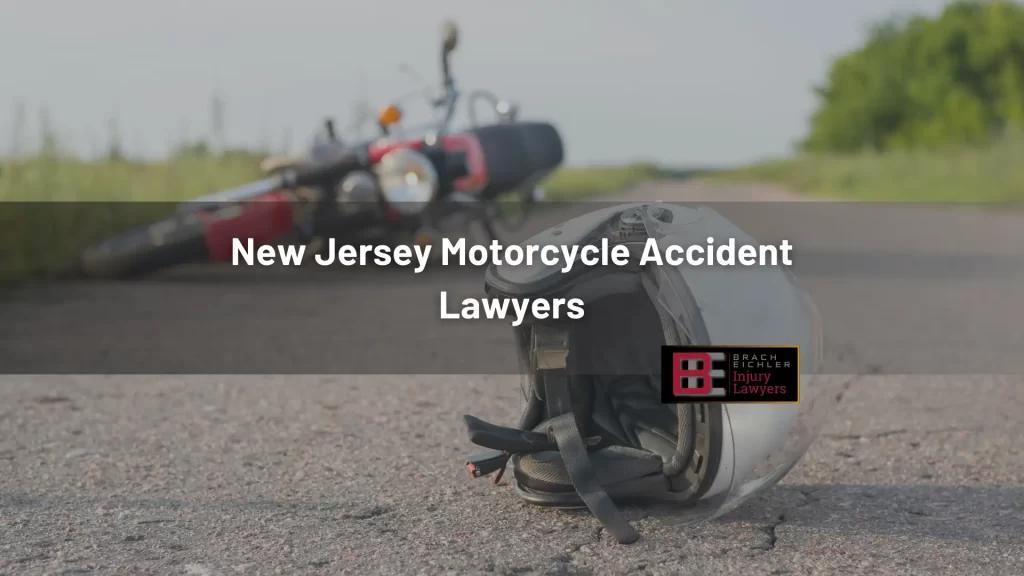 The Garden State might not be Hollister, CA, but straddling a bike and roaring down the Garden State Parkway still provides greater freedom and exhilaration than you can find in the tight confines of a passenger car. Unfortunately, motorcycle operation involves a greater risk of severe injury or death, even in a minor collision. According to the N.J. Division of Highway Safety, motorcyclists are five times more likely than passenger car occupants to be injured and more than 26 times more likely to die in a crash. If you or a loved one sustained a serious injury in a motorcycle crash, you might have the right to compensation for your medical bills, lost earnings, and pain and suffering. But only if you can prove that someone else was responsible for the accident. At Brach Eichler Injury Lawyers, our injury attorneys are dogged investigators and passionate advocates for injured bikers. Our motorcycle accident attorneys fight aggressively to obtain the full compensation you need and deserve.
Motorcycle accidents are often severe
Any type of motor vehicle accident is scary, but motorcycle accidents are especially terrifying. Motorcycles are much smaller than other vehicles and don't have the same safety equipment so these wrecks can lead to severe injuries and even death. If someone else's negligence contributed to your crash, they should be held accountable. However, fighting for your legal rights and fair compensation can be difficult if you're trying to do it all alone.
At Brach Eichler Injury Lawyers, we want to stand by your side and help you overcome this difficult time. Our trusted New Jersey motorcycle accident attorneys have helped clients like you across the Garden State get fair compensation for their injuries. We have been named the best law firm in New Jersey and helped clients recover over $425 million for their injuries.
When you call Brach Eichler Injury Lawyers, you'll have a true ally in your fight for justice. Our compassionate lawyers will go above and beyond to give you personal attention and answer all your questions. Don't wait another day to get on the road to recovery. Call us at (973) 364-8300, fill out our online contact form, or click the live chat button to set up a free consultation today.
Do I Need a Lawyer?
Having a skilled attorney is critical to recovering compensation due to the complexities of motorcycle crashes. Not only are motorcycle accident injuries and damages even more severe than in car crashes, but it's also more difficult to get justice in these types of cases. Some insurance agents and jurors see motorcyclists as risk-takers, so they quickly blame them for accidents instead of fairly assessing who is at fault. When facing these prejudices, motorcyclists face difficulties getting fair compensation if they're trying to handle their cases independently.
When someone else's negligence causes you harm, you shouldn't have to pay for their poor decisions. The experienced motorcycle accident attorneys at Brach Eichler Injury Lawyers understand motorcyclists' challenges in getting justice and compensation and know what it takes to overcome them. As our multimillion-dollar results, positive reviews from past clients, and industry recognition demonstrate, Brach Eichler Injury Lawyers has the skills and resources to help you win your case. Let our compassionate and experienced attorneys fight for you.
Common Injuries from New Jersey Motorcycle Accidents
Motorcyclists and their passengers are thoroughly exposed in the event of an accident, sustaining impacts from vehicles and/or the road's hard surface. If a crash occurs at sufficient speed, a rider can skid across the ground for many yards, causing extreme damage to the skin. Resulting injuries include:
Catastrophic injuries alter a rider's life forever and often require a lifetime of medical and personal care. Such injuries cry out for justice. But it takes a skilled and determined attorney to recover the full compensation you deserve.
What Types of Motorcycle Accidents Does Brach Eichler Injury Lawyers Handle?
Many of the causes and effects of road accidents are the same no matter what type of motor vehicle you are in, but the impacts on motorcyclists can be much more serious. Brach Eichler Injury Lawyers handles all types of motorcycle accident cases, including wrecks caused by circumstances such as:
Motorcycles struck by other vehicles turning left
Driving between lanes
Unsafe and unmarked road conditions and obstacles
What Should I Do After a Motorcycle Accident?
After a motorcycle accident, your health is the number one priority. If you weren't treated during the accident, have a medical professional evaluate your injuries immediately. Motorcycle wrecks can cause severe injuries and chronic medical conditions, but not all injuries are obvious immediately. A doctor can help detect these injuries and give you the treatment needed to recover.
The doctor's report will also be critical if you decide to file a claim because it will help prove the extent and cause of your injuries. Without this report, insurance companies might try to claim that your injuries aren't as severe as you say they are or that your injuries were caused by some underlying medical issue instead of the crash.
Other vital pieces of evidence include pictures and an evaluation of the accident scene. Photograph your injuries, vehicle damage, and any other vehicle involved in the crash. Also, take pictures of that day's weather and road conditions at the time of the wreck. This might include traffic signs, lights, skid marks, road construction, or any other warning or hazard.
Don't speak to an insurance adjuster without a lawyer
Don't speak to the other party's insurance company without your lawyer, and don't admit fault for the accident to anyone, including the police. Accidents are complicated and can be caused by many factors, so it's difficult to understand responsibility without a full investigation. If you admit fault, you might be held responsible for the wreck, even if an investigation finds someone else liable.
Keep a log of everyone you speak to about the crash. Include the date, names, and contact information for witnesses, your lawyer, and medical professionals. Get all the information you can on the other drivers involved in the accident, including names, contact information, insurance information, and their driver's license and license plate numbers. If the police were called to the scene, ask them for a copy of the official accident report.
The best way to ensure you have all the evidence you need and protect your legal rights is to contact an experienced motorcycle attorney. They can help you gather all the necessary evidence, speak with insurance on your behalf, work to negotiate a fair settlement, and represent you in court if needed to get you full compensation.
What Kinds of Compensation Can I Get?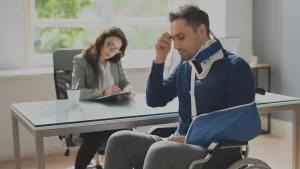 At Brach Eichler Injury Lawyers, our motorcycle accident attorneys have helped clients get hundreds of thousands of dollars in motorcycle accident cases. While the exact amount of money you can recover depends on the details of the case, compensation typically covers things like:
Future medical expenses
Outstanding medical bills
Repair or replacement of your vehicle
Lost wages
Reduced earning capacity
Pain and suffering
If your loved one was killed in a motorcycle accident, no money can make up for their loss.
However, you might be able to recover compensation to cover expenses such as:
Funeral and burial expenses
Medical expenses
Pain and suffering
Loss of companionship
Loss of income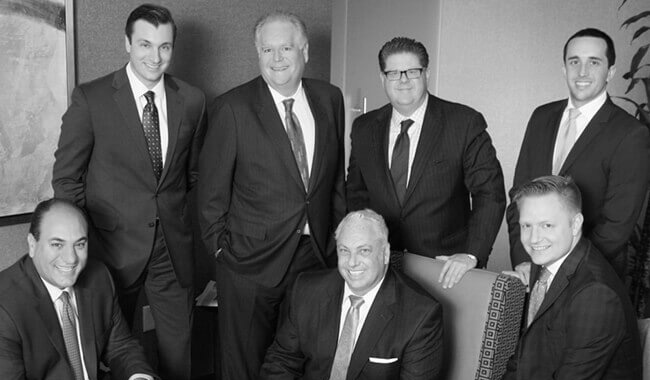 It's All About Results
We are the trial attorneys with the experience and knowledge to get you the results you deserve. At Brach Eichler Injury Lawyers, we take time to get to know you, as well as your case. We are committed to excellence. It is important for our team to understand your fears, concerns and expectations. We are always available to answer any questions, and are willing to come to you if you are unable to come to us.
Contact Our Experienced Law Firm
Determining fault in a New Jersey motorcycle accident
Fault in a motorcycle accident can be difficult to prove. Because bikes are much riskier than passenger cars, there's a stigma attached to riding. Hollywood and criminal gangs such as the Hell's Angels have reinforced the image of bikers as rebels who flout the law. That image can be tough for a plaintiff biker to overcome unless they have a tough trial lawyer.
Our legal team at Brach Eichler Injury Lawyers has experience with motorcycle accidents, and we aggressively pursue your claim by reconstructing the accident and proving the other driver's fault.
Accident reconstruction includes expert consultation with engineers who use scientific analysis of the accident scene and physical evidence to determine the sequence of events. Other aspects of reconstruction include reviewing accident reports, obtaining and reviewing satellite photographs of the scene, retrieving surveillance video from security cameras of local businesses, and conducting interviews with witnesses. This type of attention to detail is only something an experienced motorcycle accident attorney can and will do.
How New Jersey's motorcycle helmet law can affect your case
According to the New Jersey Helmet Law – P.L. 39:3-76.7: "No person shall operate or ride upon a motorcycle unless he wears a securely fitted protective helmet of a size proper for that person and of a type approved by the federal DOT. Such a helmet must be equipped with a neck or chin strap and reflectorized on both sides."
Helmet law makes sense when you consider the safety facts:
Even low-speed impacts can be fatal.
Unhelmeted riders are three times more likely to die from head injuries than riders wearing a DOT-approved helmet.
Helmets do not interfere with a biker's vision.
Most crashes occur on short trips, just a few minutes after starting, so the idea that you're just running a short errand is no excuse to go out unprotected.
But what happens if you violate the helmet law and get into an accident?
The answer depends on the type of injury you are claiming. New Jersey operates under the legal rule of "comparative negligence." When a plaintiff brings a personal injury lawsuit, the defendant can assert the defense that the plaintiff is also partially responsible for causing his injuries. If you claim a head injury, the jury could conclude that your negligence in failing to wear a helmet caused you to be injured more severely than you otherwise would have been. If that happens, you might only recover compensation for a minor bump on the head instead of a much more serious traumatic brain injury.
Comparative negligence can be a consideration in any personal injury claim, and insurance companies for defendants often use this law to reduce or totally bar a plaintiff's claim. As your determined advocate, we protect you from allegations of comparative negligence, so you can recover the full, fair compensation you deserve.
Motorcycle accident facts and figures
In its most recent complete report, the National Highway Transit Safety Administration (NHTSA) found that 99 motorcyclists were killed in traffic collisions in 2021.
A more complete look at state-level data published by New Jersey's Office of the Attorney General found that in 2018 more than 500 deadly crashes on state roads resulted in 564 lives lost. Of those killed, 53 (nearly 10 percent) were motorcycle riders. Despite representing a significant drop from the 84 bikers who died in crashes in 2017, this are still far too many preventable motorcycle deaths.
The age groups with the highest motorcycle fatalities were riders in their late 20s, 30s, and 50s, with 11 deaths per group. Disturbingly, more than one-third of the motorcyclists who perished were under the influence of alcohol at the time of the accident, 10 percent higher than the national rate. Only 81 percent of those killed were wearing appropriate protective helmets.
That year, the leading causes of deadly motorcycle crashes were speeding, driver inattention, and improper passing. Men were almost 17 times more likely to die in motorcycle collisions than women.
How long do I have to file a motorcycle accident lawsuit?
Motorcycle accident lawsuits are limited by "statute of limitations" laws, which differ in each state. Per New Jersey's statute of limitations, you typically have two years to file a lawsuit after a motorcycle accident, but there are exceptions to this deadline. A skilled motorcycle accident lawyer can help determine which laws, regulations, and timelines apply to your circumstances.
How much does it cost to hire a motorcycle accident lawyer?
Lawyers have different fee schedules, so an initial meeting and investigation can sometimes cost thousands of dollars. However, other law firms, such as Brach Eichler Injury Lawyers, work on a contingency basis so that you won't pay any upfront fees. Your initial evaluation is free, and you won't pay a cent unless we help you win your case.
What if I was partially at fault for the accident?
Even if you were partially responsible, you might be able to recover compensation. New Jersey's comparative negligence laws allow anyone to pursue a claim against another party more at fault for the accident. For example, if they were 60% at fault and you were 40% at fault, then you can pursue a claim.
Contact an aggressive NJ motorcycle accident lawyer for your accident claim
Brach Eichler Injury Lawyers provides determined representation for victims of motorcycle accidents throughout New Jersey. Let us help you get the maximum compensation possible for your claim. Call us today at (973) 364-8300 or contact us online to schedule a free consultation.