Written by: Brach Eichler Injury Lawyers
Last Updated : November 30, 2023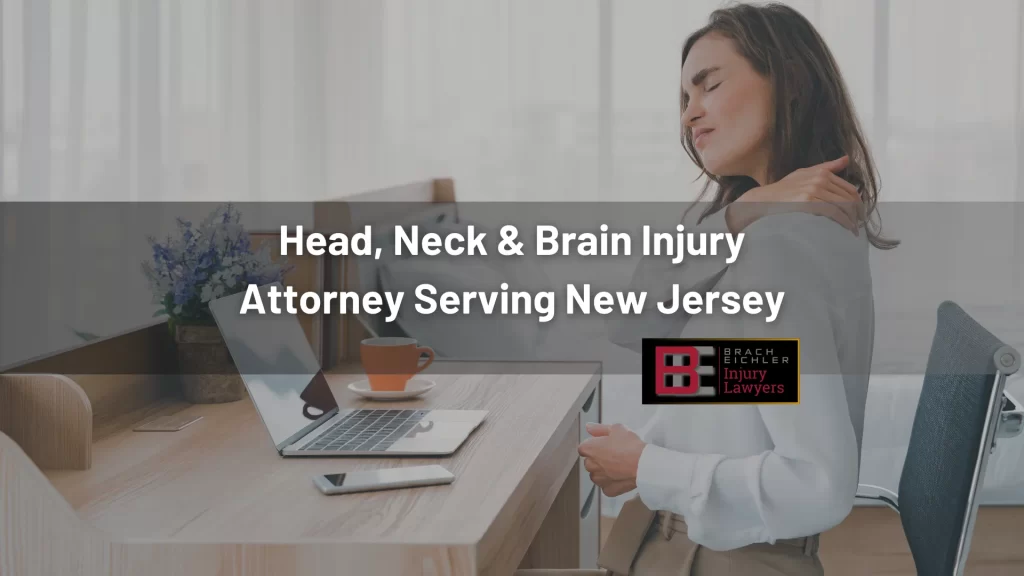 Brach Eichler Injury Lawyers offers skilled representation for clients with concussions, traumatic brain injuries (TBI), whiplash, and paralysis.
Injuries to the head and neck can be devastating. The range of potential harm, whether from a car accident, a slip and fall, or some other injury scenario, is wide. There is only so much medical science can do to diagnose and treat trauma to this part of the body. At Brach Eichler Injury Lawyers, our personal injury lawyers work closely with medical experts to understand these injuries' seriousness. We fight to overcome any challenges to recover appropriate compensation for this harm. Our law firm has recovered over $425 million in compensation for injured clients, including several seven-figure settlements and jury awards for catastrophic injuries. If you or a loved one has sustained a concussion, traumatic brain injury, ligament or disc damage, or spinal cord trauma, you can trust our reliable and determined lawyers to build a compelling case for the full compensation you deserve.
Do I Need a Brain Injury Lawyer? 
Accidents involving brain injuries are usually among the most complicated personal injury cases. You should not try to handle your case alone. Allow an experienced brain injury lawyer to take care of all the complex legal matters so you can focus on your recovery.
Many who suffer a brain injury develop cognitive problems. That makes it very difficult to return to their normal lives. You may recover compensation to help cover the costs of medical expenses, rehabilitation, lost income, and pain and suffering, among other damages, if your accident was due to another party's negligence or recklessness.
An experienced brain injury lawyer will be able to review the facts and circumstances of your unique case and give you an idea of the types of compensation you may recover. The New Jersey brain injury lawyers at Brach Eichler Injury Lawyers know how to litigate brain injury cases and represent your rights aggressively.
Why Choose Brach Eichler Injury Lawyers to Handle My Case?
Serious brain injuries may cost victims and their families tens of thousands, or even millions, throughout the impairment. The costs of treatment, medication, rehabilitation, and more are exorbitant. Brach Eichler Injury Lawyers is led by nationally recognized trial attorney Edward Capozzi and a team of highly accomplished personal injury lawyers. We will use our vast experience and knowledge on your brain injury case. Our attorneys fight tirelessly to ensure you receive the maximum compensation available.
Brach Eichler Injury Lawyers knows that a brain injury can wreck a family financially. You must take legal action immediately if you are a loved one has suffered a brain injury due to someone else's negligence. The New Jersey brain injury lawyers at Brach Eichler Injury Lawyers have extensive experience pursuing catastrophic injury claims involving neurological damage. We represent clients who suffered brain injuries in many personal injury incidents. These include car accidents, truck accidents, motorcycle accidents, bicycle accidents, pedestrian accidents, and more.
Our attorneys work with brain injury experts to show what our clients will need in the present day and in the years to come. We are committed to protecting your rights and pursuing full and fair compensation for your damages.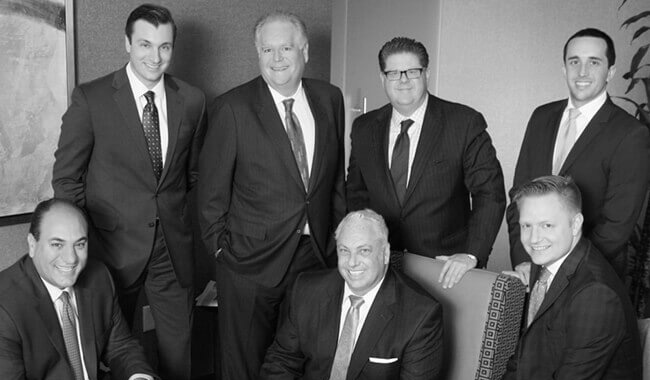 It's All About Results
We are the trial attorneys with the experience and knowledge to get you the results you deserve. At Brach Eichler Injury Lawyers, we take time to get to know you, as well as your case. We are committed to excellence. It is important for our team to understand your fears, concerns and expectations. We are always available to answer any questions, and are willing to come to you if you are unable to come to us.
Contact Our Experienced Law Firm
Types of Brain Injury Cases We Handle
At Brach Eichler Injury Lawyers, we handle various brain injuries resulting from accidents. Brain injuries vary from minor to catastrophic, depending on the damage to the brain. When the brain is injured in such a way that brain tissue is destroyed, the result is traumatic brain injury (TBI). A traumatic brain injury can occur by:
Blunt force. A blow or force to the head causes bruising or bleeding of the brain. Blunt force trauma can lead to a coup-contrecoup injury. That is a type of non-penetrative TBI where the force causes the brain to hit both sides of the inside of the skull.
Penetration. An object penetrates the skull, destroying brain tissue and causing the brain to bleed.
Shaking. Violent shaking can also cause a coup-contrecoup injury and damage to brain tissue.
Brain swelling is another possibility. Swelling within the closed cranium can cause further brain tissue destruction. This is why anyone who suffers a brain injury, even one that causes brief unconsciousness, should seek medical care immediately, even if the injury does not appear severe.
As with any injury, TBIs can range from mild to severe, with the following symptoms:
Mild TBI. Physical symptoms may include loss of consciousness for a few seconds to a few minutes. As well as confusion, disorientation, headache, nausea, fatigue, speech problems, insomnia, and dizziness. Victims can suffer sensitivity to light, blurry vision, ear ringing, and loss of taste or smell. They may have difficulty with memory and comprehension and suffer from mood swings, anxiety, and depression.
Moderate to severe TBI. Physical symptoms can include loss of consciousness from several minutes to hours. Other symptoms include persistent headache, repeated vomiting, convulsions and seizures, dilation of pupils, inability to awaken from sleep, numbness in extremities, and loss of coordination and motor skills. Victims can suffer serious cognitive impairments, speech disorders, mood swings, confusion, depression, and suicidal thoughts.
Victims who suffer a concussion or a mild TBI recover over time. However, those with moderate TBI often require a variety of therapies and rehabilitation. Severe TBI victims can be permanently disabled.
A brain injury can be anything from a bump on the head to a TBI. Unfortunately, a minor head injury can rapidly become a TBI without proper care. Common causes of brain injuries include:
Car accidents
Motorcycle accidents
Struck by/struck against accidents
Physical assaults
Sports-related contact
Medical malpractice
Birth injury
Brach Eichler Injury Lawyers's New Jersey brain injury attorneys have vast knowledge and experience in personal injury litigation, including work with TBI victims and their families. Our investigations of brain injury accidents include determining liability and the full costs of the injuries to the victim.
If you have suffered a brain injury, Brach Eichler Injury Lawyers can help you recover. We take your medical treatment seriously. Our firm can ensure you get the treatment you need to help you recover from your injuries.
Serious neck injuries from personal injury accidents
The neck is a very vulnerable part of the body. In auto accidents, for example, the impact of a crash can cause tremendous torque on the neck, stretching ligaments unnaturally and displacing the discs that cushion the vertebrae. A high-speed crash can deliver enough force to compress or crack vertebrae or even sever the spinal column. The result is often permanent painful and/or disabling injury, such as:
Soft tissue injury — Also called whiplash because of the back-and-forth motion that inflicts harm, this type of injury consists of contusions, strains and tears to the muscles, ligaments, tendons, and discs of the neck. Intensive therapy is generally necessary to relieve pain, rebuild strength, and restore range of motion. When the discs are involved, bulges applying pressure on the spinal cord can cause loss of strength and function to the arms, hands, and fingers.
Quadriplegia — When extensive damage to the spinal cord occurs, a victim can suffer paralysis below the trauma point. A trauma point in the neck can mean paralysis in both arms and legs as well as loss of bodily functions. Quadriplegia is an injury that requires a lifetime of medical and personal care.
Our team works with qualified medical experts to ascertain the full extent and permanency of the harm you've suffered. We work tirelessly to build the strongest case possible for the highest possible recovery.
Frequently Asked Questions (FAQs) Regarding Brain Injuries
At Brach Eichler Injury Lawyers, we receive many questions from clients regarding brain injury cases. Below are some of the most frequently asked. If you have any questions about your particular brain injury case, feel free to contact the compassionate New Jersey brain injury lawyers at Brach Eichler Injury Lawyers by calling (973) 364-8300.
Can a TBI occur even if a person does not lose consciousness?
While severe TBIs often involve a loss of consciousness, this does not have to happen for a serious brain injury to occur. This is why medical treatment should be sought immediately whenever a TBI is suspected.  
What types of damages are available in a traumatic brain injury case? 
Under New Jersey law, both economic and non-economic damages are available to victims of brain injuries. Common damages sought include those for past and future medical expenses, physical and emotional pain and suffering, lost wages, and loss of earning potential.
What is the deadline for filing a brain injury lawsuit in New Jersey?

New Jersey's statute of limitations establishes the deadline for filing a personal injury claim at two years from the date the injury occurred. Because there are exceptions to the rule in special circumstances, it is critical you speak with a New Jersey personal injury attorney concerning these limitation periods, even if you think your statute of limitations has expired.
Contact our experienced head and neck injury lawyers in NJ for your injury claim
Victims of brain injuries are often hit with exorbitant medical bills and financial stress after such accidents. At Brach Eichler Injury Lawyers, we understand that you don't need any more expenses, which is why we handle personal injury cases on a contingency fee basis. This means that when you hire us, you will have no out-of-pocket costs. You won't be charged unless we obtain a financial award on your behalf.
The New Jersey brain injury attorneys at Brach Eichler Injury Lawyers will fight to make sure you receive the maximum financial recovery after your TBI accident. If you have questions about your legal rights and are ready for us to review your case, call us today at (973) 364-8300 or contact us online to schedule a free, no-obligation consultation.