Written by: Brach Eichler Injury Lawyers
Last Updated : November 28, 2023
Riding a bicycle is great for your health and, when possible, makes for environmentally friendly commuting. Unfortunately, too few roads in New Jersey are designed and constructed with cyclists in mind, and too few motorists take adequate safety precautions when sharing the roads with cyclists. The too-frequent result is a collision between a car and a bike, which can be catastrophic for the cyclist whose body is fully exposed to the vehicle and the road's hard surface. If you have been injured in a bicycle accident with a motor vehicle, the accomplished personal injury attorneys at Brach Eichler Injury Lawyers are prepared to help. Bicycle accident cases often turn on proof of fault. Our knowledgeable attorneys thoroughly investigate your accident to compile the evidence necessary to ascertain the defendant's liability and protect you from allegations of comparative fault. Our comprehensive approach to litigating your case enables us to pursue the maximum compensation possible.
Bicycle accidents take a heavy toll in NJ and across the nation
According to the National Highway Traffic Safety Administration, 840 cyclists were killed in motor vehicle accidents across the nation in 2016, accounting for 2.2 percent of all traffic deaths. The most dangerous time for bicyclist deaths was between 6 p.m. and 9 p.m. (20 percent of fatalities), and the most dangerous locale was urban (71 percent). Fatalities were most likely to be male (84 percent of all deaths), and of male cyclists, the most likely to be injured were between 55 to 59 years old. Alcohol was a factor in 29 percent of traffic crashes in which either the cyclist or the vehicle driver had a blood alcohol concentration of 0.08 percent or higher.
Keeping yourself safe as a cyclist on NJ roadways
As a cyclist, you bear primary responsibility for your own safety, so you must take decisive steps to improve your chances of avoiding an accident. You can start before you hit the road by:
Choosing the right bike — Only ride a bicycle you can fully control.
Maintaining your bike — A fully functional bike (especially when it comes to your brakes) gives you a solid advantage on the road. Equipping your bike with rearview mirrors is also a good idea.
Making your bike visible — Reflectors during the daytime and lights at night are essential. Wearing bright clothes whenever you ride is also extremely helpful.
Wearing safety equipment — New Jersey law only requires riders under 18 to wear a helmet, but really, every rider should. Comfortable riding clothes, including gloves, can eliminate distractions and let you concentrate on the road. Riding clothes are also less likely to get caught in your bike chain.
Balance any loads — If you carry anything (in a messenger bag, basket, or rack), make sure it is evenly balanced and doesn't shift.
Plan your route— Chart a course that avoids busy arteries and intersections and doesn't force you to ride above your skill level. The safest routes will include a designated bike lane, preferably with a physical barrier from automobile traffic.
Develop your skills — You should never ride in traffic until you are secure with your cycling skills, including your ability to signal, make eye contact with drivers, and make evasive maneuvers around obstacles.
You must also observe all the rules of the road and drive defensively. Important safety tips include:
Anticipate what a car may do — Yes, you have a right to share the road, but now is not the time to make a political point. The car will do what it will; you better be alert and get out of the way.
Drive in the same direction as traffic — This is not just safer; it's also the law.
Obey street signs, traffic signals, and road markings — You are held to the same standards as a car.
Never assume a motorist can see you — Drivers can be easily distracted. Cars have blind spots, and trucks have even larger blind spots.
Look down the road for hazards — Debris in the roadway or grates, manhole covers, and potholes that are no problem for a car can seriously injure a cyclist. Watch driveways and curb cutouts for vehicles coming out onto the street.
Avoid distractions — Cellphone use or headphones piping in music puts you at unnecessary risk.
Ride predictably — Take your time with lane changes. Avoid weaving in and out of parked vehicles and stay off the sidewalk. A sudden, erratic move can take a motorist by surprise.
Use hand signals — Establish your signal well before the move you plan to make. Make eye contact with an adjacent motorist to ascertain he or she has picked up on your signal.
These tips can help you avoid an accident, and the former can help you defend against allegations of comparative negligence if an accident occurs.
Common injuries for cyclists involved in motor vehicle collisions
A cyclist in motor vehicle traffic is fully exposed. In a collision, the vehicle deals the first blow to the body, but the secondary collision with the road or a curb can be even more severe. Common injuries cyclists suffer include:
Head injuries, including concussion and traumatic brain injury
Neck and back injuries
Broken bones, especially collar bones, ribs, wrists and forearms
Crush injuries from being pinned beneath vehicles
If you are severely injured in a bike accident, you may be entitled to recover damages for your medical bills, lost income, and pain and suffering. But, you can only recover damages if you prove the vehicle driver was at fault. This often requires assistance from an experienced personal injury lawyer who can assemble the evidence necessary to make the case. At Brach Eichler Injury Lawyers, we have the knowledge and skills you can trust. We have recovered more than $425 million in compensation for injured clients in NJ, and we are ready to put our skill and determination to work for you.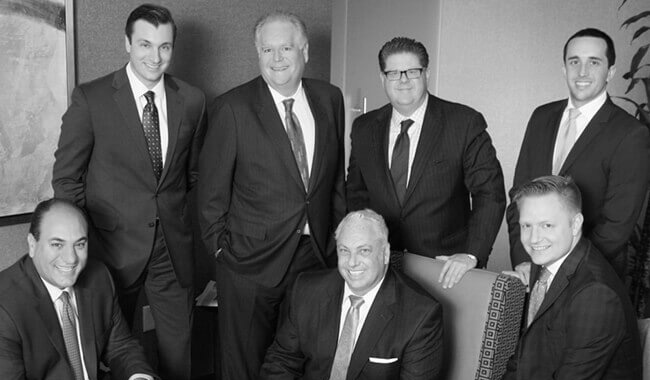 It's All About Results
We are the trial attorneys with the experience and knowledge to get you the results you deserve. At Brach Eichler Injury Lawyers, we take time to get to know you, as well as your case. We are committed to excellence. It is important for our team to understand your fears, concerns and expectations. We are always available to answer any questions, and are willing to come to you if you are unable to come to us.
Contact Our Experienced Law Firm
What Should I Do After a Bicycle Accident?
After a bicycle accident, you may be in too much pain or discomfort to take much action. That's why two of the most important things you can do in the wake of an accident are to seek medical attention and to secure a personal injury attorney. Just as a physician will do the heavy medical lifting for you, so too can an experienced attorney handle the heavy legal lifting, taking the burden of your case off your shoulders.
Visiting a doctor creates a trail of documentation that will benefit your claim; your medical records, doctor's notes, and insurance reports all confirm to the court that your injuries were the direct result of the accident. The accident had to have occurred as a result of another person's negligence in order to secure you a settlement. In order to prove this, an attorney must connect the dots between your injuries and the accident, and also show that negligent actions took place that caused the accident.
You can help your attorney do this by documenting the scene of the collision. If you're unable to take photos from multiple angles of the site or speak to witnesses at the scene, a friend or relative can do it for you. Obtaining the negligent party's driver's license information, insurance company and policy numbers, and contact information, as well as the make and model of their car, will also help your attorney prove your case.
From there, an attorney will be able to build a compelling argument based on further investigations and the gathering of evidence related to the events of that day.
What Damages Can I Recover in a Bicycle Accident Case?
In a bicycle accident case, several types of compensation can be recovered. These include:
Medical bills. All expenses related to your medical treatment and rehabilitation can be compensated in bike accident cases.
Pain and suffering. Mental anguish and physical pain associated with your injuries are intangible elements of your case that can be compensated.
Lost wages. In many cases after a bicycle accident, victims have to take substantial time off work to heal from their injuries. Even if your injuries aren't severe or debilitating, you may also have to take considerable leave to attend doctor's appointments related to your accident. All wages lost while taking care of your injuries can be compensated in a settlement, as well as those for projected time away from work.
Punitive damages. Only some states allow for the collection of punitive damages, which are exacted from negligent parties as a type of financial fine, or punishment, for their actions. Punitive damages are meant to deter responsible parties, or others in the state, from committing the same acts of negligence. In New Jersey, this type of compensation is limited to five times the amount of compensatory damages (such as those listed above), or $350,000, whichever is greater.
You may receive any, all, or a combination of these types of settlements based on your claim. Whether at the negotiating table or in the case that your claim goes to court, a Brach Eichler Injury Lawyers attorney will aid you in obtaining the maximum possible settlement.
Bicycle Accidents Take A Heavy Toll In New Jersey And Across The Nation
In 2016, the National Highway Traffic Safety Administration reported that 840 cyclists were killed across the nation. Bikes represent approximately 2% of all traffic deaths across America, with most fatal accidents occurring in urban spaces, and most occur in the evenings – between 6 and 9 p.m. – when heavier traffic results in more collisions between cyclists and passenger vehicles.
The State of New Jersey reports that head injuries are the most serious type of injuries in bicycle accidents, as well as the most common cause of death. Fatalities were most likely to be male (84% of all deaths), and of male cyclists, the most likely to be injured were between 55 to 59 years old.
Unfortunately, alcohol also plays a role in many bicycling accidents. 29% of reported collisions between cyclists and motor vehicles involved a blood alcohol content above the legal limit of 0.08 percent for either one or both drivers.
Contact an accomplished NJ bike accident lawyer for your injury claim
A bicycle injury can be painful and costly and have a lasting impact on your health, your finances, and your life overall. If you or someone you love is suffering from injuries related to a bicycle accident, call our New Jersey offices today at (973) 364-8300, or contact us online, for a free consultation. We will advise you on how best to move forward with your claim, and discuss your eligibility for compensation.
At Brach Eichler Injury Lawyers, we stand by our commitment to making this process as painless as possible for you in your time of need. All of our services are offered free of charge until we win you the maximum possible compensation you deserve. Call (973) 364-8300 today.