Written by: Brach Eichler Injury Lawyers
Last Updated : November 28, 2023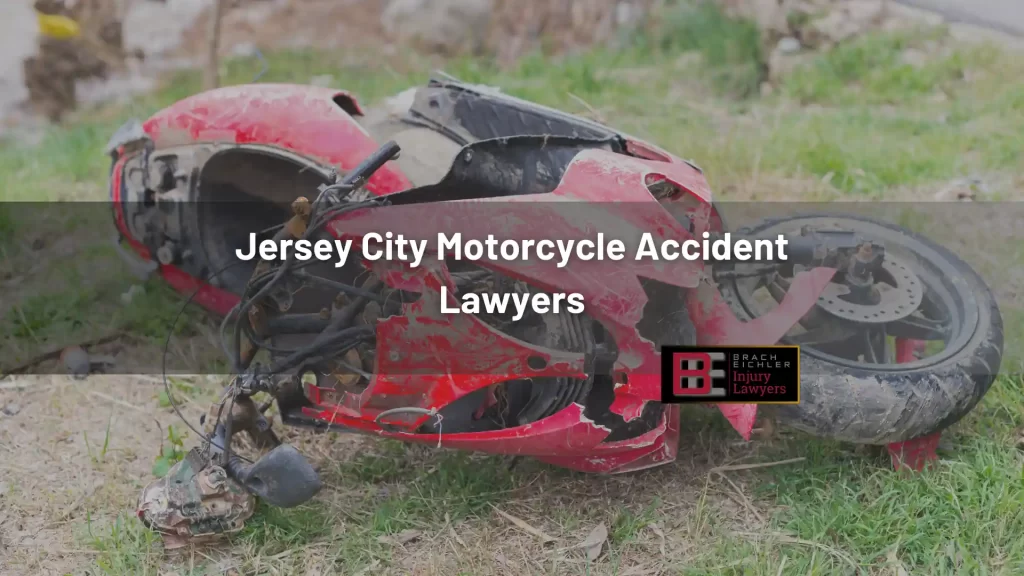 New Jersey motorcyclists are one of the most vulnerable groups on the roads today. According to the National Highway Traffic Safety Administration, motorcyclists are 28 times more likely to be killed in a traffic accident than those traveling in passenger cars.
If you need more proof of just how dangerous motorcycle accidents can be, look no further than numbers from the New Jersey State Police Department. They found that there were 55 fatalities from motorcycle crashes in 2018 alone. Those should be shocking statistics for anyone on Jersey City roads.
Unfortunately, motorcyclists know the importance of driver safety through experience. But even the most careful rider can be hurt by a negligent or reckless car driver. If you were injured in a Jersey City motorcycle accident, don't let the insurance company take advantage of you. The devastating injuries motorcycle accidents tend to cause are expensive, so insurers may try to offer settlements that won't cover the full extent of your damages.
Brach Eichler Injury Lawyers can protect your rights and make sure that you're treated fairly and fully compensated. Contact our office at (201) 583-5765 to learn more about how we can fight to get the money you deserve. Schedule your free consultation with a Jersey City motorcycle accident lawyer today.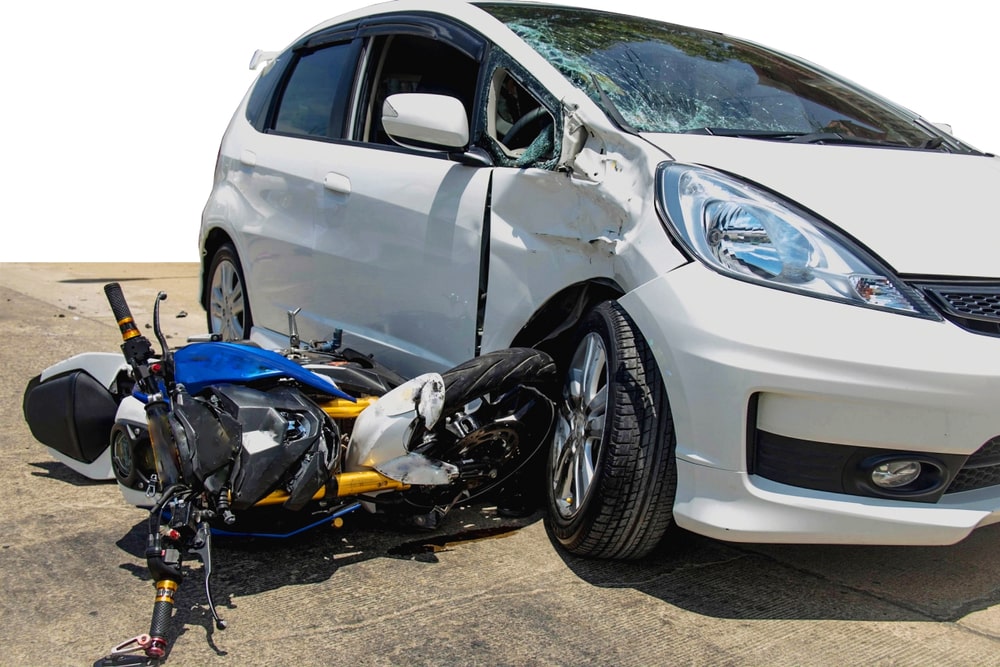 Common Types of New Jersey Motorcycle Accidents
Frequently, irresponsible drivers complain that they didn't see a motorcyclist until it was too late. Motorcyclists are indeed more challenging to see than giant tractor-trailers. But that's no excuse for failing to check blind spots and driving recklessly. Negligence is a significant cause of motorcycle accidents. And the bikers, not the car drivers, are the ones that face the most severe consequences. Numerous factors may contribute to motorcycle accidents on New Jersey roadways, but they often fall into a few categories.
Here are some of the most common types of accidents the attorneys at Brach Eichler Injury Lawyers see:
Distracted driving accidents
Left-turn crashes
Lane change collisions
"Dooring" (when a driver opens their car door into a motorcyclist)
Impaired driving crashes
Construction hazards collisions
Lane splitting accidents
Common Injuries from New Jersey Motorcycle Accidents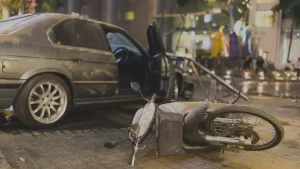 Motorcycle crash injuries can be severe or even fatal because there's so little to protect you from the road. Riders can only rely on their helmets and gear, while motorists have metal, fiberglass, and airbags to absorb the brunt of an impact.
Even low-speed accidents can cause severe injuries to motorcycle riders that take months or years to heal fully. A more serious accident can lead to life-altering injuries that require a lifetime of medical care and reduced quality of life.
Some of the more common injuries that motorcyclists suffer after collisions include:
Concussion
Spinal injury or paralysis
Soft tissue damage
Fractured bones
Necessary medical treatments for these injuries can cost hundreds of thousands of dollars. These costs may not be short-term either. Serious injuries can require extensive rehabilitation and future care. If someone else caused your crash, you could demand compensation from them. A skilled attorney will fight to recover all the compensation you deserve.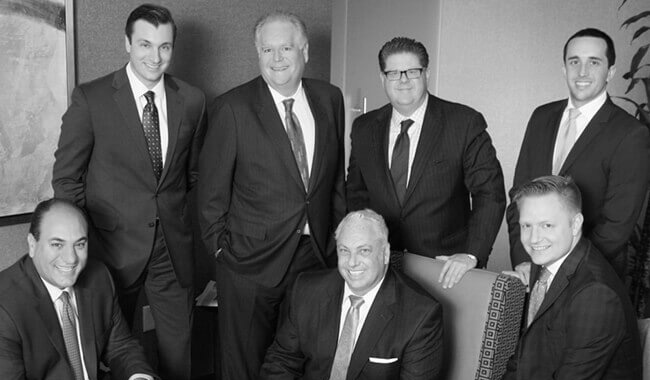 It's All About Results
We are the trial attorneys with the experience and knowledge to get you the results you deserve. At Brach Eichler Injury Lawyers, we take time to get to know you, as well as your case. We are committed to excellence. It is important for our team to understand your fears, concerns and expectations. We are always available to answer any questions, and are willing to come to you if you are unable to come to us.
Contact Our Experienced Law Firm
Compensation for Motorcycle Accidents
Just like motorcycle riders, motorcycle accidents are unique. There's no way to estimate the damages you're owed following an accident without a review by an experienced attorney.
That's a good thing. You want compensation that's tailored to your particular situation. Your damages should cover your bills, not an imaginary injured person. It would be best to have peace of mind about your financial future.
In general, there are some common types of compensation that you can expect to recover in the state of New Jersey.
These include:
Current medical bills
Future medical bills related to your accident injuries
Property damage
Disability
Pain and suffering
Filing Statute of Limitations in New Jersey
The serious nature of motorcycle accident injuries may mean that victims are reluctant or unable to contact an attorney for representation immediately following an accident. Don't wait too long. There are several reasons why getting an attorney on your side sooner rather than later is important.
New Jersey has a statute of limitations for when you can file a suit for accident claims. Motorcycle accident victims have two years from the date of their crash to file their claims in the New Jersey court system. If you fail to meet the deadline, your case can be dismissed.
This time frame is important even if you hope to negotiate a settlement with an insurance company. If the insurer offers you a low settlement or dismisses your claim, you might need to file in court. Ensure you have time to use the legal system to recover your due compensation.
Contacting an attorney early means they can investigate and secure critical evidence to your case before it's lost or destroyed. By securing an attorney, you secure your rights and strengthen your case. That can make all the difference for your case and your financial compensation.
New Jersey Motorcycle Laws
Determining who is liable following an accident is crucial for all motorcycle accident claims. The State of New Jersey subscribes to a "modified comparative fault" rule to distribute compensation after an accident.
That means that when a jury reviews the evidence in an accident case, they consider two main points: the total dollar amount of the victim's damages and how fault for the accident should be distributed.
The percentage of fault that falls to you determines how much compensation you can receive. For example, if a rider is found to be 20 percent at fault for causing an accident, and the driver is 80 percent at fault, then the rider will receive their total damages minus 20 percent.
If a party is found to be more than 50 percent at fault for an accident, they won't be compensated under the modified comparative fault rule. Your lawyer can protect you from unreasonable accusations of fault limiting your compensation.
New Jersey is a "no-fault" car insurance state. That means no matter who's to blame for the crash, you file an insurance claim with your insurance company after a crash, not the other driver.
There are only a handful of situations where you can file a claim with the opposing driver's company. Unfortunately, dealing with even your own insurance company can be complicated after a motorcycle crash.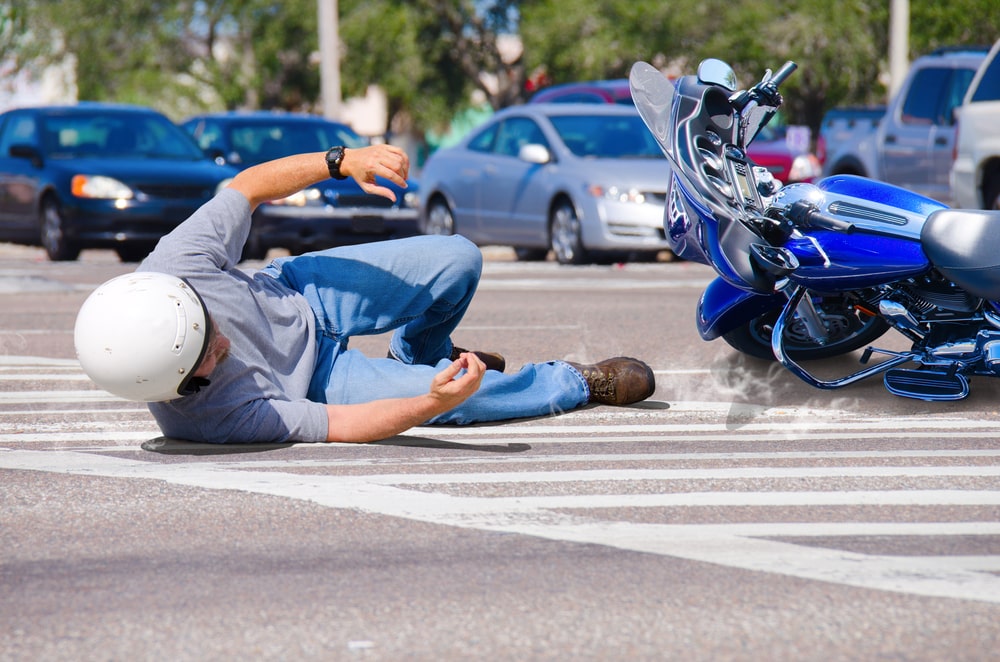 Retaining a lawyer is wise, even if you try to handle everything outside the court system. They can help you negotiate with your car insurance company. They may be YOUR car insurance company, but that doesn't mean they have your best interests at heart. An insurance company is still a business that wants to profit at the end of the day.
It's important to follow New Jersey state laws. It protects your safety, of course, but it also protects your right to compensation in the event of a crash. Breaking a state law may allow an insurance company or lawyer to argue that you're partially responsible for the crash. That could affect your settlement or judgment.
New Jersey state laws dictate the use and licensing of motorcycles. All riders must have a motorcycle endorsement on their existing driver's license or have a separate motorcycle license before they hit the road. All motorcycles must also be titled, registered, and insured in the state. New Jersey motorcyclists must wear a helmet that meets all DOT certification standards for safety. If you're concerned about how these laws might affect your motorcycle accident claim, contact an attorney at Brach Eichler Injury Lawyers for a free consultation.
How an Experienced Motorcycle Attorney at Brach Eichler Injury Lawyers Can Help
Jersey City motorcycle accidents have serious consequences that can alter how you live and enjoy your life. Your injuries and their consequences can be overwhelming. The last thing you should have to worry about is paying medical bills. That's where an attorney can help.
The law firm of Brach Eichler Injury Lawyers understands what you're going through, and we have the tools to make even tough insurance companies respect your rights. Our attorneys know how to handle catastrophic motorcycle accident cases. We'll work hard to fight for the compensation you deserve.
Negligent drivers should be held responsible for their actions, and you need fair compensation to move on from your crash with a full financial recovery so you can focus on your health. We won't charge you anything for our services unless we resolve your claim successfully.
Brach Eichler Injury Lawyers is firmly in your corner. Contact our office at (201) 583-5765 for a no-obligation consultation. Get the facts about your legal options. Call us today.