Written by: Brach Eichler Injury Lawyers
Last Updated : August 28, 2023
Jersey City Speeding Crashes Lawyers
If you sustained injuries in a car accident due to the actions of a speeding driver, contact the Jersey City car accident lawyers of Brach Eichler Injury Lawyers immediately. You might be entitled to significant compensation for the medical expenses and other losses you suffered. When you hire us, you can feel confident knowing you have a dedicated legal team in your corner, fighting for justice. We will be your advocate during this traumatic experience and work hard to hold the negligent driver liable.
Speeding isn't just about traveling above the speed limit. It also involves driving too fast for the conditions of the road or in adverse weather. When someone doesn't account for environmental factors or other issues, they could end up causing an accident. Hitting an icy patch of road or approaching stopped traffic are just a couple of examples of situations in which speeding can increase the likelihood of a collision and severe injuries.
If you want to learn more about how Brach Eichler Injury Lawyers can help you with your case, call us at (201) 583-5765 for a free consultation with one of our dedicated and experienced Jersey City speeding crashes lawyers.
Why Speeding Is Dangerous
Driving at excessive speeds prevents the driver from avoiding obstacles in their path, such as debris, road hazards, pedestrians, and other vehicles. It's harder to maneuver out of the way when there's very little time to decide what to do next.
The main reasons speeding is dangerous are:
Safety devices, such as seatbelts, aren't as effective
Greater stopping distance is necessary
There's an increased chance of losing control of the vehicle
Speeding drivers are more likely to engage in acts of road rage
There is less time to react to emergencies or adverse conditions
There's a higher likelihood of severe injuries or death in an accident
Speeding comes with various risks, just like other dangerous driving behaviors. A slower reaction time means the driver doesn't have instant control of their car. The violent force of two vehicles crashing into each other at top speeds can cause a domino effect, leading to a pileup where multiple people could be injured.
The injuries most often associated with car crashes involving speeding are:
Whiplash
Concussion
Broken bones
Paralysis
Disability
Fear, anxiety, or post-traumatic stress disorder
Internal bleeding or organ failure
Nerve damage
Soft tissue injuries
Crush injuries
Loss of limb
Disfigurement or permanent scarring
Although it's impossible to prevent all accidents from occurring, there are precautions you could take to keep you safe. If you encounter someone who is speeding, put as much distance between your vehicles as possible. You don't want to be anywhere near them if they collide with another car or stationary object. Always wear your seatbelt and pay attention to what's going on around you.
Car Insurance Laws in Jersey City
New Jersey is one of a dozen or so states that follow no-fault laws. Instead of filing a claim with the negligent driver's car insurance company, you must turn to your own insurance first. Personal injury protection (PIP) is required coverage for all motorists in New Jersey.
A PIP claim can compensate for your medical expenses, out-of-pocket costs, lost wages, property damage, and other monetary losses that result from the crash.
The minimum PIP limit allowed on a policy in New Jersey is $15,000. Coverage will continue until you exhaust the limit you purchased. Once that happens, you could file a claim with the other driver's liability insurance company. The losses available for compensation in this type of claim include:
Property damage
Medical bills
Emotional distress
Lost income
Loss of earning capacity
Pain and suffering
Loss of consortium
The Jersey City speeding crashes lawyers of Brach Eichler Injury Lawyers know where to request copies of insurance policies and how to review them to determine the available coverage amounts.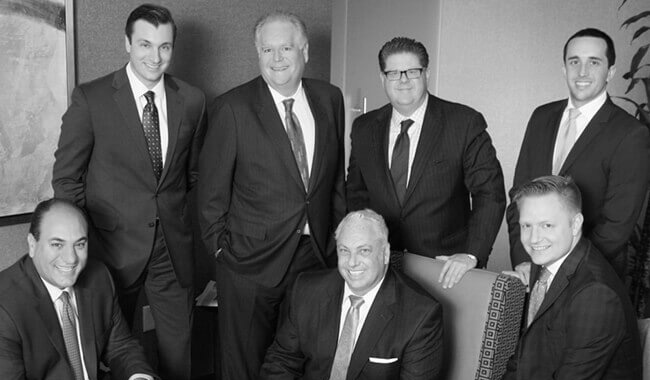 It's All About Results
We are the trial attorneys with the experience and knowledge to get you the results you deserve. At Brach Eichler Injury Lawyers, we take time to get to know you, as well as your case. We are committed to excellence. It is important for our team to understand your fears, concerns and expectations. We are always available to answer any questions, and are willing to come to you if you are unable to come to us.
Contact Our Experienced Law Firm
What to Do After a Speeding Car Accident
The long-term actions you take are just as important, if not more important, than what you do in the immediate aftermath of an accident. Of course, you should call 911 if there are injuries or fatalities, but it's critical to focus on the steps you take in the coming weeks or months.
Let an ambulance transport you to the hospital from the accident scene. A doctor should evaluate your injuries to determine the appropriate treatment plan. If they recommend that you undergo surgery, imaging tests, physical therapy, or rehabilitation, listen to them. You should continue treating with your healthcare professionals until they release you from their care.
It's also crucial that you don't make a habit out of skipping appointments. Gaps in treatment are the perfect reason for insurance companies to offer accident victims a much lower settlement than they deserve.
You should also hire a Jersey City speeding crashes lawyer immediately after the accident. While you're working on your physical recovery, we can handle the insurance claim. We'll investigate what happened and obtain all the evidence we need to prove the other driver was at fault. We are always aggressive in our negotiation tactics and never back down from a fight.
If the insurance company refuses to play fair, which they usually do, we could file a lawsuit. However, we might have to review your car insurance policy first. PIP comes with two options: limited right to sue and unlimited right to sue. You're only allowed to file a lawsuit against another driver if you chose "unlimited right to sue" or you chose "limited right to sue," but your injury resulted in one of the following:
Significant scarring
Loss of a body part
Permanent injury not expected to heal
A displaced fracture
Significant disfigurement
Loss of a fetus
Death
This can be a confusing part of the process, but you can depend on our team to understand what's going on and put your best interests first. Your only job is to heal your injuries and get your life back on track.
Contact Brach Eichler Injury Lawyers
At Brach Eichler Injury Lawyers, our Jersey City speeding crash lawyers will go to battle for you against the at-fault driver. We will remain by your side until the end of your case. Our team has the experience, resources, and knowledge to reach a favorable outcome and secure the maximum financial award you deserve.
If you suffered injuries in an accident with a speeding driver, call Brach Eichler Injury Lawyers for a free initial consultation at (201) 583-5765.