Written by: Brach Eichler Injury Lawyers
Last Updated : August 28, 2023
Jersey City Multi-Car Accident Lawyers
You may be entitled to compensation if you've been injured in a multi-car accident in Jersey City that wasn't your fault. Multi-car accidents involve two or more vehicles. They generally result from a chain reaction. The weight and violence of the vehicles crashing into each other, particularly at highway speeds, increases the danger and potential injury to anyone involved.
The impact of a multi-car accident can cause severe injury or even death. Additionally, the costs associated with a multi-car accident can be astronomical. If you were doing everything you could to prevent a collision and were injured in a multi-car accident due to another driver's carelessness, you should not be held responsible for the medical bills and other costs that will likely come following your accident and injuries.
If you've been hurt in a multi-car collision, call the experienced Jersey City car accident lawyers of Brach Eichler Injury Lawyers at (201) 583-5765 today. Or contact us on our website to schedule a free consultation. Let us help you get the compensation you need to cover the losses you suffered in this significant auto accident.
Do I Need A Lawyer?
Following a multi-car collision, it is important that you get in contact with a Jersey City multi-car accident lawyer right away. Having seasoned legal counsel on your side may mean the difference between getting a tiny settlement or none and getting appropriate compensation for your injuries.
Insurance companies need detailed information to decide whether they'll pay benefits for your claim. If you fail to provide all the necessary information or make a mistake in your paperwork, the insurance company can delay paying any benefits or deny your claim.
When you hire a skilled attorney from Brach Eichler Injury Lawyers, we can take the burden of dealing with the insurance company off your shoulders. We can ensure that all documents and information to support your claim are properly submitted. We have the resources to launch a thorough investigation into the accident. Our attorneys gather evidence, interview witnesses, and secure all available information that could support a strong claim for compensation after your accident.
Engaging an attorney immediately after your accident is in your best interest. Not only so we can deal with the insurance company and handle any paperwork or evidence gathering, but we'll also keep an eye on any legal timelines affecting your claim. New Jersey has a statute of limitations of two years. You have two years from the accident date to file a lawsuit. We will keep that deadline in mind while we're trying to negotiate with the insurance company. We can file a lawsuit to preserve your right to be heard in court if necessary. If you wait to file a lawsuit until after this statute of limitations deadline, your case may be dismissed entirely.
At Brach Eichler Injury Lawyers, we understand that your first priority should be getting healthy and returning to your life. You should not focus on paperwork and worrying about bills. Our compassionate and experienced lawyers can take on the responsibility of your case so you can put your focus where it should be.
Determining Who Is At Fault
In a multi-car accident, a wide range of people and entities may be liable for your injuries. First, there are the other drivers. They could be held liable if one of them was negligent and caused the accident through their recklessness. Then, if the accident was initially caused by a defective part on a vehicle that made the vehicle malfunction, it's possible that the manufacturer of the part, the manufacturer of the vehicle, or the company that maintains the vehicle could be at fault for your injuries.
Under these circumstances, an attorney can be of great benefit to you. Our lawyers delve into the actual causes of the accident during our investigation. We may be able to find out if multiple parties were at fault. If that is the case, we can file claims with the insurance companies of all the parties who shared the blame for your accident.
Doing that sort of investigation on your own would be challenging. Unless you have experience filing claims for these types of accidents and are experienced at investigating car crashes to determine fault, you might find yourself stopping with just one liable party and their insurance company. Without a lawyer, you might leave money on the table because you didn't identify all the parties who contributed to the crash.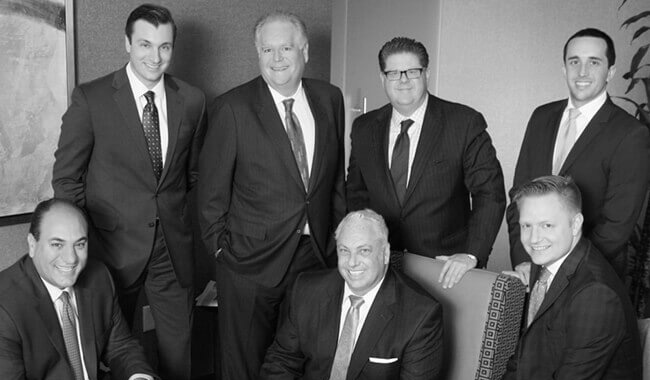 It's All About Results
We are the trial attorneys with the experience and knowledge to get you the results you deserve. At Brach Eichler Injury Lawyers, we take time to get to know you, as well as your case. We are committed to excellence. It is important for our team to understand your fears, concerns and expectations. We are always available to answer any questions, and are willing to come to you if you are unable to come to us.
Contact Our Experienced Law Firm
Why Choose Brach Eichler Injury Lawyers To Handle My Case?
Brach Eichler Injury Lawyers has several decades of experience with personal injury law. We have handled nearly every type of car accident case and nearly every type of circumstance. We know insurance companies and how to handle them. We're skilled at protecting our clients from insurance companies' unscrupulous tactics.
Throughout the years, we have recovered millions in compensation for the victims of car accidents in Jersey City. With Brach Eichler Injury Lawyers, you'll know that we'll do everything we can to be sure you receive the full and fair compensation you deserve.
Compensation for Multi-Car Accidents
The amount of compensation available to you depends on a few factors, including the severity of your injuries. The entire point of compensation is to ensure you don't have to pay any expenses for injuries you got in an accident someone else caused.
Compensation isn't just for visible injuries and tangible losses like property damage. You may also get compensation for intangible losses, like pain and suffering. You may be able to get money for:
Property damage
Estimated future medical expenses
Pain and suffering
Loss of enjoyment of life
Our attorneys can review your accident and your injuries to give you an assessment of the value of your claim.
Call Brach Eichler Injury Lawyers Today
If you've been hurt in a multi-car accident in Jersey City, contact the skilled and experienced multi-car accident lawyers of Brach Eichler Injury Lawyers at (201) 583-5765 or contact us online today to schedule your free consultation. You won't owe us a dime until we get compensation for you. We are here, ready and willing to fight on your behalf. Don't wait. Call today.