Written by: Brach Eichler Injury Lawyers
Last Updated : August 28, 2023
Jersey City Drowsy Driving Accident Lawyers
If you sustained injuries in a car accident because of a drowsy driver, you need the experienced legal team of Jersey City car accident attorneys from Brach Eichler Injury Lawyers on your side. You probably need medical treatment to heal and incurred various medical bills and other costs. The financial burden you're under can significantly impact your life and cause massive stress. You shouldn't have to suffer the consequences of someone else's actions. We can help you hold them liable for what they've done.
Drowsy driving is more dangerous than most people think. Many drivers operate their vehicles despite a lack of sleep or spend several hours on the road during their daily commute. Driving while fatigued or sleepy has become common but can lead to severe injuries and fatalities. According to statistics, there were 697 deaths associated with drowsy drivers in 2019.
If drowsy driving caused your injuries in a car crash, do not hesitate to contact Brach Eichler Injury Lawyers. One of our Jersey City drowsy driving accident lawyers can review your case during a free consultation and advise how you should proceed. Call us now at (201) 583-5765.
Why You Need to Hire Brach Eichler Injury Lawyers
You might believe it will be pretty straightforward to handle this type of case. Fatigue impaired the other driver's abilities, so they should be held liable for the accident. Unfortunately, pursuing an insurance claim or lawsuit without seeking legal representation can do your case more harm than good. You'll likely encounter obstacles you don't know how to overcome. You also need a thorough knowledge of state laws, filing deadlines, and procedures. If you're unfamiliar with the process, you could end up with much less compensation you deserve or nothing at all.
The Jersey City drowsy driving accident lawyers of Brach Eichler Injury Lawyers won't treat you like just another number. We care about getting our clients positive results. We'll keep your interests in mind as we're building your case and determining the right strategy to hold the other driver accountable. You will be our top priority from start to finish of the legal process.
We have built and maintained a stellar reputation over the years. We have also received various awards and accolades from multiple organizations, such as The Best Lawyers in America*, Super Lawyers*, and the Multi-Million Dollar Advocates Forum*.
Warning Signs of Driver Fatigue
A shocking number of people admit to regularly driving despite feeling tired. In fact, approximately 20% of adults say they have fallen asleep at the wheel. The problem with this is that although it's an obvious danger, many drivers don't take it seriously. Drowsy driving is part of their routine, and if they've never been in an accident before, they assume they can avoid one in the future.
Unfortunately, this mindset can result in catastrophic consequences for the driver and the occupants of other vehicles. Even if someone is used to operating their car feeling drowsy, it can cause a range of symptoms that can impair their driving abilities.
Common examples are:
Loss of coordination
Poor decision-making skills
Slower reaction time
Reduced motor skills
Blurry vision or heavy eyelids
Inability to understand traffic signs
Altered sensory perception
The most dangerous warning sign is falling asleep. Even if it happens for just a couple of seconds, that moment of inattention can lead to an accident. If someone crosses into their lane or slams on their brakes, the driver likely won't notice in time to avoid a collision.
*No aspect of this advertisement has been approved by the Supreme Court of New Jersey. Click here to view our Awards Methodology page.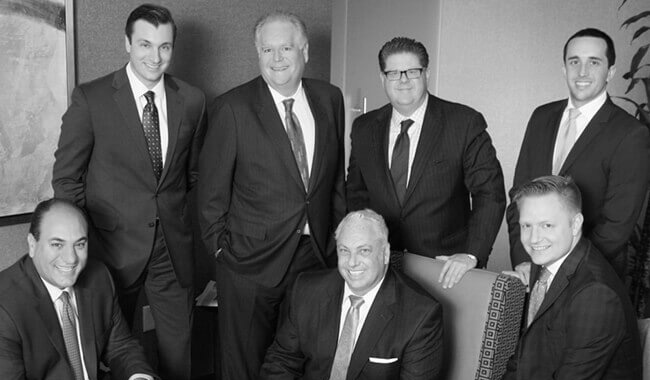 It's All About Results
We are the trial attorneys with the experience and knowledge to get you the results you deserve. At Brach Eichler Injury Lawyers, we take time to get to know you, as well as your case. We are committed to excellence. It is important for our team to understand your fears, concerns and expectations. We are always available to answer any questions, and are willing to come to you if you are unable to come to us.
Contact Our Experienced Law Firm
Calculating the Monetary Value of Your Drowsing Driving Accident Case
In the immediate aftermath of a car crash, you might feel disoriented, confused, scared, and traumatized. Once medical treatment begins, you start receiving billing statements. You could have additional costs, such as repairing your damaged car or purchasing an assistive medical device. Many accident victims can't afford these expenses and worry about the financial burden they could face.
When you get hurt in a car accident, you can file an insurance claim to recover compensation for your losses. New Jersey is a no-fault car insurance state, meaning you must turn to your insurance company before you can go after the at-fault driver's.
Personal injury protection (PIP) with a minimum limit of $15,000 is required for all drivers. When you file a claim, you can seek coverage for your medical expenses, out-of-pocket costs, property damage, and lost wages up to the limit on your policy. Once coverage runs out, you could file a claim with the other motorist's car insurance company.
You could file a liability claim to pursue compensation for multiple losses, such as:
Loss of consortium
Pain and suffering
Property damage
Emotional distress
The monetary value placed on your case will depend on specific factors. Brach Eichler Injury Lawyers has experience calculating a person's total losses to determine how much money they should receive from the negligent driver's insurance company.
Common factors we might use are:
The type of injury and its severity
The total cost of medical treatment and other expenses
The effects of the accident on your quality of life
The duration of your recovery period
Any mental or physical limitations from the injury
The estimated cost of future medical care
The time you spent away from work
Our ultimate goal is to negotiate an adequate settlement amount so you're not left with any bills to pay yourself. We can file the insurance claim and locate all crucial evidence to prove someone else caused your injuries. If the insurance company doesn't want to settle for a fair number, we can file a lawsuit. We're not afraid to take your case to court and fight for the maximum compensation you deserve.
Possible Compensation in a Lawsuit
When you file a lawsuit, you must comply with a deadline called a statute of limitations. New Jersey has a two-year statute of limitations. That means you must file your lawsuit within two years of the accident date.
A jury will review all details associated with the case and decide if you share blame for the crash. Modified comparative negligence is a law that could diminish the compensation you're entitled to in a lawsuit. If your total losses are $20,000, but a jury assigns you with 10% fault, you could only obtain up to $18,000. However, if you were more than 50% responsible for the accident, you wouldn't be allowed to recover any compensation at all.
Contact Us
The Jersey City drowsy driving accident lawyers of Brach Eichler Injury Lawyers are ready to take on your case and fight for the justice you deserve. Our legal team is available 24/7 to take your call and speak with you when you need us the most.
Don't wait to take legal action against the negligent driver. Call Brach Eichler Injury Lawyers at (201) 583-5765 right now if you suffered injuries in an accident involving a drowsy driver. We can discuss your case during a free consultation and determine your available legal options.