About
Results may vary depending on your particular facts and legal circumstances.
Kristofer Petrie is an experienced personal injury litigator focused on trial practice. Kris is an aggressive advocate on behalf of his clients and brings with him a passionate, client-centered approach, helping injury victims navigate the complexities of the insurance industry to achieve the best possible outcomes. He is dedicated to representing all persons harmed by the careless acts of others including, but not limited to: motor vehicle wrecks; trucking collisions; construction accidents; wrongful death; slip and fall; products liability; negligent security; electrocution; and lead, mercury, and mold poisoning.
Kris believes in the transformative power of our laws and our juries to right the wrongs in our shared community. Helping injured persons seek justice through our civil law system is paramount to his singular goal: making the world a safer place.
In addition to being a practicing trial attorney, Kris devotes his time to authoring appeals for the personal injury litigation department. He has authored several appeals heard before the New Jersey Appellate Division and New Jersey Supreme Court.
Kris was included in the "New Jersey Super Lawyers Rising Star" list by Super Lawyers®* from 2018 – 2021. He was also included to the 2021 & 2023 editions of "Ones to Watch" list, a new program sponsored by The Best Lawyers in America©*, designed to recognize younger attorneys for their outstanding professional excellence in private practice.
He is an active member of St. Joseph's Church in West Orange.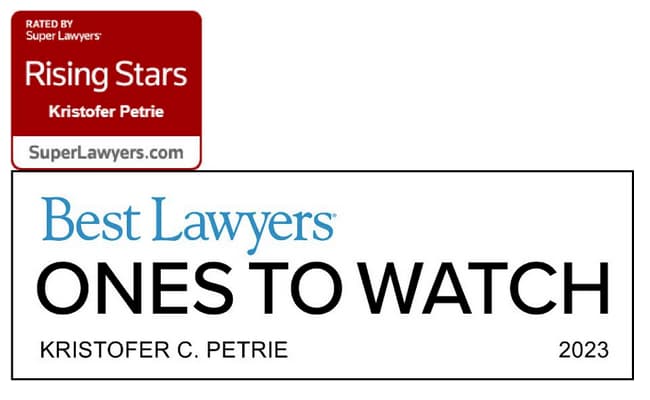 *No aspect of this advertisement has been approved by the Supreme Court of New Jersey. Click here for the Awards and Honors Methodology.
Notable Matters

Each matter handled by Kristofer is dependent upon the unique facts and particular circumstances. An example of successful matters handled by Kristofer include:

$1.825 million settlement as co-counsel for wrongful death electrocution in Union County
$1.05 million settlement for neck injury sustained in trucking/complex construction case in Bergen County
$1 million settlement for products liability case in Essex County
$1 million settlement for wrongful death in Middlesex County
$963,000 total settlement for trucking collision in Bergen County
$750,000 settlement for a cervical injury sustained in a rear-end collision in Bergen County
$725,000 settlement for back injury sustained in slip and fall on ice in Sussex County
$700,000 settlement for broken wrist from falling down on ice in Bergen County
$672,500 settlement for cervical injuries sustained in rear-end collision in Bergen County
$510,000 settlement for a slip and fall on ice in Bergen County
$350,000 settlement for a trip and fall on broken sidewalk in Middlesex County
$250,000 verdict for automobile collision in Bergen County
$237,500 settlement for neck and back injuries sustained in collision in Hudson County
$225,000 settlement for fall down in Essex County
$225,000 settlement for ankle injury sustained in slip and fall at restaurant in Essex County
$197,500 settlement for neck injuries sustained in collision in Passaic County
$190,000 settlement for shoulder injury sustained in trip and fall in Ocean County
$175,000 settlement for back and knee injuries sustained in trucking collision in Middlesex County
$175,000 settlement for shoulder injury sustained in trucking collision in Middlesex County
$167,500 settlement for bar fight injuries in Middlesex County
$165,000 settlement for hip injury sustained in slip and fall on ice in Essex County
$150,000 settlement for neck and back injuries sustained in collision Bergen County
$150,000 settlement for construction fall in Bergen County
$140,000 settlement for products liability case in Bergen County
$140,000 settlement for neck and back injuries sustained in Uber collision in Middlesex County
$140,000 settlement for bar fight injuries in Essex County
$140,000 settlement for slip and fall at restaurant in Passaic County
$135,000 settlement for shoulder injury as a result of a slip and fall on snow and ice in Bergen County
$125,000 settlement for emotional injuries sustained during robbery in Essex County
$115,000 settlement for construction falldown in Essex County
$100,000 settlement for hit and run in Essex County

*Results may vary depending on your particular facts and legal circumstances.

Noteworthy Information

Kristofer attended the University of Georgia and graduated cum laude with a bachelor's degree in history. As a law student at West Virginia University College of Law, Kris pursued many extracurricular activities to hone his skills of brief writing, oral argument, and trial presentation. He was a member of the Moot Court National Team, Lugar Trial Association, and a semi-finalist in the Baker Cup, giving him the opportunity to argue before several Justices of the West Virginia Supreme Court.

Professional Activities

New Jersey Association for Justice
New Jersey State Bar Association