New Jersey Attorneys for Neck and Spinal Trauma After a Motorcycle Accident
Motorcycle accidents are dangerous and are uniquely frightening experiences. Cyclists have little protection besides the safety equipment they may be wearing. The sheer size and weight difference between a motorcycle and a car or a truck may mean that injuries from the accident are life-changing and possibly deadly. If you were injured in a motorcycle crash that wasn't your fault, you might be entitled to compensation.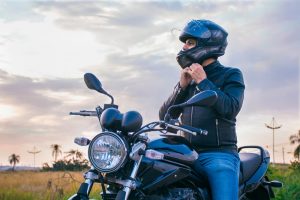 Insurance claims and personal injury lawsuits can be intimidating, and they are often complicated. When you schedule a free consultation with the New Jersey motorcycle accident lawyers of Brach Eichler Injury Lawyers, one of our experienced and skilled attorneys will listen to the details of your case, explain your rights, and answer your questions.
We understand that every case is unique. We offer our clients individualized attention as we seek to recover the maximum amount of compensation you deserve. Call our office today at (973) 364-8300 for your free case evaluation.
What Is the Time Limit for Lawsuits?
Every U.S. state has a time limit in which you're allowed to file a personal injury lawsuit. This time period is dictated by the statute of limitations. In New Jersey, you have two years from the date of the accident to file your lawsuit with the court.
If you do not file within two years, you may relinquish your right to seek compensation for your injuries through the court system. Two years can sound like a long time. However, if you have experienced head, neck, or spinal injuries, you may need months to recover.
During those months, it's also essential to gather the information that supports your claim, document your injuries, and estimate your potential future medical expenses. Time can pass quickly when you're recovering from significant injuries. The sooner you engage an attorney to manage your claim or lawsuit, the better your chances of obtaining the compensation you're owed.
What Are Head, Neck, and Spine Injuries?
During a motorcycle accident, your head, neck, and spine are particularly vulnerable. According to one five-year study, helmets could reduce up to 37 percent of rider deaths. Sometimes, though, no matter how much protective equipment you're wearing, you still will suffer a head, neck, or spine injury.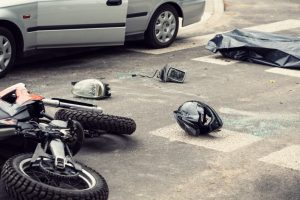 Head injuries during a motorcycle accident are often caused when your head meets a stationary or flying object. More often than not, in a motorcycle crash, this is the road. Brain injuries can range in severity from a severe traumatic brain injury to a mild concussion.
In medical terminology, concussions are "mild traumatic brain injuries" because they are not life-threatening. Yet, any brain injury is serious and requires immediate medical attention. Although not common in a motorcycle accident, you may also experience whiplash. This injury happens when the head and neck are suddenly forced forward and backward.
This movement places immense pressure on the cervical spine. Autopsies have shown that during fatal motorcycle accidents, helmeted and unhelmeted motorcyclists had a high frequency of hemorrhages around the carotid artery or the vertebral arteries. Soft tissue neck injury was sometimes accompanied by injury to the spine or the spinal cord.
Other injuries that can happen to the spinal cord include herniated disc, vertebral fractures, and soft tissue trauma. Injury to the spinal cord can lead to paralysis. Depending on the severity of the injury, the paralysis may be temporary or permanent and can affect part or all of the body. There are four types of generalized paralysis:
Quadriplegia: lost motor function in all four limbs
Paraplegia: lost function in the legs
Hemiplegia: lost function in one arm and leg, typically on the same side
Monoplegia: lost function in one arm or one leg
Symptoms of Head, Neck, and Spine Injuries
Minor injuries to the head, neck, and spine may not present immediately at the time of the accident. You should see your health care provider immediately. What looks like a minor head or back injury can quickly progress to something more serious.
Even if your injury appears to be minor, your healthcare provider can document the injury and identify potential problems. After a motorcycle accident, you will probably be taken to the hospital in an ambulance.
Emergency room personnel should identify any head, neck, and spine injuries and assess potential problems that may develop in the coming hours and days. Symptoms of head, neck, and spine injuries depend on the severity of the injury.
Head injuries can have life-long consequences that range from difficulty thinking or processing information due to a concussion to severe physical disabilities or the inability to walk or feed yourself from a severe traumatic head injury. Symptoms of a head injury can include:
Head
Loss of consciousness
Confusion
Dizziness
Nausea and vomiting
Slurred speech
Blurred vision
Memory loss of the traumatic event
Difficulty thinking
Problems sleeping
Personality changes
Neck and spinal injuries often affect physical function. In some cases of whiplash, you may also experience anxiety, memory loss, insomnia, and sudden mood changes. Other symptoms of a neck or spine injury include:
Neck
Mild to excruciating neck pain
Stiff neck
Loss of range of motion in the neck
Upper back pain
Headache
Neck instability
Numbness, tingling, or weakness in one or both arms
Spine
Pain
Muscle spasms or weakness in an extremity
Tingling in an arm or leg
Burning sensation in an arm or leg
A sensation of pins and needles in an arm or leg
Loss of bowel or bladder control
Paralysis or inability to move
Overactive reflexes
Types of Available Compensation
After a motorcycle accident, you may have questions about the type of compensation available to help pay your medical expenses and make up for lost wages. There are two types of compensation you may be offered in insurance settlement: economic and non-economic compensation. If your case goes to court, in rare circumstances, a judge may award punitive damages.
Economic losses are those that are verifiable and objective. In many instances, you have a receipt to prove your expense. This could include medical expenses, such as visits to the doctor, surgery, bracing, assistive devices, or physical therapy. It can also include lost wages if you're unable to return to work or lost future income if you experience a physical disability that does not allow you to return to work.
You may also receive compensation for non-economic losses. These are subjective losses that include pain and suffering, loss of enjoyment of life, emotional distress, or loss of consortium.
If an insurance settlement cannot be negotiated and you proceed to a personal injury lawsuit, the judge may award punitive damages. These damages are not meant to compensate you for your injuries but rather to punish the defendant for malicious or intentionally reckless behavior.
How an Experienced Attorney Can Help
After a New Jersey motorcycle accident, the at-fault party's insurance company may send an insurance adjuster to ask questions. You are within your rights to refuse to answer questions until you have an attorney present. This is advisable since insurance adjusters are skilled negotiators and experienced at getting injured people to say more than they should.
Although they may present themselves as your friend, their goal is to discover information that will disprove your claim. Insurance adjusters may also make an early settlement offer. They may tell you that this is the first and final offer and it is the best offer you will receive.
However, most first offers are not fair compensation, and they are usually not the last offer from the insurance company. Insurance companies have experienced lawyers and skilled adjusters working for them. You should have an accomplished attorney on your side who can fight for your right to fair compensation.
Contact Brach Eichler Injury Lawyers Today
If you were injured in a New Jersey motorcycle accident that wasn't your fault, contact Brach Eichler Injury Lawyers today. Our New Jersey personal injury attorneys understand that every case is unique. We use the details of your case to develop a customized strategy for you. Call our office today at (973) 364-8300 for your free consultation and case evaluation.