New Jersey Motorcycle Accident Attorneys for Road Rash
When a motorcycle accident includes a car or a truck, it can be deadly. Most other vehicles on the road are heavier than motorcycles, and the cyclist is not as well protected as the driver.
If you are injured in a motorcycle accident in New Jersey, you could be entitled to compensation. The New Jersey motorcycle accident lawyers of Brach Eichler Injury Lawyers understand that monetary compensation cannot make up for the physical injury and loss of property you have experienced.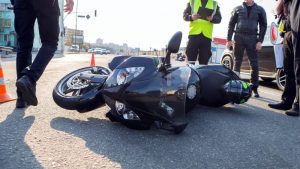 However, it can help pay for your expenses and make the path to your recovery a little bit easier. Our mission is to provide you with excellent legal services, fight to protect your rights, and seek fair compensation for your injuries.
Call our office today at (973) 364-8300 for your free consultation and case evaluation. You will sit down with one of our experienced and compassionate attorneys, who will answer your questions and advise you about your legal options.
Lawsuits Have Time Limits
Like all other states, New Jersey has a time limit for filing a personal injury lawsuit. This time limit is dictated by the statute of limitations. In New Jersey, you have two years from the date of the accident to file your lawsuit in court.
If you fail to file your lawsuit within the two-year period, you may relinquish your rights to seek justice and be awarded compensation through the court system. After a motorcycle injury, you may be in the hospital for days or weeks or laid up at home, unable to go to work or take care of your activities of daily living.
While you're recovering from your injuries, the time can pass quickly, so it is crucial that you hire a personal injury attorney to represent you, negotiate with the at-fault party's insurance company, or litigate your case in court.
What Is Road Rash and How Is It Treated?
Simply put, road rash is an abrasion to the skin caused by friction. The top layers and underlying tissue are rubbed or scraped as the skin is scraped across the pavement. This friction can create heat as well, but the worst damage to the skin is from the abrasion.
Road rash is common but painful. Many times, it's not dangerous to your overall health, but it can cause scarring and disfigurement. This can ultimately affect your function if the scarring occurs over a joint. How the road rash is treated depends on how deep it is. Most road rash injuries are treated the same as a heat or friction burn.
The most common places to get road rash in a motorcycle accident are on the knees, elbows, forearms, hands, and back. Bony areas are more likely to be affected because they often hit the pavement first and have the thinnest protection.
Road rash can cover a small or large area of the body. When it's not treated correctly, it can become infected and cause further damage to your health. Simple, superficial, or surface burns are usually treated at home and don't leave a scar. They often heal within two weeks, depending on your overall health.
A more severe type of road rash can produce a hypertrophic scar and has a greater risk of infection. Your doctor may suggest skin grafting, free flap skin grafting, or dermabrasion to reduce the effects of the scar tissue.
You should be seen by your physician as soon as possible after the accident to document the injury and demonstrate your interest in maintaining your health. At-home treatments for road rash include antibiotic ointment and sterile bandages or gauze to protect the area from damage and reduce the risk of infection. Your doctor will indicate how often the bandage needs to be changed and how to look for a possible infection.
Best Ways to Prevent Road Rash
The best type of road rash is the kind that doesn't happen. You can take precautions to reduce the potential of experiencing road rash again and save your skin by using the proper safety equipment.
This is the only safety that a cyclist has because it's the only thing between them and a hard road. One five-year study showed that helmets could reduce eight percent of minor injuries and up to 37 percent of rider deaths. A proper helmet must meet Federal Motor Safety standards and have the logo of the organization stamped on the shell or the inside of the helmet.
Motorcycle jackets often have hard armor at the elbows and along the back. They help protect your shoulders and spinal cord. While they're easy to wear during the spring and fall, you may be tempted to take them off during the hot summer months. Some cyclists use an armor plate without a jacket. This plate protects the shoulder joints, breastbone, and spinal column.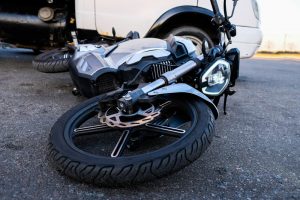 Motorcycle pants will also have armor over the kneecaps and provide ventilation and comfort. A sensible pair of riding boots can protect your ankles and guard against road rash on your feet. Your gloves are not a place to skimp because your hands are often the first thing to hit the ground. The gloves should be pliable and flexible to give you dexterity, yet tough enough to withstand a severe impact.
How an Experienced Attorney Can Help
After a motorcycle accident, the at-fault party's insurance company may send an adjuster to ask you questions. They often try to present themselves as a friend of the victim. However, it is important to know that their job is to gather evidence that disproves your claim.
You can refuse to speak to an insurance adjuster until your attorney is present. An experienced attorney can help prevent you from inadvertently saying something that could negatively affect your case.
The attorneys of Brach Eichler Injury Lawyers are also skilled negotiators with years of experience dealing with insurance companies. When negotiations are not successful, you may choose to move forward with a personal injury lawsuit. Our team is composed of tenacious litigators who will aggressively fight to protect your rights in court.
Contact Brach Eichler Injury Lawyers Today for Help After a Motorcycle Accident
If you were injured in a motorcycle accident that was not your fault, call Brach Eichler Injury Lawyers today for help recovering damages to pay for your medical expenses, lost wages, and future medical expenses related to the accident. Without experienced representation, you may not recover fair compensation.
While an accident can ruin your day, you shouldn't let it ruin the plans you have for your future. Call our office today at (973) 364-8300 for your free consultation and case evaluation.