New Jersey Lawyers for Concussion and TBI from Motorcycle Accidents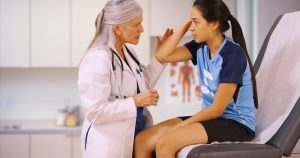 People who ride motorcycles know the thrill of feeling the wind on their faces as they cruise on scenic country roads and well-traveled highways. But the exhilarating experience of driving on an open roadway on a vehicle that doesn't encircle you with a few thousand pounds of metal has its risks. In 2019, more than 80,000 motorcyclists were injured in accidents, and more than 5,000 of those died.
Tragically, though many states have some type of helmet law, concussions and other types of traumatic brain injuries (TBIs) are all too often sustained in motorcycle accidents. In fact, there are more traumatic brain injuries that are a result of collisions involving motorcycles than there are in other types of vehicular accidents.
If you were injured in a crash that wasn't your fault while riding your motorcycle, you have enough on your plate due to your physical pain and mounting expenses. Don't handle your case alone. The insurance company won't help. In fact, they often try to use the negative stereotype that some people have of motorcyclists as irresponsible speed demons to limit or even deny your claim.
If you or a loved one has incurred a serious head injury following a motorcycle accident that happened because of someone else's negligence, you need the services of an experienced legal team. The New Jersey motorcycle accident lawyers of Brach Eichler Injury Lawyers will work with you to obtain the compensation you deserve if another individual caused your accident. Contact us at (973) 364-8300, chat live online, or fill out our contact form for a free consultation.
What Should I Do First If I Have Sustained a Concussion or a TBI In a Motorcycle Accident?
Your health is your number one priority if you have sustained a concussion or a more serious type of traumatic brain injury in your accident. You may not think your concussion is serious at first, but it can lead to more debilitating issues later on. Also, a serious traumatic brain injury can cause loss of consciousness, ongoing psychological problems, or even death. Hopefully, someone at the scene contacted the police as well as emergency medical professionals to attend to the injuries of everyone involved in the accident.
What Are the Possible Long-Term Effects of Concussion and TBI?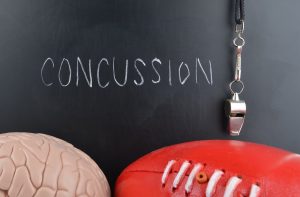 Immediately after sustaining a blow to the head in a car accident, you should see a doctor. If your injury is a concussion, which is a mild form of traumatic brain injury, you could have a quick recovery. However, you may develop a number of severe symptoms as time passes, so you need to follow a physician's recommendations on your road to recovery.
The warning signs that a concussion is more serious than you thought at first include:
Sleepiness or trouble awakening
Ongoing or worsening headache
Loss of strength in your limbs
Changes in vision
Difficulty speaking
Persistent or heavy vomiting
Difficulty remembering people, places, and/or things
Spasms, seizures, or being dazed
Losing your balance
Leaking fluids from the ears or nose
Behavioral changes
How Is a Higher-Level TBI Treated?
If you are diagnosed with a severe traumatic brain injury, you must receive immediate emergency care to ensure proper levels of blood, oxygen, and blood pressure. Additionally, people with severe head injuries may also have other issues that must be addressed.
Treatments in the emergency room or intensive care unit of a hospital will focus on minimizing secondary damage due to inflammation, bleeding, or reduced oxygen supply to the brain. You will likely need other types of care while in the hospital, which can include:
Medications to prevent seizures, reduce tissue fluid, and/or induce a coma
Surgery that addresses fractures of the skull, brain bleeds, clot removal, and/or fluid on the brain
Rehabilitation services, on-site and/or out-patient, to relearn how to talk, walk, and perform routine daily functions
The longevity of your rehabilitative care will depend on the extent and severity of your injury and may require the help of occupational, physical, and speech and language therapists.
What Kinds of Expenses Can I Be Compensated for if Someone Else Caused My Motorcycle Accident?
In order to strengthen your claim for your short- and long-term medical expenses and other costs due to your head injury, you may have to enlist the help of a family member, friend, or your lawyer to obtain a copy of the police accident report and to document your expenses for the following services:
Ambulance or life flight services
Hospital and emergency room expenses
X-rays, scans, and laboratory tests
Surgery
Medications
Home health care
Physician office visits
Rehabilitation services
Vehicle and other property damage
Funeral costs for loss of life
Loss of companionship
Call the Motorcycle Accident Lawyers at Brach Eichler Injury Lawyers Today
Our lawyers are relentless when working on every client's case, and their success in helping them to obtain just compensation for their clients' injuries has not gone unnoticed. Edward P. Capozzi, who has won substantial settlements and court cases for his clients, holds a lifetime membership in the Multi-Million Dollar Advocates Forum, among many other achievements. Alex Capozzi has the honor of being the youngest New Jersey attorney to have won a multi-million-dollar verdict in a client's court case. The other members of our team are also highly skilled litigators. Because we are client-oriented, we will come to you if your injuries prevent you from visiting our office. And there is more good news. You don't pay us a dime unless we succeed in winning your case.
If you or someone close to you has sustained a concussion or other traumatic brain injury in a motorcycle accident that was someone else's fault, our highly experienced New Jersey legal team at Brach Eichler Injury Lawyers will investigate every aspect of your claim. Motorcycle riders are vulnerable to severe injuries, especially to the head and neck, which can have long-lasting effects on your health and your finances.
Don't put your case in the hands of a lawyer who does not have experience in your type of accident. Don't be a scapegoat for someone else's negligence due to the prejudices that insurance companies might have concerning motorcyclists. Call (973) 364-8300 today for a free, confidential consultation. You can also contact us by filling out our online form or by chatting with us online. Remember: we get paid only when you do.