Written by: Brach Eichler Injury Lawyers
Last Updated : August 28, 2023
Jersey City Wrong-Way Accident Lawyers
Have you been hurt in a wrong-way car accident due to another driver's carelessness? You may be entitled to financial compensation. Wrong-way accidents can occur when a driver fails to exercise good judgment while on the road.
They may think that what they're doing is harmless. Their turn or exit is right ahead, and there's no real harm if no one else is driving on that particular stretch of road. Regardless, wrong-way driving can put the negligent driver and others in danger of severe injury and even death.
If you did not cause the accident, you are not at fault. Nor should you be expected or required to pay the medical bills or other expenses associated with the accident. When you're the victim of a wrong-way collision caused by someone else, you are entitled to compensation for the injuries their negligence caused. Their carelessness caused them to collide with your vehicle and led to your injuries.
If you've been injured in a wrong-way collision, you must contact a Jersey City car accident lawyer immediately. Call the skilled lawyers of Brach Eichler Injury Lawyers at (201) 583-5765 or contact us online on our website to schedule a FREE consultation. Let us help you get on the road to financial recovery.
Do I Need a Lawyer?
The short answer is yes. A lawyer from Brach Eichler Injury Lawyers can file all the claim paperwork for you while you focus on healing your injuries. We can investigate the accident, gather evidence, and ensure that all of the details of your claim filing are correct. We can handle communications with the insurance company and any other parties, as well as manage all the legal paperwork so that you can avoid becoming overwhelmed and stressed.
You can file a claim for compensation after your accident with the responsible party's insurance company, but it can be complicated. There are many forms to complete and information you have to collect. Additionally, you'll have to work with the insurance adjuster and convince them that you have a claim. They will do their best to make sure they pay you nothing.
You'll find it a great relief to turn over all that worry to a lawyer familiar with the process. An attorney who knows how to manage insurance adjusters. Hiring a lawyer will pay off in the long run.
Determining Who Is at Fault in a Wrong Way Accident
In a wrong-way collision, it may be a no-brainer to you, the victim, who caused your accident. For instance, say that you were traveling the correct way on a one-way street to your destination. Then, another driver appeared in front of you, traveling at high speed the wrong way, collided with your vehicle, and caused you harm. From the above example, it is easy to see who is at fault for causing your accident — the other driver.
However, when the time comes for you to obtain compensation from the insurance company, you may find it more difficult than expected to provide evidence of where the fault lies. Additionally, the other driver may attempt to lie or tell another version of the story of how the two of you collided entirely. They may even go so far as to accuse you of being the reason the accident occurred.
Following an accident, you may be too stressed or ill to go back and forth with the insurance company. As a result, you may settle for whatever small amount of compensation the insurance adjuster offers you. That amount may not even cover all your medical bills, much less compensate you for your intangible losses, like pain and suffering.
An experienced lawyer can handle all the details of determining who was at fault and which insurance company you should contact for compensation. Your attorney can gather the evidence necessary to file a claim and fight to get you the compensation you deserve following your accident. This way, you can focus on getting your health in order and return to your life as soon as possible.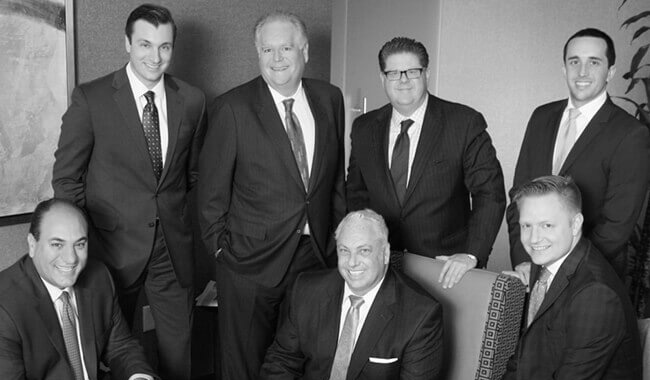 It's All About Results
We are the trial attorneys with the experience and knowledge to get you the results you deserve. At Brach Eichler Injury Lawyers, we take time to get to know you, as well as your case. We are committed to excellence. It is important for our team to understand your fears, concerns and expectations. We are always available to answer any questions, and are willing to come to you if you are unable to come to us.
Contact Our Experienced Law Firm
Why Choose Brach Eichler Injury Lawyers to Handle My Case?
The skilled and experienced lawyers at Brach Eichler Injury Lawyers are a solid choice for those seeking justice after a wrong-way collision in Jersey City. Our attorneys have several decades of experience and have a proven history of getting the compensation their clients deserve.
At Brach Eichler Injury Lawyers, we treat all our clients like family, and we will stop at nothing to achieve the best possible results in your case. We are prepared to fight on your behalf to win the full and fair compensation you deserve.
We can thoroughly prepare your claim for the insurance company and use all our considerable resources to prove you are entitled to compensation. We know the tactics insurance companies use to avoid paying out on claims, and we have a variety of skillful means to counter those tactics. We will negotiate to obtain an appropriate settlement for you, and if we cannot come to terms with the insurance company, we are prepared to go to trial on your behalf.
We will constantly communicate with you during all this, keeping you updated on your case. We will do all the hard work for you, so you can leave all the legal stuff to us and focus on getting well.
Finally, we work on a contingency-fee basis. That means you pay us nothing upfront. Once we obtain a settlement or an award of compensation for you, we will take our fee as an agreed-upon percentage of that money. If we don't get you compensation, you don't pay.
Compensation for Wrong-Way Accidents
When you're injured in a crash that wasn't your fault, you're probably entitled to compensation. The type of compensation and how much you will be granted depends on several factors, including the severity of your injuries.
The kinds of losses you could be eligible for compensation for after a wrong-way accident are:
You may be entitled to other forms of compensation depending on the severity of your injuries.
Call Brach Eichler Injury Lawyers Today
If you've been hurt in a wrong-way car accident in Jersey City, contact Brach Eichler Injury Lawyers today. Our experienced and compassionate lawyers are ready to work with you and for you to secure the full amount of compensation you're owed after your accident.
Call us today at (201) 583-5765 to schedule a free consultation. Don't go it alone. Call now.