Written by: Brach Eichler Injury Lawyers
Last Updated : August 28, 2023
Jersey City Drunk Driving Accident Lawyers
If you suffered injuries in a car accident caused by a drunk driver, you might be entitled to financial compensation. The Jersey City car accident lawyers of Brach Eichler Injury Lawyers can represent you in your case and help you hold the at-fault driver liable for their actions.
Injuries sustained in car crashes can be excruciating and cause lifelong complications. However, when someone chooses to drive drunk, the effects can be devastating. They could have prevented the accident if they made the responsible decision not to get behind the wheel of their car.
Unfortunately, you ended up with severe injuries and emotional trauma that could take months or years to heal. We know how much you've been suffering and want to help you get back on your feet.
At Brach Eichler Injury Lawyers, our Jersey City drunk driving accident lawyers will remain by your side in the fight for justice. We can investigate the crash and obtain the necessary evidence to prove someone else was at fault. You can depend on us to advocate for your rights and seek the maximum compensation you deserve. Call us for a free consultation today at (201) 583-5765.
Why You Need to Hire a Lawyer Following a Car Accident
Seeking legal representation from a qualified and experienced attorney can mean the difference between securing compensation and losing your case. Brach Eichler Injury Lawyers can review all the details of your accident and injuries and determine the available legal options for moving forward. You won't have to worry about the legal aspects of an insurance claim or lawsuit when you retain our services. We will take on the responsibility and complete each step of the process from start to finish.
A drunk driving case might seem straightforward. The other driver was under the influence, so they should assume liability for the injuries you suffered. Unfortunately, it's not always that cut and dried. Insurance companies and the defense attorneys they hire can be ruthless. They want to avoid a large settlement payout at all costs. That means they might search for evidence that proves you caused the accident, so they don't have to admit that their policyholder was at fault.
The Jersey City drunk driving accident lawyers of Brach Eichler Injury Lawyers know the tactics insurance companies use and will tirelessly work to achieve your goals. We are aggressive in our negotiations to secure the highest possible settlement to cover your costs. You should not have to pay for anything yourself when another person's reckless behavior led to your physical injuries and expensive medical bills.
Determining Who Was at Fault After a Car Accident
It's critical that there's substantial evidence to prove that the other driver was drunk and that their condition was what caused the accident. It's not enough just to say it. When you hire us, we can launch a complete investigation into your case and gather all the evidence we need to show what happened. Some of the evidence we collect might include
Police reports
Documents from a criminal case against the driver
Receipts and bank statements showing the driver purchased alcohol
Video surveillance
Accident scene photos
Copies of your medical records and medical bills
Statements from eyewitnesses
The results of the at-fault driver's blood or breath tests
Having a dedicated Jersey City drunk driving accident lawyer on your side can improve your chance of recovering the compensation you need to avoid paying for anything out-of-pocket. We've been representing clients like you for decades and know what needs to be done to reach a favorable outcome.
Possible Compensation You Can Pursue in an Insurance Claim
New Jersey follows a no-fault system when it comes to filing auto insurance claims after accidents. That means you must turn to your own insurance company before seeking compensation from the at-fault driver's insurance.
Personal injury protection (PIP) is a legal requirement for all drivers. It pays upfront for emergency room bills, physical therapy, prescription medications, and other types of treatment. When you file a claim, your doctors will send your medical bills directly to the insurance company for payment. Once you exhaust the available coverage on your policy, you can file a liability claim.
The losses available in a liability insurance claim are:
Property damage
Emotional distress
Medical expenses
Loss of enjoyment of life
Pain and suffering
Lost wages
Lost future earnings
Out-of-pocket expenses
The Jersey City drunk driving accident lawyers of Brach Eichler Injury Lawyers know how to calculate the monetary value of a personal injury case. When determining the amount of compensation you deserve, we might consider various contributing factors, such as:
The type and severity of the injury
The total hours you missed from work
The length of your recovery period
The total medical expenses you incurred
The estimated cost of treatment necessary in the future
The availability of evidence showing the other driver was drunk
Any psychological trauma caused by the accident
We know how crucial it is to receive the maximum possible settlement available. You likely have significant medical bills and other costs and might not be able to afford them. The at-fault driver should be held accountable for what they've done, and we can help you do that.
Pursuing Compensation from an Uninsured Driver
State law requires liability coverage when purchasing auto insurance. The minimum limits are $15,000 for bodily injury and $5,000 for property damage. Unfortunately, some drivers don't maintain liability insurance. If you exhaust your PIP coverage and discover the at-fault driver doesn't have insurance, you could file a UM claim.
Uninsured motorist coverage (UM) is another mandatory type of coverage that can compensate for various losses, such as:
Medical expenses
Out-of-pocket costs
Pain and suffering
Property damage
Lost wages
Lost earning capacity
When you hire Brach Eichler Injury Lawyers, we will review all forms of coverage you can pursue to recover the compensation you need. If the insurance company denies your claim or offers a low settlement, we might be able to initiate a lawsuit.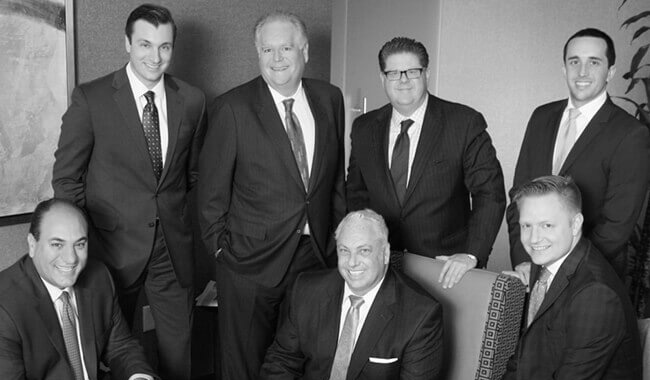 It's All About Results
We are the trial attorneys with the experience and knowledge to get you the results you deserve. At Brach Eichler Injury Lawyers, we take time to get to know you, as well as your case. We are committed to excellence. It is important for our team to understand your fears, concerns and expectations. We are always available to answer any questions, and are willing to come to you if you are unable to come to us.
Contact Our Experienced Law Firm
Laws for Filing a Lawsuit in Jersey City
Brach Eichler Injury Lawyers will review your policy to determine whether you can go after the drunk driver for compensation. Some insurance policies include a "limited right to sue" option, preventing an accident victim from filing a lawsuit unless they suffered:
Significant scarring
Loss of a body part
Lost fetus
Significant disfigurement
Displaced fracture
Permanent injury
If you chose the "unlimited right to sue" option, you could move forward with filing a lawsuit. There is a specific timeframe you must follow known as a statute of limitations. New Jersey has a two-year statute of limitations, meaning you must file your lawsuit within two years of the accident date.
If you share any of the blame for the crash, a jury could reduce your final amount of compensation. They will review the case and assign a percentage of fault to whomever they find is responsible for the crash. This percentage will determine the financial award you can receive. For example, if you have $100,000 in losses but were 20% at fault for the accident, you would only be entitled to a maximum of $80,000. If your actions were 51% or more to blame, you wouldn't be able to recover any amount of compensation.
Taking Legal Action for the Death of a Loved One
When someone dies because of the default, neglect, or wrongful act of another person, that is a wrongful death. If your family member died in an accident due to the actions of a drunk driver, you might be entitled to compensation through a wrongful death lawsuit. It differs from a criminal case because instead of pursuing criminal penalties, such as imprisonment, you're seeking a monetary award.
The statute of limitations for wrongful death cases is two years. Only specific relatives are entitled to bring a wrongful death suit, including:
The surviving spouse and children or grandchildren
The surviving parents
The surviving siblings, nephews, or nieces
A dependent of the deceased
You can seek compensation for various losses that resulted from the death of your loved one. They might include:
The value of lost household services, such as childcare, cleaning, and chores
The loss of financial support from the income the deceased would have earned if they survived
The loss of care, guidance, companionship, and comfort
The expenses associated with the fatal injury, such as medical treatment, burial, and funeral
Brach Eichler Injury Lawyers is familiar with the state laws and procedures involved in wrongful death cases. You should not have to deal with the complexities of a lawsuit yourself, especially when you're already grieving the loss of your relative. We can take over and handle everything on your behalf. You can count on us to fight hard until the very end.
Contact Us
The Jersey City drunk driving accident lawyers of Brach Eichler Injury Lawyers have built a stellar reputation for the legal services we provide. We have received awards from multiple organizations, such as Super Lawyers, Bergen's Top Lawyers, Best Attorneys of America, and America's Top 100 Personal Injury Attorneys. We believe accident victims deserve top-notch representation and justice for the harm they were forced to endure.
If a drunk driver caused your injuries in a car accident, do not hesitate to contact Brach Eichler Injury Lawyers. One of our Jersey City drunk driving accident lawyers can meet you for a free consultation to discuss the details and advise you about your legal options. We're available 24/7 to speak with you. Call us now at (201) 583-5765.