Clifton Motorcycle Accident Lawyers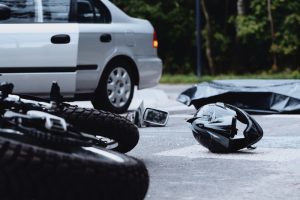 If you were injured in a motorcycle accident due to someone else's negligence, do not hesitate to contact Brach Eichler Injury Lawyers for legal assistance. You might be entitled to compensation for pain and suffering, lost wages, medical treatment, and other losses.
Motorcyclists can sustain debilitating injuries in collisions with other vehicles. Although the media has left motorcycle riders with a stigma of recklessness, other drivers are often at fault for accidents.
At Brach Eichler Injury Lawyers, we believe our clients have a right to full and fair compensation. When you hire our Clifton personal injury attorneys, we will aggressively pursue the money owed to you and seek the justice you deserve. Call us today at (973) 364-8300 for your free consultation.
Common Motorcycle Accidents
Various scenarios can occur when a motorcycle and another vehicle collide. The most common types of motorcycle accidents include:
Dooring accidents – Anytime a driver parks their car, they must look behind them for approaching traffic. They might open their door in the path of a motorcyclist if they ignore their surroundings.
Left-turn accidents – Drivers are supposed to slow down or stop before completing a left-hand turn. They must check for oncoming vehicles. Turning without yielding to others can cause an accident with a motorcyclist.
T-bone crashes – A T-bone collision occurs when the front end of one vehicle crashes into the side of another. Intersections are common locations for accidents like this.
Rear-end collisions – Tailgating can lead to a rear-end accident. A driver who follows a motorcycle too closely might not have enough time to brake if the rider needs to stop or slow down.
Lane splitting – Lane splitting is riding a motorcycle between two rows or lanes of traffic traveling in the same direction. It's risky because an inattentive driver can suddenly change lanes, sideswiping the rider.
Head-on accidents – Fatalities can occur when a motorcyclist and vehicle crash into each other head-on. Without the protection of a seatbelt, the rider can be ejected from the bike and suffer life-threatening injuries.
Brach Eichler Injury Lawyers has a high success rate in recovering settlements for injured clients. Our Clifton motorcycle accident lawyers are ready to help you fight to hold the negligent driver liable.
Causes of Motorcycle Accidents
Some people might unfairly perceive a motorcyclist as a menace to society. They believe anyone riding a motorcycle is a danger to others and probably at fault when a crash occurs.
The reality is many drivers are irresponsible at the wheel. They might disobey traffic laws or ignore motorcyclists. Motorcycle accidents often result from driver error.
The most common causes of motorcycle accidents include:
Tailgating – Tailgating doesn't leave enough space between two vehicles. A tailgating driver likely won't be able to react quickly enough to stop if a motorcyclist stops without warning in front of them.
Fatigued driving – Fatigue is more dangerous than people realize. It compromises a person's driving abilities.
Driving under the influence – Alcohol and drugs affect normal faculties. A driver with an impairing substance in their system has trouble focusing on the road ahead and noticing dangerous conditions.
Vehicle and part defects – Defective parts prevent a vehicle from functioning as it should. The driver can lose control and crash if a car isn't running correctly.
Speeding – Speeding accidents that involve motorcyclists can have deadly consequences. In an accident, a rider's body experiences sudden and violent forces that can throw them off the bike, causing debilitating injuries.
Distracted driving – A GPS, text message, and numerous other distractions take a driver's attention away from driving. Noticing their surroundings is difficult when they're focusing on a different task.
Common Injuries in Motorcycle Accidents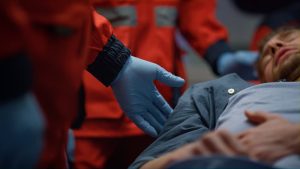 Motorcycle accidents can lead to a range of injuries, such as:
Permanent disability
Road rash
Spinal cord injuries
Paralysis
Disfigurement
Permanent scars
Broken bones
Traumatic brain injury
Internal bleeding
Psychological or emotional damage
Loss of limb
Motorcyclist fatalities occur every year. Riders lack protection, such as seatbelts and enclosed vehicles. According to the Insurance Institute for Highway Safety (IIHS), 5,579 motorcyclists died in traffic-related accidents in a recent year.
Compensation for Injuries in Motorcycle Accidents
In New Jersey, all drivers must purchase personal injury protection (PIP) insurance. The minimum coverage required by state law is $15,000. PIP allows policies up to $250,000.
Two coverage options are available through PIP insurance:
Medical expense coverage – The insurance company pays for necessary medical care and equipment to treat an injury if you choose medical expense coverage.
Additional PIP coverage – Additional PIP coverage reimburses policyholders for lost wages and other accident-related expenses.
Additionally, you can purchase a basic or standard policy. A basic policy includes a limited right-to-sue option. That means you agree not to pursue action against another party for causing your pain and suffering in an accident. However, you can file a lawsuit for pain and suffering compensation if your injury involves:
Significant scarring or disfigurement;
A displaced fracture;
Permanent injury;
Loss of a body part;
Loss of a fetus; or
Death.
You can choose your rights with a standard policy. With the unlimited right-to-sue option, you can sue the at-fault driver for money to compensate for your pain and suffering.
If you file a liability claim or lawsuit, you might receive compensation for:
Ambulance services, surgery, rehabilitation, and other medical expenses
Loss of enjoyment of life
Emotional distress
Pain and suffering
Lost wages
Cost of replacing property lost or damaged in the accident
You might be able to recover punitive damages in a lawsuit. State law requires the plaintiff to prove, through clear and convincing evidence, that they suffered harm because of the defendant's malice or willful or wanton disregard of the harm another might suffer.
Statute of Limitations for Motorcycle Accidents
There is a specific timeframe for suing someone after a motorcycle accident. In New Jersey, the statute of limitations allows a two-year timeframe to file a lawsuit. That means you must file your lawsuit within two years of the accident date.
Injured in a Motorcycle Accident? Contact Brach Eichler Injury Lawyers Today
At Brach Eichler Injury Lawyers, we care about our clients. You will receive personal attention and ongoing communication from our legal team. Our goal is to reach the best possible result in your case so you can recover and get your life back on track.
If you were hurt in a motorcycle accident someone else caused, call us at (973) 364-8300 for your free consultation with one of our experienced Clifton motorcycle accident lawyers.