>
You've just been in an accident with a commercial truck. You're shaken and confused. As you and the truck driver approach one another, a flurry of thoughts are probably clouding your head aside from the pain from your injuries that you may be starting to feel. You should try your best to remember that from this moment on, it's in your best interest to protect yourself and your rights as a victim of this accident.
What Shouldn't I Say to a Truck Driver After an Accident?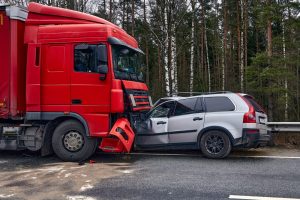 There are certain things you should refrain from saying to the other driver in a truck accident because you don't want to weaken your claim or eliminate your ability to obtain compensation from the at-fault party. The at-fault party is where the compensation for your truck accident injuries and losses would come from. The only way you can seek compensation for accident-related injuries is if the accident wasn't your fault.
Your ability to obtain compensation for your injuries if you were partially at fault for the accident varies by state. Some states allow injured victims to still obtain compensation for their injuries even if they're 99 percent at fault for the accident while other states bar injured victims from obtaining compensation if they're even one percent at fault for the accident.
In New Jersey, you have to be less than 50 percent responsible for the truck accident. This is the law of contributory negligence. So some statements you innocently make to other parties involved in the crash can have a great impact on your ability to recover the compensation you're owed even if you were truly not responsible for the accident. The following are statements and phrases that you shouldn't say to the driver of the truck that you were in an accident with:
"I'm so sorry" or "It's not your fault" – It may seem proper to immediately say "I'm sorry" to a truck driver after an accident. You may do it subconsciously because you wish that this accident never happened. But these two statements can be used as strong evidence that you are accepting responsibility for the accident. If your statements can be used to say that you were responsible for more than 50 percent of the accident (even if it's not true), then you won't be entitled to receive any compensation for your injuries.
"You came out of nowhere" – Many accidents happen when we least expect it. No one plans on getting into an accident every time they get into a car, after all. So while it may seem like the accident happened in the blink of an eye and you have no immediate understanding of how the accident occurred or how you came to be in a collision with a tractor-trailer, alluding to this idea can come off as if you weren't paying attention at the time of the accident. A truck driver could use your statement to claim that you were responsible for the accident because you were distracted in some way.
"I'm not hurt" or "Everything is okay" – You may feel as though you aren't hurt immediately after the accident. This could be the result of your body's fight or flight system kicking into high gear. You also could have sustained a serious internal or head injury that you aren't immediately aware of because the injury may not be visible to you. By telling the truck driver that you aren't hurt, they may reference that statement when they're questioned by their insurance company. When you file your claim later for compensation, the insurance company may use your own statement to claim that you weren't actually injured due to the accident and that your injury is either unrelated to the accident or that the veracity of your claim should be called into question.
What Do I Do After an Accident?
There are several things you should do immediately or soon after a truck accident:
Seek medical attention right away – You want to make sure you are checked out for serious injuries. If you have sustained serious injuries, you need to get medical attention to help get you on the mend. Additionally, in order to obtain compensation, you must show that due to someone else's negligence you suffered injuries and should be able to recover damages for those injuries. Your medical record is objective evidence created and maintained by medical professionals that documents your injuries, how serious they were, and the treatment that was required (and may still be required) for you to heal from those injuries. Your injuries are the backbone of the value of your claim. Your compensation is dependent on your injuries and the physical, emotional, and financial costs that you've had to bear due to those injuries.
Do not speak to any insurance company representatives – Insurance companies will contact you as they're investigating your accident. Their only objective is to figure out a way to reduce their financial liability by limiting the value of your claim. To do this, they will parse every word you say to them and use tactics to get you to admit to fault for the accident. It is in your best interest to reject their request to speak with you and direct any and all of their questions to your…
Attorney – Hire a truck accident attorney . They will deal with the insurance companies and negotiate for a just settlement on your behalf. If necessary, they will litigate your lawsuit in court in order to help you obtain the compensation you deserve.
Contact the Brach Eichler Injury Lawyers for Help
If you or someone you know has been injured in a truck accident due to no fault of your own, you may be entitled to compensation. Contact the experienced truck accident attorneys at (973) 364-8300 or contact us online for a free consultation.
Written by: Brach Eichler Injury Lawyers
Last Updated : March 21, 2023