>
Truck accidents can have many causes. Sometimes truck drivers get distracted by a text or a phone call and end up crashing into another motorist. In other cases, drivers might get into an accident because they drive while impaired on alcohol, drugs, or even prescription drugs. But one of the most common causes of truck accidents is driver fatigue.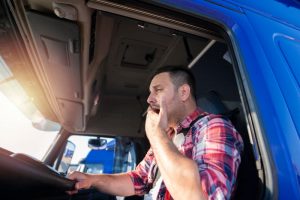 Truck drivers work incredibly long hours, and they must meet tight deadlines. In fact, many truck drivers worry that they will lose their jobs and livelihoods if they fail to make their deliveries on time. As a result, some drivers drive longer than they are technically allowed to. This can lead to driver fatigue. When a truck driver gets fatigued, they may experience impaired judgment, an inability to focus, and a delayed reaction time. This can lead to terrible accidents.
If you've been severely injured in a truck accident that was caused by a fatigued driver, you could be entitled to compensation. The attorneys at Brach Eichler Injury Lawyers have what it takes to investigate the accident, gather evidence to support your claim, and aggressively pursue the compensation you need to recover. Call us at (973) 364-8300 to schedule a free consultation with one of our attorneys.
Below, we'll briefly discuss how fatigue affects truck accidents.
What Are The Causes Of Fatigue?
Truck drivers regularly work long shifts. The FMCSA has hours of service limits that dictate how long a truck driver can work before they must take time off or take a break. Some of the causes of truck driver fatigue include:
Long hours behind the wheel – A trucker can drive for up to 11 straight hours after they have had a 10-hour break away from the truck. Truck drivers who exceed this limit may become fatigued, leading to accidents.
Lack of adequate sleep – Drivers who don't get enough sleep are also more likely to experience impaired judgment and lack of concentration that accompany driver fatigue.
Illness – When we're not at our best physically, we tend to tire out more quickly. A truck driver with a cold, allergies, or some other illness may decide to work because they need the hours, but if they are fighting off an infection, they may not be well enough to get behind the wheel for a long shift.
Medication – Some types of medication can cause drivers to become drowsy. This can ultimately lead to a truck driver nodding off and causing a crash.
Irregular shifts – If a trucker is used to working a daylight shift and is suddenly required to work an evening or overnight shift, they may become fatigued because they are not used to the hours.
Intoxication – Truck drivers who drink or do drugs while driving put others at significant risk. Alcohol and drugs can inhibit the truck driver's ability to focus on the task of driving and judge traffic situations.
The Effects Of Fatigue On A Trucker
Once a driver becomes fatigued behind the wheel of their rig, they are more likely to cause an accident. There are several reasons why fatigue can lead to accidents.
Inability to focus – A fatigued driver will have a harder time focusing on the task of driving. Sitting in one place for hours on end can increase a truck driver's drowsiness. If a trucker is not paying close attention, they can drift into other lanes or fail to notice changing traffic signals.
Slower reflexes – A fatigued truck driver may react more slowly to changing traffic conditions than a fully alert driver. By the time a fatigued driver realizes they have entered into a dangerous situation, it may be too late to prevent a crash.
Impaired decision-making skills – Truck drivers may have a hard time making decisions when fatigued. Fatigue may cause them to make poor judgment calls that ultimately put others in harm's way.
Contact Us Today
If you were seriously injured in a truck accident, contact the truck accident lawyers at Brach Eichler Injury Lawyers today. Truck accidents are complex to investigate and you need the best possible legal team in your corner. We have the resources to conduct a full investigation, estimate your losses resulting from the accident, and help you pursue the payout you deserve.
Our attorneys will handle every aspect of your case for you so that you can focus on getting better. We have what it takes to help you seek the compensation you are entitled to. Call us at Brach Eichler Injury Lawyers for a free consultation with one of our experienced truck accident lawyers.
Written by: Brach Eichler Injury Lawyers
Last Updated : March 21, 2023