New Jersey Construction Vehicle Accident Attorneys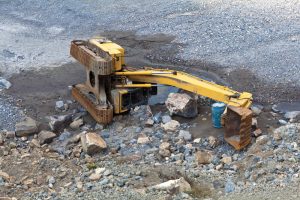 Did you get hurt in an accident involving a construction vehicle? Was it due to someone else's negligence? If so, contact Brach Eichler Injury Lawyers to learn how we can help you hold the at-fault party liable. Whether the construction company, truck driver, or another person caused the crash, you are entitled to compensation for your injury.
Construction workers use various construction vehicles to complete job-related tasks. They use forklifts to lift heavy objects, dump trucks to remove waste from job sites, and bulldozers to remove soil from the ground. These vehicles are essential to construction projects but pose a risk to drivers and passengers on the road.
When a construction truck crashes into a passenger car, it often results in massive destruction. The violent forces of the collision can cause severe injuries and even death. The smaller vehicle occupants typically suffer more serious harm than the truck driver.
At Brach Eichler Injury Lawyers, our New Jersey truck accident attorneys have decades of experience representing accident victims. We can help you hold the negligent party accountable for their actions and seek the maximum available compensation. You shouldn't go through this traumatic experience alone. Let us be your advocate and guide you through the process.
For a free consultation to discuss your case with us, call (973) 364-8300 today.
Common Types of Construction Vehicles
You probably pass construction sites regularly. A growing population means that more buildings, highways, and other structures are vital. Repairs are also necessary to ensure safe roadways for drivers and prevent accidents.
The most common construction vehicles you can see around New Jersey are:
Forklifts
Bulldozers
Crawler excavators
Compactors
Road rollers
Asphalt milling machines
Cranes
Backhoes
Cement mixers
It takes experience, training, and skill to operate a construction truck safely. Any error could cause the driver to lose control and collide with another vehicle, pedestrian, or telephone pole. Although construction vehicles are a necessity, they can also lead to dangerous situations.
Common Causes of Construction Vehicle Accidents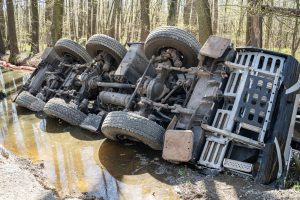 You probably think the truck driver is at fault for the accident. However, multiple parties could be liable for collisions involving construction vehicles. The driver's employer might be responsible for knowingly hiring an unlicensed employee. Or a maintenance company could be at fault for failing to repair a faulty truck part.
The most common causes of construction truck accidents include:
Tailgating – Large trucks require a longer stopping distance than small cars. A truck driver tailgating another vehicle likely won't have enough time to apply the brakes and avoid a crash if traffic comes to a standstill.
Blind spots – Commercial trucks have a blind spot on all sides. A blind spot is in the front, back, and either side of the vehicle. Thoroughly checking these blind spots before turning or changing lanes is necessary. If the trucker doesn't look carefully, they can sideswipe a car traveling alongside.
Negligent hiring – Trucking companies are supposed to perform background checks on prospective employees. It's critical to review employment history, criminal records, and other information. Failing to complete a background check or ignoring red flags on the records could place a dangerous trucker on the road.
Poor repairs and maintenance – Construction vehicles must function properly. This requires adequate maintenance and prompt repairs. Ignoring required maintenance for a defective part or damaged truck means the truck won't operate correctly.
Speeding – Exceeding the speed limit and driving too fast for conditions is reckless. High-speed crashes often lead to debilitating injuries and fatalities.
Distracted driving – Truck drivers must pay attention to their surroundings and avoid distractions while operating construction vehicles. Texting, eating, and other distractions prevent the trucker from noticing dangers and taking necessary action to prevent them.
Incorrectly loaded cargo – Federal regulations limit the size and weight of commercial trucks. Loading a construction vehicle beyond the maximum allowed weight or failing to secure loose objects could lead to an accident.
If any of these causes or another factor contributed to the construction vehicle accident you were in, do not hesitate to contact Brach Eichler Injury Lawyers.
Compensation Available for a Construction Vehicle Accident
The traditional no-fault system in place in New Jersey requires injured drivers and passengers to file claims with their auto insurance companies first. Depending on the type of policy they have, they could pursue a settlement from the at-fault motorist's liability insurer after reaching their own policy's limit.
Personal injury protection (PIP) can cover medical treatment and related expenses, reimburse you for lost income, and pay for replacement services, such as household work and childcare. A Basic policy includes a "limited right to sue" option. That means you can't file a claim with the at-fault driver's insurance company unless the crash resulted in:
Significant disfigurement;
Loss of a fetus;
Permanent injury;
Displaced fracture
Loss of a body part;
Significant scarring; or
If you purchased a Standard policy with an unlimited right to sue, you could file a liability claim once you exhaust your PIP limit on necessary losses. The compensation you receive from a liability claim could compensate for losses, such as:
Lost earning capacity
Emotional distress
Loss of enjoyment of life
Pain and suffering
Surviving family members could file a wrongful death lawsuit if a loved one's death resulted from a construction vehicle accident due to someone else's negligence. Various losses are eligible for compensation, including funeral costs, final medical bills, and loss of companionship.
Deadline to File a Lawsuit for a Construction Vehicle Accident in New Jersey
State law requires an injured plaintiff to file a lawsuit in accordance with the two-year statute of limitations. That means if someone caused your injury, you must initiate your lawsuit within two years of the date of the construction truck crash. You can't pursue compensation from the at-fault party in a lawsuit once the deadline passes.
Contact Us
At Brach Eichler Injury Lawyers, our team knows what it takes to get the job done. We will tirelessly work to hold the negligent construction vehicle driver or their employer liable for the harm they caused. You can count on us to aggressively seek the money owed to you and try to reach a favorable outcome in your case.
If you sustained an injury in a construction vehicle accident due to the negligent conduct of another person or a company, call us at (973) 364-8300 today. One of our New Jersey construction vehicle accident attorneys can discuss your case with you during a free consultation and advise you about how we can help.