Written by: Brach Eichler Injury Lawyers
Last Updated : August 28, 2023
New Jersey Construction Site Falling Objects Accident Lawyers
So many construction accidents are caused by falls that most workers are looking down at their feet rather than up towards the sky. Unfortunately, falling objects can pose significant health and safety risks to construction workers and visitors to construction sites. In 2016, the National Safety Council found that 255 construction workers were killed by falling or dropped objects. Another 37,920 workers were injured in falling object-related accidents in the same year.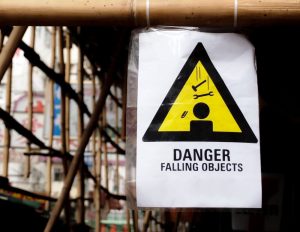 Being struck by an object while at a construction site is one of the Occupational Safety and Health Administration's "fatal four." The fatal four are the agency's most common causes of workplace deaths in the construction industry. When a construction worker or construction site visitor is unexpectedly hit with a dangerous, falling object, the results can be catastrophic. Serious injuries are common. Workers and other victims are often left with extensive medical bills that can be hard to cope with, especially if they can't return to work due to their injuries.
At Brach Eichler Injury Lawyers, we fight to protect the rights of those injured on construction sites, whether they were visitors, independent contractors, or construction workers. When you bring your case to us, we will review your legal options with you and thoroughly investigate the cause of your accident. We are skilled at negotiating for the workers' compensation benefits you may be entitled to earning, but we are equally skilled at taking negligent third parties to court when necessary.
If you have been injured by a falling object at a construction site, contact the New Jersey construction accident lawyers of Brach Eichler Injury Lawyers immediately. We want to help you recover physically and financially from your ordeal. Call us at (973) 364-8300 to set up a free, no-risk case evaluation today.
Causes of Falling Object Accidents
Sometimes it can feel like gravity is working against you. When workers take tools up with them, there are only two ways they come back down. The safe way, through a controlled and measured descent. Or the unsafe way, through a negligent or careless fall. Even small objects that fall from a distance can cause significant injuries. Although it may have been a while since you took high school physics, you can understand that something like an eight-pound wrench, when dropped from 200 feet in the air, can hit a target with over 2,800 pounds of force per square inch. Large materials like sheetrock, drywall, or boards can cause even more traumatic consequences when they fall from heights.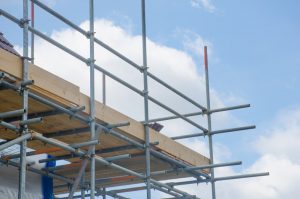 While the size of the object and the distance it falls can impact what types of injuries a person on a construction site may suffer, all falling objects are a source of concern. Most falling object accidents happen in one of two ways. Static drops occur when an object in one position falls due to its own weight. One example of a static drop is when vibrations from machinery dislodge a tool or piece of equipment, and it falls. These drops can also happen when corrosion or rust wear out a portion of a building or scaffolding, and a portion eventually falls.
Dynamic drops happen when an external force is applied to an object. This type of fall can occur when a worker accidentally kicks an unsecured tool off a build site or scaffolding. The object would not have otherwise fallen unless some external force was applied to it to cause it to fall.
These are some of the most common ways that falling objects can cause accidents at construction sites:
Failure to hold onto a tool while working off the ground
Failure to secure tools and machinery while working off the ground
Incorrect use of tools or equipment
Improper loading or stacking of construction materials or supplies
Loads that are too heavy for machines or equipment
Failure to use proper safety systems
Malfunctioning equipment safety systems
Improper training
Lack of posted warning or safety signs
Failure to provide proper safety gear
Injuries caused by falling objects are preventable. When an accident causes injuries, a victim may be entitled to compensation for their medical expenses. To discuss whether you may be able to recover compensation after a falling object accident, talk about your claim with an experienced New Jersey construction accident attorney.
Injuries Caused by Falling Objects at Construction Sites
Falling objects can cause a wide range of injuries. Even small objects can do serious damage when they are dropped from a significant height. Larger falling objects can cause massive crushing injuries, even fatalities.
Some of the most common injuries associated with falling objects include:
These types of injuries can result in significant time off work for recovery. In some cases, the victim may never be able to return to their job due to the extent of their injuries. For that reason, it is vital to speak with an attorney after a falling object accident. An attorney can help you get the compensation you need to move forward with your life post-accident.
Compensation for Construction Site Accidents
Construction workers injured in falling object accidents may be entitled to workers' compensation. New Jersey law requires that most employers carry workers' compensation insurance. Workers' compensation benefits can cover medical expenses and some of your lost wages. These benefits generally apply, no matter who was at fault for causing the accident.
In some instances, a construction worker may also be able to hold a negligent or careless third-party accountable for their injuries, as can independent contractors and other visitors to the construction site. Construction companies often hire third-party contractors to help them complete projects. When a third party is responsible for causing a construction accident, the victim may be able to hold them accountable for their actions in court. Third parties who may be held liable in some cases include:
General contractors
Subcontractors
Architects
The owner of the property
Equipment manufacturers
Parts manufacturers
The first step toward recovering compensation is talking to an efficient and experienced attorney. At Brach Eichler Injury Lawyers, we can review your situation and advise you of your legal options for recovering money for your injuries. We can then begin the process of securing the evidence and information it takes to build a compelling workers' compensation claim, third party claim, or lawsuit.
Contact an Experienced New Jersey Construction Accident Attorney Today
At Brach Eichler Injury Lawyers, we are passionate about protecting people who are injured on construction sites and their legal rights. You deserve compensation for your injures and you deserve to work with someone who will fight for you.
If you've been hurt by a falling object, talk to a New Jersey personal injury attorney with Brach Eichler Injury Lawyers. The consultation is free and confidential. To schedule your call, us at (973) 364-8300.
FREE CONSULTATION
Speak With a Skilled Auto Accident Attorney
If you have been involved in a motor vehicle accident, call us. We are here for you. The consultation is Free. You will not pay any fees unless we win your case, because here at Brach Eichler Injury Lawyers, it's all about getting results for you.
Our Verdicts & Settlements
---
$5.8 Million Settlement Brach Eichler Injury Lawyers Obtained a $5.8 Million Settlement on Behalf of Injured Client
$5.35 Million Settlement Brach Eichler Injury Lawyers Obtained a $5.35 Million Settlement at Trial on Behalf of a Pedestrian Struck by a Tractor Trailer
$4.8 Million Settlement Brach Eichler Injury Lawyers Obtained a $4.8 Million Settlement on Behalf of a Woman Injured in a Trucking Accident
$2.25 Million Settlement Brach Eichler Injury Lawyers Obtained a $2.25 Million Settlement for an Auto Accident Victim in Bergen County
* Results may vary depending on your particular facts and legal circumstances.
View All Results
Meet Our Trial Attorneys
---
The trial attorneys at Brach Eichler Injury Lawyers have decades of experience with personal injury litigation. We understand the difficulties accident victims experience. Our staff is especially skilled at dealing with medical providers and insurance companies to navigate these claims and allow you to focus on what is truly important - getting back to health.
What Our Clients Are Saying About Us
---
"My case was not a simple case, but Ed Capozzi and his team took it head on. It was a pleasure to deal with Ed Capozzi and Corey Dietz. All their knowledge and fast response to any questions I had throughout the case made it easier on me. I can't forget about Mr. Capozzi's wonderful paralegal. Everybody was kind and thoughtful. This team of attorneys never made me feel like I was just another case. They make you feel like friends. If you need an personal injury lawyer, give Ed Capozzi and Corey Dietz a call! They won't let you down! Thanks to everyone at Brach Eichler Injury Lawyers! You guys rock!"

"I would never choose another law firm!! Mr. Edward Capozzi and Valentina treated me like family. I was scared to go to court but when I did, he was very aggressive and fought for me. I got so much money for my case!! I can't say it enough, THANK YOU!! THANK YOU!!"

" Brach Eichler Injury Lawyers is a top notch law firm. I worked specifically with Mr. Capozzi, and was very impressed with his knowledge of personal injury law, and his commitment to ensuring I got the result I deserved."
* Results may vary depending on your particular facts and legal circumstances.
Speak to an attorney today!
---
If you have been injured in an accident, call us! We are here for you 24 hours a day. The consultation is free. You will not pay any fees unless we win your case, because here at Brach Eichler Injury Lawyers, it is all about getting results for you.