Written by: Brach Eichler Injury Lawyers
Last Updated : August 28, 2023
Jersey City Mechanical Failure or Defective Parts Accident Lawyers
In Jersey City, nearly everyone relies on vehicles for transportation. Whether you need a vehicle to get to work, the grocery store, or to take your children to school, it is likely that you're on the road frequently. Unfortunately, mechanical failure or defective parts in those vehicles we trust can cause accidents. You may be entitled to compensation if you've been hurt in an accident in Jersey City caused by mechanical failure or defective parts.
If you're injured in an accident caused by mechanical failure or defective parts in a vehicle, contact the Jersey City car accident lawyers at Brach Eichler Injury Lawyers today at (201) 583-5765 or contact us on our website to schedule a consultation that is 100% free. We can discuss your claim and help you determine your next best steps.
Do I Need a Lawyer?
After an accident caused by mechanical failure or defective parts, it is critical that you get in contact with an experienced Jersey City mechanical failure/defective parts attorney immediately. Should you wait to seek legal help, you could lose out on recovering any compensation at all for your injuries.
In mechanical failure or defective parts claims, proving who was at fault for the defect can be difficult. The car manufacturer or mechanic you work with may attempt to blame you for the accident to get themselves off the hook.
Having a skilled lawyer on your side can mean a world of difference in the outcome of your case. When you hire Brach Eichler Injury Lawyers, we can thoroughly investigate the crash and its causes, gather all available evidence, interview witnesses, and obtain documentation related to the losses you've experienced due to the accident. We can use our vast resources to build a strong case that proves you were injured by someone else's negligent actions and are entitled to recover full and fair compensation.
Determining Who Is At Fault
In the case of mechanical failure or defective parts accidents, proving you were not to blame for the accident to insurance companies who don't want to pay benefits to you can be a challenge.
Your vehicle manufacturer must ensure that your car meets certain safety standards and does not present a hazard to your—or other drivers'—safety. They must ensure that the parts they manufacture meet the safety standards required for the safe operation of their vehicle.
In addition to the manufacturer of your car, other liable parties could include the company that manufactured the part attached to your car, the company that designed your car, and the mechanic who serviced your car, among others. You have the right to attempt to discover the at-fault party on your own, but why take the risk? Leave this exploration to Brach Eichler Injury Lawyers. Our attorneys are experienced at delving into the underlying causes of accidents of this type.
With Brach Eichler Injury Lawyers on your team, you can skip the headache of proving fault. Leave it to us to speak with the car manufacturer or mechanic who regularly services your vehicle. Let us collect evidence to prove you are not at fault for your accident.
Why Choose Brach Eichler Injury Lawyers to Handle My Case?
The legal team at Brach Eichler Injury Lawyers is skilled and experienced in personal injury cases.
As a team, we have an established history of being ready and willing to fight for our clients' rights and go to every length to secure the full compensation available for their Jersey City accidents.
We have a track record of obtaining compensation for our clients. Over the years, we've gotten our clients over $425 million in settlements and awards. Here are a few of our successes:
$4.735 Million Verdict in Hudson County
$2.8 Million Settlement in Union County
$1.825 Million Settlement in Union County
$1 Million Settlement in Essex County
$920kVerdict in Essex County
Results may vary depending on your particular facts and legal circumstances. Although we cannot guarantee results in any case, we will bring the full force of our knowledge and experience to the table to obtain the best possible outcome in your claim.
Should you choose to work with any of the lawyers at Brach Eichler Injury Lawyers, you can rest easy and focus on recovery following your accident, knowing that we will care for you, just like we would care for our families.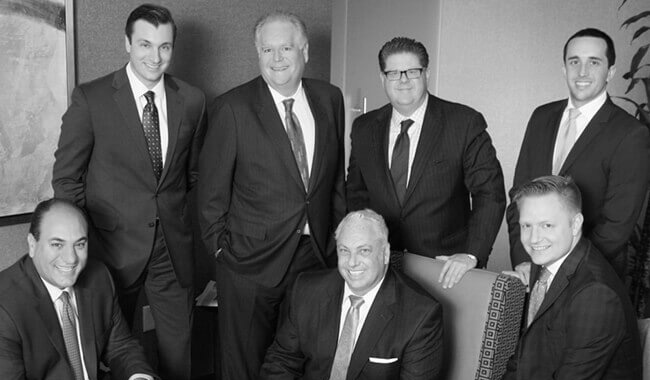 It's All About Results
We are the trial attorneys with the experience and knowledge to get you the results you deserve. At Brach Eichler Injury Lawyers, we take time to get to know you, as well as your case. We are committed to excellence. It is important for our team to understand your fears, concerns and expectations. We are always available to answer any questions, and are willing to come to you if you are unable to come to us.
Contact Our Experienced Law Firm
Compensation for Accidents Caused by Mechanical Failure or Defective Parts
When you've been injured in a crash caused by defective parts or mechanical failure, you're likely primarily worried about getting your health back. You may also be worried about the growing pile of medical bills on your table, and if you're unable to work right now, you may be fretting about how you'll pay the regular household bills when they come due. The next logical question may be, "How much compensation can I get for my injuries?"
Every set of circumstances is different, so you can imagine that there's no one answer to the question. The severity of your injuries and the duration of the recovery period will determine the value of your claim. Your losses should all be considered in the settlement amount we demand from the insurance company on your behalf.
Some of the losses you may have experienced and that may be eligible for compensation include:
Lost wages
Property damage
Pain and suffering
Emotional distress
Loss of enjoyment
Loss of consortium
When you talk with your Brach Eichler Injury Lawyers attorney, we can discuss the details of your accident and injuries. We can use our knowledge of this type of accident and our experience to assess the value of your claim appropriately.
Contact Brach Eichler Injury Lawyers Today
You may be entitled to monetary compensation if you've been injured in an accident caused by mechanical failure or defective parts.
Call the legal team of Brach Eichler Injury Lawyers at (201) 583-5765 to schedule a free consultation. Let us start figuring out how to get you the compensation you need to get your life back on track.