Clifton Truck Accident Attorneys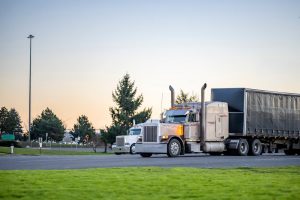 If you sustained an injury in a truck accident due to someone else's actions or inaction, contact Brach Eichler Injury Lawyers immediately. You might be entitled to compensation for your lost wages, medical expenses, and other costs.
Commercial trucking is an essential industry nationwide. Truck drivers are responsible for transporting a range of materials every day. Unfortunately, collisions between large trucks and small cars can be deadly. The occupants of smaller vehicles often sustain severe or debilitating injuries.
You have a right to pursue legal action against the truck driver or another negligent party for causing your injury. Brach Eichler Injury Lawyers is ready to represent you in your case and aggressively pursue the maximum compensation on your behalf.
Call the Clifton personal injury attorneys of Brach Eichler Injury Lawyers at (973) 364-8300 today for your free consultation with one of our Clifton truck accident lawyers and learn more about how we can help.
Common Causes of Truck Accidents
Accidents involving commercial trucks can occur for various reasons. The most common causes of truck accidents include:
Speeding – A high-speed truck accident can have fatal consequences for the driver and passenger of a small car. Maneuvering an 80,000-pound truck is more challenging for a truck driver when they speed. They could lose control and crash into any nearby vehicle.
Driving under the influence – The Federal Motor Carrier Safety Administration imposes a stricter law for truck drivers regarding their blood alcohol concentration (BAC). A trucker is legally under the influence if they have a BAC of 0.04 percent or higher while operating a commercial motor vehicle.
Inadequate maintenance – Trucking companies must regularly maintain all trucks to run properly. Poor maintenance can cause a part or system to malfunction and create issues for the driver.
Failure to check blind spots – The blind spots on tractor-trailers are large and extend farther than the blind spots on small cars. Truck drivers must thoroughly check their blind spots before maneuvering their trucks in any direction to avoid crashing into a vehicle around them.
Tailgating – Driving too close to the rear of someone's car prevents the trucker from stopping in time to avoid a collision. When there isn't enough space between two vehicles, the following motorist can't react quickly and bring their vehicle to a complete stop.
Loading cargo incorrectly – Cargo on any commercial truck must be within specific weight and size limits. It must also be kept in place with the proper securement systems. Using defective straps, loading items beyond the maximum weight limit, or placing loose items on the trailer could throw the vehicle off balance or cause cargo to fall off the back of the truck.
Fatigued driving – Federal law prohibits truck drivers from driving more than eleven hours after ten consecutive hours off duty. Operating a tractor-trailer beyond the maximum limit can lead to fatigue and affect the trucker's physical or mental faculties.
If the truck accident resulted from the truck driver's carelessness or another party's actions, do not hesitate to contact Brach Eichler Injury Lawyers. We can begin an investigation and determine who we can hold liable for your injury.
Common Types of Truck Accidents
The significant weight and massive size of commercial trucks present multiple challenges for truck drivers. Maneuvering a tractor-trailer requires skill, focus, and experience. Even the slightest error could lead to a crash.
The most common types of truck accidents include:
Rollover accidents
T-bone accidents
Head-on collisions
Rear-end collisions
Override and underride accidents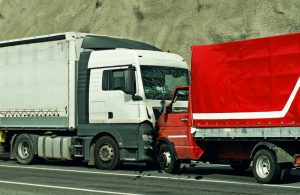 Brach Eichler Injury Lawyers understands the trauma of being involved in a commercial truck accident. Many people require extensive medical treatment to recover. An injury could result in life-changing alterations to a person's health or physical condition and prevent them from resuming their everyday routine.
Our truck accident lawyers in Passaic County, are familiar with the complex aspects of truck accident cases. We know state laws and the legal process we must follow to seek compensation. You can count on us to carefully build a case against the at-fault party and tirelessly work to try to reach your desired outcome.
Compensation for Injuries in a Truck Accident
Every driver in New Jersey must buy personal injury protection (PIP) insurance. This type of coverage pays up to the limit on your policy if you get hurt in an accident, regardless of who is at fault. You must file a claim with your insurance company before pursuing compensation from the at-fault driver's insurer.
PIP offers two types of coverage options:
Medical expense coverage – Medical expense coverage pays for treatment from doctors, hospitals, and other medical providers and medical equipment necessary to treat the injury.
Additional PIP coverage – Additional coverage reimburses the policyholder for expenses related to the accident, such as lost wages and the cost of household assistance.
You have the option of choosing only one coverage or both. The minimum required PIP limit is $15,000. Coverage can go up to $250,000, depending on the type of policy you purchase.
You can pick between a standard and a basic policy. The basic policy includes a limited right-to-sue option. That means you cannot sue the person at fault for the accident for your pain and suffering unless your injury involves one of these:
Loss of a fetus
Loss of a body part
A displaced fracture
Permanent injury
Significant scarring or disfigurement
Death
With the standard policy, you can choose the unlimited right to sue option, which allows you to file a lawsuit against the person who caused the crash. You could pursue compensation for your pain and suffering after any type of injury.
You might be able to file a claim with the trucking company's liability insurance carrier or a lawsuit directly against the negligent truck driver. The compensation you receive could compensate you for your:
Hospitalization, physical therapy, medical devices, ambulance ride, and other medical expenses
Pain and suffering
Loss of enjoyment of life
Emotional distress
Lost wages
Lost earning capacity
Property damage
You might also recover punitive damages if you file a lawsuit. You must show clear and convincing evidence that the defendant's act or omission was malicious or was performed with a willful or wanton disregard for others.
Statute of Limitations for Truck Accidents
In New Jersey, the statute of limitations allows a two-year timeframe to file a lawsuit. That means you must file suit against the truck driver, trucking company, or another at-fault party within two years of the accident date.
Contact Brach Eichler Injury Lawyers
The award-winning attorneys from Brach Eichler Injury Lawyers have decades of experience representing injured clients in New Jersey. We have a proven track record of success in recovering compensation on behalf of accident victims. When you hire us, we will advocate for your rights and fight by your side until the end.
If you sustained injuries in a truck accident someone else caused, call us at (973) 364-8300 today. One of our trusted and knowledgeable Clifton truck accident lawyers can discuss your case with you during a free consultation and advise you about your available legal options.