Clifton Slip and Fall Lawyer 
If you sustained injuries in a slip and fall due to someone else's misconduct, contact the Clifton personal injury attorneys of Brach Eichler Injury Lawyers to discuss the available options. You might be entitled to compensation from the property owner.
Homeowners and business owners must maintain their properties adequately to keep visitors safe. That means they are responsible for inspecting the premises for defects, repairing damage, and placing warning signs to inform guests of dangerous conditions. When a property owner doesn't fulfill their duty to provide safe conditions, and someone gets hurt, they can be liable.
Brach Eichler Injury Lawyers might be able to represent you in your case. Call us at (973) 364-8300 for a free consultation with a Clifton slip and fall lawyer to learn more. 
Slip and Fall Laws in New Jersey
When you are injured in a fall on someone else's property, premises liability laws apply. In New Jersey, property owners owe visitors to their premises a standard of care depending on the type of visitor. Three types of visitors exist in slip and fall cases:
Licensee – A licensee enters a property with the owner's permission for their own purpose. For example, you are a licensee if you attend a friend's party at their home. Property owners owe licensees the highest standard of care. They must keep the property in good condition by repairing defects and warning visitors of defects.
Invitee – An invitee has the owner's permission to enter the premises. A common example is a customer shopping at a store. Owners must provide adequate warning of dangerous conditions. However, they don't have to go out of their way to locate hazards that can cause injury.
Trespasser – A trespasser doesn't have permission to enter another person's premises. Property owners have a minimal duty to prevent trespassers from harm. They must not intentionally or recklessly injure a trespasser. However, owners don't have to warn of unsafe conditions or maintain the property for trespassers.
The only exception to the trespasser rule is when a trespasser is a child. Children, especially toddlers, don't understand the dangers they can encounter on someone else's property. The attractive nuisance doctrine requires owners to take reasonable action to prevent children from accessing hazards that draw interest.
For example, homeowners must install fencing or an enclosure around swimming pools on their properties.
Other common attractive nuisances that could result in slip and fall accidents include:
Wells
Trampolines
Treehouses
Fountains
Tunnels
Ladders
Common Causes of Slip and Falls
A slip and fall occurs when someone slips or trips and gets hurt on someone's property. Unrepaired damage or defects can cause a person to fall and sustain an injury.
The most common hazards in slip and fall cases include:
Obstructed walkways and aisles
Potholes in parking lots
Missing handrails
Inadequate warning signs near dangerous conditions
Loose rugs or mats
Defective stairs
Unusual flooring transitions
Poor lighting in darkly lit areas of the property
Uneven or cracked sidewalks
Slippery floors
Common Injuries in Slip and Fall Accidents
Various injuries can result from a slip and fall. Some people get minor scrapes and bruises, while others sustain severe injuries requiring ongoing treatment to heal. The property owner should be liable regardless of the severity of your injury if they're responsible for the dangerous conditions on their property that led to an accident.
The most common injuries in slip and falls include:
Back and neck injuries
Broken bones
Concussion
Nerve damage
Muscle sprains and strains
Spinal cord injury
Torn tendons or ligaments
Paralysis
Sprained or twisted ankle
Dislocated joints
Compensation Available in a Slip and Fall Case
You can file an insurance claim or lawsuit to recover compensation for your injury. The money you receive might compensate you for your:
Emotional distress
Lost wages
Lost earning capacity
Emergency room visits, rehab appointments, prescriptions, and other medical costs
Loss of enjoyment of life
Pain and suffering
Damage to personal property
Punitive damages are also recoverable in civil lawsuits against property owners. The judge or jury could award punitive damages to you if you present clear and convincing evidence that the at-fault party's actions willfully and wantonly disregarded the safety of others were malicious.
Statute of Limitations for Slip and Fall Lawsuits
You can sue the property owner or another negligent party for the injury you sustain in a slip and fall. However, you must comply with the statute of limitations. In New Jersey, the statute of limitations allows a two-year timeframe to initiate a lawsuit. That means you must file suit within two years of the accident date to seek compensation.
What to Do After a Slip and Fall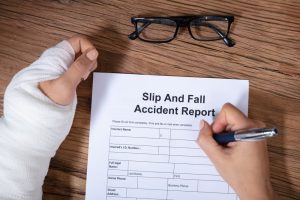 You don't expect to get hurt at a store, restaurant, or friend's house. Although you might be in shock in the aftermath of an accident, taking immediate action is essential. You must seek treatment once you leave the scene of the slip and fall accident. Let a doctor examine you to diagnose your injury. If they recommend follow-up care, listen to their orders.
Continue treating your injury until your medical providers release you from their care. Maintaining adequate records is beneficial. You should keep a copy of every document related to your case. Evidence is valuable in slip and fall cases. You need to prove your injury and the expenses you incur.
You should also contact Brach Eichler Injury Lawyers to determine whether you can pursue compensation from the property owner. We will review the aspects of your case and advise you of the available options. You should not take on the complicated claims process while trying to recover. We can handle every step so you can focus on healing.
Speak to an Experienced Slip and Fall Lawyer Today
At Brach Eichler Injury Lawyers, we understand the burden of getting hurt in an accident the property owner could have prevented. Thinking about fighting the insurance company for an adequate settlement can be overwhelming. However, you don't have to go through this alone.
Brach Eichler Injury Lawyers is ready to protect your rights and pursue maximum compensation for you. We will investigate the accident and obtain evidence to prove the property owner should be liable for your injury. You can depend on our legal team to provide the guidance and support necessary to overcome this challenging time in your life.
If you were injured in a slip and fall someone else caused, call Brach Eichler Injury Lawyers at (973) 364-8300 for your free consultation now.