Clifton Construction Accident Lawyers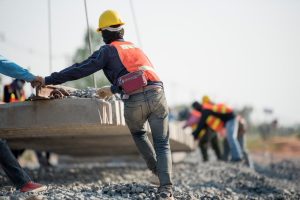 If you were hurt in a job-related construction accident, contact Brach Eichler Injury Lawyers immediately. We might be able to represent you in your claim for workers' compensation benefits.
State law requires all employers to have workers' compensation coverage or approved self-insurance if not covered by a federal program. A construction worker injured on the job can receive wage replacement, medical care, and other benefits.
At Brach Eichler Injury Lawyers, we understand how much a person can struggle after a workplace accident or illness. You can face debt if you can't afford your medical bills and other expenses. You can count on us to protect your rights and fight for the benefits you deserve.
Call (973) 364-8300 or contact us online for a free consultation with one of our dedicated Clifton personal injury lawyers.
Causes of Construction Accidents
Construction workers are subjected to hazards and dangerous scenarios on the job site. Handling toxic materials, heavy machinery, and sharp tools increases the risk of injury and death.
The most common causes of construction accidents include:
Electrical shock
Fall from heights
Inadequate training or supervision
Unsecured scaffolding
Loose objects
Inexperienced or careless employees
Defective equipment and machinery
Lack of safety gear and equipment
Slip/trip and fall
Damaged or missing guard rails
Brach Eichler Injury Lawyers will investigate the accident to determine whether you qualify for benefits. You should receive payments if your illness or injury happens while you are working.
Injuries in Construction Accidents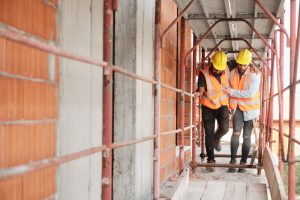 Various injuries can occur in a construction accident, such as:
Loss of limb
Cancer
Spinal cord injuries
Broken bones
Internal bleeding
Mesothelioma
Repetitive motion injury
Paralysis
Vision or hearing loss
Burn injury
Lung damage and respiratory illnesses
Sprains and strains
Nerve damage
Traumatic brain injury
You should contact Brach Eichler Injury Lawyers even if your injury is minor. Your work-related injury or illness should entitle you to workers' compensation benefits.
Workers' Compensation Benefits in New Jersey
Sick and injured employees can recover various benefits through workers' compensation insurance.
Medical Benefits
Medical benefits pay for all reasonable and necessary hospitalization, treatment, and prescriptions for the injury. Employers are allowed to choose the authorized treating doctor.
You will likely pay out of pocket if you see a medical provider your employer doesn't approve. However, you can pick the doctor you treat with for emergency care or if your employer refuses to provide coverage.
Disability Benefits
Workers' compensation insurance provides three types of disability benefits.
Temporary Total Disability Benefits
A job-related injury lasting longer than seven days qualifies for temporary total disability benefits. Payments are 70% of the employee's average weekly wage. However, benefits can't be lower than 20% or higher than 75% of the Statewide Average Weekly Wage.
Typically, coverage ends when the worker reaches maximum medical improvement (MMI) or returns to their job. MMI means additional treatment won't improve the medical condition. Sometimes, the injury is permanent and requires additional benefits.
Permanent Partial Disability Benefits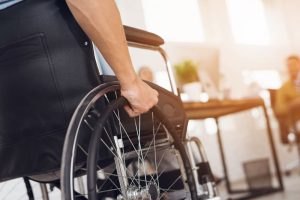 A partial permanent disability entitles an employee to permanent partial disability benefits. Payments depend on a percentage of non-scheduled or scheduled losses.
A non-scheduled loss involves any system or part of the body not included in the list of scheduled losses, such as the lungs or heart.
A scheduled loss includes:
Hands
Feet
Arms
Teeth
Ears
Legs
Fingers
Eyes
Toes
Coverage starts after the date temporary disability benefits end.
Permanent Total Disability Benefits
Workers can receive permanent total disability benefits if an illness or injury prevents them from returning to work or seeking any gainful employment. Coverage also applies when a worker loses two major body parts or a combination of parts, such as:
Payments are 70% of the employee's average weekly wage and are subject to the Statewide Average Weekly Wage. Initial benefits last for 450 weeks. However, they can continue if the employee can prove they cannot earn income.
The Division of Workers' Compensation also administers the Second Injury Fund that pays benefits to workers with a permanent and total disability.
Death Benefits
Families of employees who die in job-related accidents can file a claim for death benefits. Weekly payments are 70% of the deceased's average weekly wage. Each surviving dependent will receive a portion of the available compensation based on a judge of compensation's determination of each person's dependency.
Death benefits also pay up to $3,500 in funeral expenses to the estate or person responsible for the funeral bill.
Compensation for Non-Job-Related Construction Accidents
Anyone can get hurt in a construction accident, even people who don't work on construction sites. A crane can topple during strong winds, unsecured tools can fall from scaffolding, or a negligent company can cause dangerous conditions.
If you are not a construction worker and sustained injuries in a construction accident, you might be entitled to compensation from the at-fault party. You can file an insurance claim or lawsuit for compensation for:
Lost wages
Pain and suffering
Hospital visits, physical therapy, and other medical bills
Emotional distress
Loss of enjoyment of life
Cost of replacing damaged or lost property from the accident
Punitive damages are also recoverable if you file a lawsuit. This type of financial award punishes the defendant for their misconduct. You must provide clear and convincing evidence of the defendant's wanton and willful disregard of others or malice and that your injury resulted from the defendant's actions or omissions.
Statute of Limitations for Construction Accidents
In New Jersey, the statute of limitations for injury cases allows a two-year timeframe to file a lawsuit. That means you must initiate your lawsuit against the at-fault party within two years of the date of the accident.
Speak to a Knowledgeable and Trusted Clifton Construction Accident Lawyer Today
Brach Eichler Injury Lawyers knows the far-reaching consequences of a construction accident. It can disrupt your life and cause financial strain, but you don't have to endure this challenging ordeal alone. We will provide compassionate and aggressive legal representation. You will be our top priority while we handle your case.
If you sustained workplace injuries in a construction accident or were injured while visiting a construction site, call Brach Eichler Injury Lawyers at (973) 364-8300 for your free consultation. We're available 24/7 to speak with you. Let us help you recover the workers' compensation benefits or other compensation owed to you.