New Jersey Construction Traumatic Brain Injuries Attorneys
Construction is a dangerous business. Workers face hazardous conditions almost daily. When employers or third-party contractors skimp on safety precautions, they are putting their workers at an even greater risk.
Unfortunately, traumatic brain injuries are not uncommon in the construction industry. Even with proper safety gear like helmets, the hazards of a negligently maintained construction site can take their toll.
If you are injured on the job, contact the New Jersey construction accident lawyers of Brach Eichler Injury Lawyers for valuable advice. Our team can review your situation and help identify your options for recovering compensation. A traumatic brain injury can change your life. Don't settle for anything less than the full and fair value of your claim. Contact our office at (973) 364-8300 to find out how our team may be able to help.
What Are Traumatic Brain Injuries?
A traumatic brain injury occurs when a sudden force causes damage to the brain. This sudden force is generally the result of an external impact to the head or a penetrating wound like a gunshot. The violent jolt to the head can damage brain tissue and cause disability or even death. Depending on the nature of the injury, the damage can be confined to one location of the brain, or it can impact several different areas of the brain.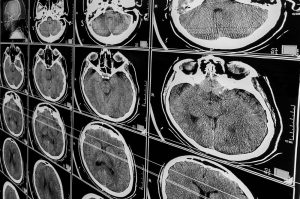 There are two main types of TBIs. The first is a closed brain injury. This type of damage happens when a sudden or forceful impact causes the brain to rapidly move back and forth inside the skull. The force of the brain hitting the skull can cause bruising and damage to blood vessels and brain tissue. A jolt to the head can even trigger chemical changes in the brain that can damage brain tissue.
The second type of TBI is a penetrating brain injury. This type of injury happens when an object breaches the skull. A gunshot wound is one example of a penetrating brain injury, but hazards on construction sites can also result in penetrating brain wounds.
Traumatic brain injuries can also range in severity. Each category of injury has a different range of symptoms and recovery rates. The categories are:
Mild TBI or Concussion
Moderate TBI
Severe TBI
Severe TBIs can impact an individual's physical and mental health for the rest of their life.
How Do Traumatic Brain Injuries Happen at Construction Sites?
The Centers for Disease Control and Prevention list falls as one of the most common causes of traumatic brain injuries in the U.S, just ahead of motor vehicle crashes. Unfortunately, falls also account for a large percentage of construction industry fatalities according to the  U.S. Bureau of Labor Statistics. Falls are also a leading cause of workers' compensation claims in the U.S.
Slip and fall accidents, as well as falls from heights, are both common construction zone dangers. Debris, extension cords, and uneven surfaces are routinely found at construction sites, all of which can pose serious tripping hazards. Ladders and scaffolding are also common on construction sites. When this equipment isn't properly maintained or checked for safety, significant falls and potentially life-altering brain injuries can result.
Complications of Traumatic Brain Injuries
Since there are varying degrees of traumatic brain injuries, there is a wide range of potential signs and symptoms that something is wrong. Some of the most common signs of head injury include:
Loss of consciousness
Headache
Confusion
Dizziness
Balance problems
Vertigo
Dilated pupils
Changes in vision
Nausea
Vomiting
Breathing difficulties
Numbness or tingling in the body or extremities
Drooping eyelids
Facial weakness
Slurred speech or difficulty speaking
Loss of bladder or bowel control
Some of these symptoms can be treated and will improve while others can linger.
The severity of the brain injury and the location of the damage both have a major impact on the medical complications that can result from a TBI. Some of the medical complications that can result from a TBI include:
Confusion
Memory problems
Decreased awareness of self and other people
Problem-solving issues
Paralysis
Issues with motor skills
Poor balance or coordination
Changes in hearing or vision
Blindness
Communication difficulties
Inability to care for themselves
Irritability
Anxiety
Depression
Changes in mood or personality
Persistent headaches
Loss of bowel and bladder control
Traumatic epilepsy
Coma
In mild cases, an individual can make a full recovery. In severe cases of TBI, a victim may be left with life-long physical and cognitive impairments. This can impact everything from a victim's ability to remain employed in construction to their overall quality of life.
What Is a Traumatic Brain Injury Claim Worth?
The value of traumatic brain injury claims can be difficult to calculate. The severity of the injury, how the injury impacts the victim, and the nature of the accident, can all play a role in determining the value of a claim. A dedicated attorney is best qualified to help calculate a victim's losses and negotiate for the compensation that they deserve. An attorney can also help evaluate which path offers a victim the best chance at recovering the money they need since there may be more than one option available for pursuing compensation.
When an accident happens at the workplace, the victim may be entitled to workers' compensation benefits. New Jersey mandates that all employers carry workers' compensation coverage unless they are covered by a federal program. Workers' compensation benefits will generally cover a victim's medical expenses and a portion of their wages while they are in recovery. If the injury leaves the worker with permanent impairment, there may also be benefits due to the worker for that loss.
Construction companies are often known for hiring outside, third-party contractors to help them plan and complete their projects. In some cases, these outside entities can be held accountable if their negligent actions result in an accident. An employee can file a personal injury lawsuit against these third parties, like contractors or manufacturers, even if they are receiving workers' compensation benefits. A lawsuit can help a victim potentially recover money for the following:
Medical expenses
Lost income
Loss of earning capacity
Pain and suffering
Generally, employees are barred from suing their employer if they are accepting workers' compensation benefits. However, third-party companies can be held responsible in some cases.
Contact a Skilled New Jersey Construction Accident Attorney Today
At Brach Eichler Injury Lawyers, we recognize the difficult conditions that construction workers must face every day. When negligence plays a role in an accident, we want to be the first place you turn for valuable information and help to get the money you need.
If a traumatic brain injury incurred on a construction site has changed your life, contact the New Jersey personal injury attorneys at Brach Eichler Injury Lawyers. We can advise you of your rights and outline your legal options. Call our office today at (973) 364-8300 for a free and confidential consultation.