New Jersey Crushing Injuries from Construction Accidents Lawyers
Construction sites are filled with heavy machinery, lumber, steel beams, and powerful tools. Any one of these items can cause catastrophic crushing injuries to on-site workers or even passersby. The Occupational Safety and Health Administration estimates that ten percent of workers are killed when struck by objects on the worksite. Many of these types of accidents cause crushing injuries.
When someone is injured in a crushing accident, the consequences can be life-altering. Often crushing injuries result in devastating tissue damage, amputation, and sometimes death. Victims may never be able to return to the construction industry and may have difficulties keeping up with medical expenses because of their lost income.
The New Jersey construction accident attorneys of Brach Eichler Injury Lawyers aggressively pursue justice and compensation for construction workers injured on the job. Our team includes experienced negotiators and litigators who can help you seek maximum compensation for your injuries and hold negligent parties accountable for their actions.
If you were involved in a construction accident that resulted in a crushing injury, contact the team at Brach Eichler Injury Lawyers to discuss your legal options. We offer a free, no-obligation consultation. Call us at (973) 364-8300 and let's talk about how we may be able to help you get the money you deserve.
What Is a Crushing Accident?
A crushing accident happens when an individual is trapped or pinned between two objects. Crushing can occur when an object comes into contact with a person and pins them to the ground, or between the moving object and another object. Crushing accidents can also happen when a body part is stuck between moving parts in a machine or piece of heavy equipment.
How Crushing Injuries Happen at Construction Sites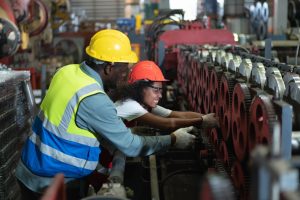 There are many ways that construction site machinery, objects, and vehicles can cause crushing accidents. Heavy machinery and power tools are common culprits of crushing injures. Loose clothing and body parts like fingers, hands, arms, and legs can all become trapped between the components of heavy machinery or tools.
Falling objects can also cause crushing injuries. Lumber, steel beams, and other construction materials can tumble from cranes and the higher levels of a job site. These materials can crush construction workers or passersby, pinning them to the ground and causing catastrophic injuries.
Another source of crushing accidents is construction vehicles like cars, trucks, and forklifts. Negligent driving or improperly trained staff can accidentally crush workers between two vehicles. Drivers can also smash a worker between a vehicle and an immovable object like a wall.
Some of the most common causes of crushing accidents include:
Heavy machinery
Falling objects
Car and truck accidents
Forklift accidents
Trench collapse
Cave-ins
Common Injuries from Crushing Accidents
Crushing accidents can cause uniquely devastating injuries to construction workers, including:
Soft tissue damage
Organ damage
Internal bleeding
Nerve damage
Lacerations
Death
In addition to the injuries created upon impact, there can be significant medical complications associated with crushing accidents. One of these complications is known as compartment syndrome. Compartment syndrome is a dangerous and painful condition that occurs when the pressure in muscle tissue builds to extreme levels.
A crushing injury can put enormous pressure on the body, decreasing the amount of blood flow to the trapped area of the body. Without adequate blood flow, the area of the body affected can begin to die. In serious cases, amputation may be necessary.
Bywaters' syndrome can also result from a crushing injury. This medical condition occurs when a body part is compressed by crushing. The condition results in shock and can lead to kidney failure.
Crushing accidents are extremely serious. Call for medical assistance immediately if there is a crushing accident at a construction site and let medical personnel advise you on the best course of action. In some instances, it is best to allow emergency crews to handle the extraction of the victim. If an individual has been trapped for an extended period, suddenly freeing them can cause tremendous injury, even death. Blood clots that form at the sight of the crushing injury can be released and result in stroke, pulmonary embolisms, or cardiac arrest. Always let medical professionals talk you through how to handle a major crushing event.
Compensation for Crushing Injuries
Most construction workers are familiar with the concept of workers' compensation. In New Jersey, the law requires most employers to carry workers' compensation insurance. If a victim is hurt on the job, no matter who is at fault, the person can typically file a workers' compensation claim. The benefits will generally cover an individual's medical expenses and a portion of their wages for the time period they're off work.
Those injured in construction accidents may also be able to file a personal injury claim or lawsuit against a negligent third-party entity. Construction companies often utilize outside contractors to help them complete their projects. If these outside entities cause an accident through negligence, they can be held financially responsible. Examples of third parties that could be liable for an accident include:
General contractors
Subcontractors
Property owners
Equipment manufacturers
Parts manufacturers
When a third party causes a significant crushing accident, they could potentially be responsible for paying the following:
Medical expenses
Lost wages
Loss of earning capacity
Disfigurement
Emotional distress
Pain and suffering
If you are injured in a crushing accident, talk with an experienced construction accident attorney about your legal options. An attorney will be able to review your situation and advise you on the best course of action for recovering valuable compensation.
Get in Touch with an Experienced New Jersey Construction Accident Attorney
A crushing injury can change your life forever. To seek meaningful compensation that will help you recover physically and financially, talk to a skilled New Jersey construction accident attorney today.
At Brach Eichler Injury Lawyers, we want you to know that you are not alone. Our legal team will help you navigate the workers' compensation or claims process and attempt to recover the compensation you deserve. Talk to a member of our team today by calling (973) 364-8300 to schedule your free and confidential legal consultation.