>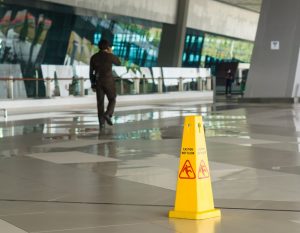 Slip and fall accidents are no laughing matter. A fall can cause traumatic injuries that may put you on the sidelines for an extended period. While you struggle to recover, insurers may be hounding you for a statement, and medical bills are starting to pile up. You want fair compensation fast. What you may not know is how powerful your words are during this time.
What you say in the aftermath of a slip and fall accident can significantly impact your claim. Something as simple as giving a chuckle to diffuse the situation and saying, "I'm okay," can diminish the value of your claim.
At Brach Eichler Injury Lawyers, we want to help slip and fall accident victims understand the weight of their words. That is why we have compiled a list of what not to say during a slip and fall investigation.
Make No Apologies
No matter what, do not apologize to anyone after a slip and fall accident. A simple "I'm sorry," may seem like a harmless statement, but it can come back to haunt you in a big way. If you apologize in any way on the scene or when talking to an insurance adjuster, your apology may be taken as an admission of guilt. Partially admitting guilt, even inadvertently, may diminish the value of your claim.
Do Not Say "I'm Fine"
Slipping and falling can be embarrassing. You may feel your cheeks begin to turn red. Your natural reaction may be to immediately dust yourself off, plant a smile on your face and say, "I'm fine." Laughing off an accident can seem like an easy way to diffuse the embarrassment in the moment, but it can have a terrible impact on a potential accident claim.
Claiming that you are "fine" is akin to admitting that you are uninjured, when in fact, you may have serious injuries because of a slip and fall accident. According to the Centers for Disease Control and Prevention, falls are one of the most common causes of traumatic brain injuries. Do not tell anyone on the scene or mention to an insurance adjuster that you are fine or okay. Let your medical records do the talking for you.
Do Not Say You Are Unwilling to Report the Accident 
Again, the inclination after a fall may be to escape the scene as quickly as possible. However, you need to file an official report with the manager or property owner. Do not say that you are unwilling to report the accident. Give an accurate account of the incident and ask for a copy of the report for your records. Take pictures of the scene if possible and get the contact information of anyone who witnessed the accident.
Do Not Give the Insurer an Official Recorded Statement 
After the incident, an insurer may be in contact with you to get your side of the story. They may ask if they can record your conversation and use it as your official statement about the slip and fall accident. Do not consent to give a verbal recorded statement. If you miss a detail or forget to tell them something, an insurer can end up using your words against you. You may inadvertently give them the ammunition they need to diminish the value of your claim or place partial blame on your shoulders.
If the insurer wants an official statement from you, talk to an attorney. Allow your attorney to communicate on your behalf and manage the relationship between you and the insurance company.
Do Not Say Yes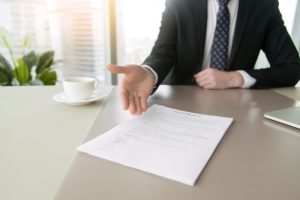 When the company or its insurer makes an offer, do not say yes without consulting with an experienced slip and fall attorney. Insurers are hoping that you say yes to their first offer. Unfortunately, the first offer they throw at you is generally a lowball offer. They are hoping you will say yes because it means that they can resolve the situation with minimal effort and minimal compensation.
Negotiating with a large insurance company can be nerve-wracking and intimidating. Give yourself the best chance possible at recovering maximum compensation and let an experienced attorney negotiate on your behalf.
Reach Out to An Experienced Slip and Fall Accident Attorney 
Have you been injured in a slip and fall accident? Get in touch with a skilled New Jersey premises liability attorney today. At Brach Eichler Injury Lawyers, we are committed to helping slip and fall victims recover the compensation they deserve.
Contact our office by calling (973) 364-8300. Take advantage of our free and confidential legal consultation. You can discuss your situation with a knowledgeable attorney and find out more about your legal options. 
Written by: Brach Eichler Injury Lawyers
Last Updated : March 21, 2023