Written by: Brach Eichler Injury Lawyers
Last Updated : August 28, 2023
New Jersey Construction Accident Falls Lawyers
Construction is a dangerous occupation. Heavy machinery, hazardous conditions, and toxic materials make construction sites uniquely risky workplaces. Yet, falls remain the number one cause of work-related deaths in the construction industry today. According to data from the Centers for Disease Control and Prevention, in 2019, 36 percent of fatalities in the workplace were the result of falls. That means one in three construction workers killed on the job was killed in a fall.
According to the National Floor Safety Council, falls are also one of the leading causes of worker's compensation claims. Unfortunately, construction sites are filled with potential hazards that could cause workers and visitors to the location to suffer from a significant fall. When construction workers are injured on the job, their financial stability may be in jeopardy. Medical costs can be high. Suffering a serious injury means a worker may not be able to get back out into the field and earn a paycheck for some time. What can an injured construction worker do to get by?
And what does a visitor to the site do if they should suffer a slip and fall while on the construction site?
Anyone injured on a construction site in New Jersey should consider getting in touch with an experienced construction accident attorney. Brach Eichler Injury Lawyers New Jersey construction accident lawyers understand how to help slip and fall victims get the compensation they deserve while they heal from their injuries. Whether we help you pursue workers' compensation or file a third-party lawsuit, we can direct you towards the legal options that stand the best chance of helping you recover the money you need. Contact our office today by calling (973) 364-8300 to set up a free legal consultation.
How Do Construction Accident Falls Happen?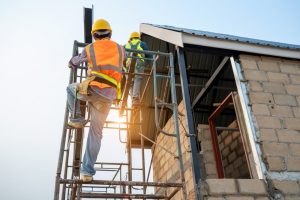 Several different circumstances can result in construction accident falls. In some cases, falls may be the result of a slip and fall type accident. These accidents happen when an obstacle or uneven surface causes a person to slip and fall, causing an injury. For example, someone may trip on an electrical cord left in the open, causing them to fall to the ground. Slip and fall accidents at construction sites can be caused by:
Uneven surfaces like loose boards or carpeting
Uneven stairs
Wet surfaces
Construction debris
Cords and electrical wires
Poor lighting
Lack of training or proper safety equipment
Open holes or pits that are not marked
Falls can also happen off the ground, causing someone to tumble to a lower level. These types of falls are extremely dangerous. Falls to a lower level generally happens due to the following:
Poorly maintained equipment like ladders or scaffolding
Improper training
Lack of proper safety gear
Wet or slippery roof or scaffolding
Improper maintenance or use of lifting equipment
Areas with no guardrails or safety systems
Employers are required to provide a safe work environment for all workers, even in dangerous fields like construction. Property owners and managers have the same obligation to provide a safe environment for visitors. On a construction site, everyone must always follow proper safety procedures. Equipment must be maintained, and safety gear and training need to be provided to all employees. When an employer fails to protect their workers, or a property owner or manager fails in their duty to keep the premises safe, accidents can be the result.
Common Injuries Associated with Construction Accident Falls
People generally don't think of falls as serious. However, falls are the most common cause of traumatic brain injuries in the U.S. according to the CDC. Falls also cost over $50 billion in medical expenses in 2015. Falls can cause significant injuries beyond just bumps and bruises. Some of the most common injuries that are associated with falls include:
Concussion
Dislocated joints
Paralysis
Soft tissue injuries
Facial injuries
Lacerations
Contusions
These types of injuries can be significant and may prevent a visitor to a construction site, a construction worker, or an independent contractor from returning to work, either temporarily or permanently. The cost of medical expenses is only one part of the equation, as these people can end up losing income while they recover from their injuries.
An attorney with Brach Eichler Injury Lawyers can help you seek the money you deserve for medical costs, lost income, and potentially other expenses.
Compensation for Falls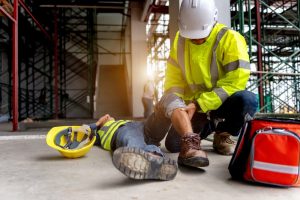 People who are injured on a construction site may have several options available for recovering valuable compensation. For construction workers who are employees, one option may be to file a workers' compensation claim. New Jersey law requires almost all employers to carry workers' compensation insurance. Workers' compensation benefits may be applied, no matter who is at fault for the accident. The benefits generally cover some wage compensation as well as medical expenses.
Construction workers may also be able to sue a negligent third party for compensation. The same is true for independent contractors and visitors to the construction site. Many construction companies hire contractors and outside third parties to assist with projects. If the negligent actions of a third-party cause a serious fall, an injured person may be able to hold that party accountable in court. Examples of third-party entities who may be responsible for a fall include:
General contractors
Subcontractors
Architect
Owner of the property
Equipment manufacturer
Parts manufacturers
If the negligent or careless actions of one or more of these entities cause an accident, a victim can sue for compensation. This compensation may cover medical expenses, lost wages, loss of earning capacity, and pain and suffering.
A skilled New Jersey construction accident attorney can review your case, investigate the accident, and help determine which avenue is right for you. At Brach Eichler Injury Lawyers, we are experienced at handling litigation in the courtroom, but we are also skilled at negotiating on your behalf for the workers' compensation benefits or other compensation you deserve. No matter which legal path is right for your situation, we are confident that our team has the skills and resources necessary to handle your case.
Contact an Experienced New Jersey Construction Accident Lawyer
Construction workers and other people who suffer injuries on construction sites due to falls need legal protection. The New Jersey team at Brach Eichler Injury Lawyers, can help protect those injured on construction sites. We can also help them seek the full and fair compensation they deserve.
Have you been injured in a fall at a construction site? You have rights. Protect them by calling the legal team at Brach Eichler Injury Lawyers today. Call us at (973) 364-8300 to set up a free, no-obligation legal consultation.
FREE CONSULTATION
Speak With a Skilled Auto Accident Attorney
If you have been involved in a motor vehicle accident, call us. We are here for you. The consultation is Free. You will not pay any fees unless we win your case, because here at Brach Eichler Injury Lawyers, it's all about getting results for you.
Our Verdicts & Settlements
---
$5.8 Million Settlement Brach Eichler Injury Lawyers Obtained a $5.8 Million Settlement on Behalf of Injured Client
$5.35 Million Settlement Brach Eichler Injury Lawyers Obtained a $5.35 Million Settlement at Trial on Behalf of a Pedestrian Struck by a Tractor Trailer
$4.8 Million Settlement Brach Eichler Injury Lawyers Obtained a $4.8 Million Settlement on Behalf of a Woman Injured in a Trucking Accident
$2.25 Million Settlement Brach Eichler Injury Lawyers Obtained a $2.25 Million Settlement for an Auto Accident Victim in Bergen County
* Results may vary depending on your particular facts and legal circumstances.
View All Results
Meet Our Trial Attorneys
---
The trial attorneys at Brach Eichler Injury Lawyers have decades of experience with personal injury litigation. We understand the difficulties accident victims experience. Our staff is especially skilled at dealing with medical providers and insurance companies to navigate these claims and allow you to focus on what is truly important - getting back to health.
What Our Clients Are Saying About Us
---
"My case was not a simple case, but Ed Capozzi and his team took it head on. It was a pleasure to deal with Ed Capozzi and Corey Dietz. All their knowledge and fast response to any questions I had throughout the case made it easier on me. I can't forget about Mr. Capozzi's wonderful paralegal. Everybody was kind and thoughtful. This team of attorneys never made me feel like I was just another case. They make you feel like friends. If you need an personal injury lawyer, give Ed Capozzi and Corey Dietz a call! They won't let you down! Thanks to everyone at Brach Eichler Injury Lawyers! You guys rock!"

"I would never choose another law firm!! Mr. Edward Capozzi and Valentina treated me like family. I was scared to go to court but when I did, he was very aggressive and fought for me. I got so much money for my case!! I can't say it enough, THANK YOU!! THANK YOU!!"

" Brach Eichler Injury Lawyers is a top notch law firm. I worked specifically with Mr. Capozzi, and was very impressed with his knowledge of personal injury law, and his commitment to ensuring I got the result I deserved."
* Results may vary depending on your particular facts and legal circumstances.
Speak to an attorney today!
---
If you have been injured in an accident, call us! We are here for you 24 hours a day. The consultation is free. You will not pay any fees unless we win your case, because here at Brach Eichler Injury Lawyers, it is all about getting results for you.