>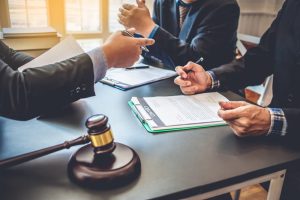 Mediation is beneficial for resolving personal injury matters outside of court. They are confidential, more amicable, and less costly than trial proceedings. However, it can take time to negotiate a favorable settlement. The duration of mediation will depend on multiple aspects of the case, including the severity of your injury, the proposed settlement amount, and each party's willingness to compromise.
How Mediation Works in Personal Injury
Mediators are neutral third parties who oversee the mediation process and offer viable solutions to resolve the matter. They do not issue binding decisions but facilitate the parties in reaching an agreement.
The defendant doesn't always attend mediation. It might be a requirement, or they might decide they want to be present for negotiations. However, they don't have to participate if it isn't mandatory. The insurance representative or defense lawyer typically attends to represent the insurance company's interests.
The parties attending the mediation often sign a confidentiality agreement. The conversations should remain private, allowing everyone to feel more at ease and speak freely.
The plaintiff's attorney will make an opening statement to argue their client's position and present relevant evidence. The defense lawyer can make an opening statement and present evidence to argue against the plaintiff's case.
When opening statements conclude, the mediator might separate opposing parties into different rooms. They can then go back and forth between each side to communicate the other's proposals.
The mediator can't decide on the lawsuit or force either party into a settlement. Their job is to facilitate productive conversations, point out strengths and weaknesses in each case, and suggest ways of resolving the issues.
If mediation ends with a settlement, the mediator will draft an agreement for the plaintiff and defendant to sign. With court-ordered mediation, a judge reviews the signed agreement. The insurance company must pay the compensation agreed to during mediation.
Is Mediation a Requirement in a Personal Injury Lawsuit?
It depends. Sometimes, the judge mandates mediation before setting a trial date. Under some circumstances, both sides voluntarily agree to mediation to negotiate a settlement and avoid going to trial.
What Happens After Mediation?
If successful, the mediator will prepare the official paperwork for each party to sign. Typically, settlement agreements include terms such as:
The defendant's insurance company agrees to pay the settlement amount.
The plaintiff agrees not to continue legal action against the defendant.
The plaintiff agrees not to pursue additional claims for the accident or their injuries or losses.
After signing the settlement agreement, your attorney should file it with the court for a judge to review. At that time, the case ends.
What Happens After Mediation Fails?
Multiple options are available if mediation is unsuccessful, including:
Independent negotiations – Your attorney might propose a settlement to the insurance carrier's defense lawyer without involving a mediator.
Attend another session – Sometimes, multiple mediations are necessary to negotiate the terms of an agreement. Settling the matter after two or more mediations might be possible.
Hire another mediator – You might not like the mediator handling the mediation. You can schedule another session with a different mediator if you and the defendant agree. They might be better suited to directing a favorable outcome.
Prepare for trial – You or the opposing party might decide to take your chances at trial. Preparing for the trial will involve extensive investigations and collecting evidence to present to the jury.
Arbitration – Arbitration is another common type of alternative dispute resolution. Instead of a mediator, an arbitrator meets with opposing parties to negotiate a settlement. The only difference is an arbitrator has the legal authority to enter a legally binding judgment.
How Long After Mediation Can You Go to Court?
 There is no set timeframe. The trial can occur any time after mediation. It depends on when the judge schedules it. Typically, the judge's availability, the timeline of discovery, and other factors will determine when the trial will start.
You might need to continue the discovery process. Collecting more evidence and reviewing the other party's position can encourage another round of settlement talks. If you decide to schedule another mediation, court proceedings won't begin until after.
However, if you completed discovery and believe a trial is a next step that makes the most sense, you can request the judge to set the trial date.
Prepare for Mediation with an Experienced Personal Injury Attorney
You should seek legal representation immediately after getting hurt in an accident someone else causes. If you haven't had a lawyer up until now, contact Brach Eichler Injury Lawyers today. We can prepare you for the upcoming mediation and create a strategy to try to achieve a positive outcome.
Call the New Jersey personal injury lawyers of Brach Eichler Injury Lawyers at (973) 364-8300 for a free consultation right now. Let us help you in the fight for justice.
Related Posts

How to Handle Mediation in a Personal Injury Case
What Happens After a Settlement is Mediated
Written by: Brach Eichler Injury Lawyers
Last Updated : August 24, 2023
FREE CONSULTATION
Speak With a Skilled Auto Accident Attorney
If you have been involved in a motor vehicle accident, call us. We are here for you. The consultation is Free. You will not pay any fees unless we win your case, because here at Brach Eichler Injury Lawyers, it's all about getting results for you.
Our Verdicts & Settlements
---
$5.8 Million Settlement Brach Eichler Injury Lawyers Obtained a $5.8 Million Settlement on Behalf of Injured Client
$5.35 Million Settlement Brach Eichler Injury Lawyers Obtained a $5.35 Million Settlement at Trial on Behalf of a Pedestrian Struck by a Tractor Trailer
$4.8 Million Settlement Brach Eichler Injury Lawyers Obtained a $4.8 Million Settlement on Behalf of a Woman Injured in a Trucking Accident
$2.25 Million Settlement Brach Eichler Injury Lawyers Obtained a $2.25 Million Settlement for an Auto Accident Victim in Bergen County
* Results may vary depending on your particular facts and legal circumstances.
View All Results
Meet Our Trial Attorneys
---
The trial attorneys at Brach Eichler Injury Lawyers have decades of experience with personal injury litigation. We understand the difficulties accident victims experience. Our staff is especially skilled at dealing with medical providers and insurance companies to navigate these claims and allow you to focus on what is truly important - getting back to health.
What Our Clients Are Saying About Us
---
"My case was not a simple case, but Ed Capozzi and his team took it head on. It was a pleasure to deal with Ed Capozzi and Corey Dietz. All their knowledge and fast response to any questions I had throughout the case made it easier on me. I can't forget about Mr. Capozzi's wonderful paralegal. Everybody was kind and thoughtful. This team of attorneys never made me feel like I was just another case. They make you feel like friends. If you need an personal injury lawyer, give Ed Capozzi and Corey Dietz a call! They won't let you down! Thanks to everyone at Brach Eichler Injury Lawyers! You guys rock!"

"I would never choose another law firm!! Mr. Edward Capozzi and Valentina treated me like family. I was scared to go to court but when I did, he was very aggressive and fought for me. I got so much money for my case!! I can't say it enough, THANK YOU!! THANK YOU!!"

" Brach Eichler Injury Lawyers is a top notch law firm. I worked specifically with Mr. Capozzi, and was very impressed with his knowledge of personal injury law, and his commitment to ensuring I got the result I deserved."
* Results may vary depending on your particular facts and legal circumstances.
Speak to an attorney today!
---
If you have been injured in an accident, call us! We are here for you 24 hours a day. The consultation is free. You will not pay any fees unless we win your case, because here at Brach Eichler Injury Lawyers, it is all about getting results for you.