Clifton Bicycle Accident Attorneys
Cycling offers several health benefits to bicyclists and the environment and provides affordable transportation. As a result, bicycle usage has increased over the years, and the better the weather, the more cyclists will be on the road. Unfortunately, cyclists are vulnerable to accidents, and even minor incidents can lead to severe injuries.
When you've been injured in a bicycle accident because of someone else's wrongdoing, you should contact a Clifton personal injury attorney right away. A seasoned attorney can take on your case and file a claim with the at-fault party's insurance company or file a lawsuit against the at-fault party if that becomes necessary. To discuss your legal options with a bicycle accident attorney from Brach Eichler Injury Lawyers, call us at (973) 364-8300 or contact us online.
How Often Do Bicycle Accidents Occur?
Unfortunately, bicycle accidents occur more often than people realize, and with the increased usage of bicycles, there has been an increase in bicycle fatalities. The U.S. Department of Transportation estimates that bicycle fatalities have increased by approximately 8 percent in a recent year.
Common Causes of Bicycle Accidents
Bicycle accidents occur for various reasons. Some of the most common driver-related causes of bicycle collisions on public roads are:
Unsafe lane changes
Turning without looking for cyclists
Driving in or too close to bike lanes or the shoulder
Reckless driving (e.g., speeding, swerving, disregarding traffic signals, etc.)
Distracted driving
Driving under the influence of alcohol or drugs
Common Bicycle Accident Injuries
Even minor bicycle collisions can lead to severe injuries because, unlike people inside enclosed vehicles, cyclists are unprotected from their surroundings. Some common injuries that occur in bicycle accidents include:
Lacerations
Abrasions
Road rash
Strains
Broken bones
Concussions
Traumatic brain injuries
Internal injuries
Spinal injuries
Who Is Liable for Bicycle Accidents in New Jersey?
Generally, a party will be found liable if they failed to act reasonably or broke traffic laws, causing a collision. In cases where a driver fails to keep a proper outlook for bicyclists, and their actions result in a crash that injures the cyclist, the driver will likely be found to be at fault.
It's also possible that a component on your bicycle could have been faulty, leading to an accident. If that's the case, the manufacturing company could be at fault for the accident.
If you were injured due to another cyclist or pedestrian's negligence, their homeowner's or renter's insurance may cover the incident, depending on their policy. However, they can be personally liable if their home insurance does not cover them.
Getting Compensation After a Bicycle Accident
New Jersey is a no-fault state for car insurance purposes. That means injured parties must first turn to their own personal injury protection (PIP) insurance for their medical costs after an accident. A cyclist who was injured may also be covered by their PIP insurance, or they could get their injuries covered by their health insurance.
If your medical expenses exceed the limits of your PIP insurance, you might be able to obtain compensation from the at-fault party's insurance carrier. To pursue those benefits, you might need to prove that your injury exceeds the "serious injury threshold." Your injury must be one of these six injuries to qualify:
Loss of toes, fingers, arms, or legs
Loss of an unborn child
Fractured bones
Significant scarring or disfigurement
Aside from scarring or disfigurement, a permanent injury that is, in medical probability, permanent
Death
Compensation Available in Bicycle Accident Cases
You're entitled to compensation if you were injured in a bicycle accident caused by someone else's wrongdoing. In New Jersey, your PIP coverage or health insurance will provide medical benefits coverage. If you meet the serious injury threshold, you could recover compensation for losses that are considered economic and non-economic. Economic losses are generally quantifiable amounts, including:
Past and future medical expenses
Lost wages
Lost earning capacity
Cost of repair or replacement of your bicycle
Non-economic losses are more difficult to measure because they are for intangibles, such as pain and suffering or mental anguish.
Compensation in New Jersey
New Jersey follows the modified comparative fault rule, meaning that an injured party may only receive compensation if they were less than 51 percent at fault for the incident. So, for example, if the other party's negligence was the sole cause of the accident, they can be found 100 percent liable and will be responsible for 100 percent of the compensation award (either personally or through their insurance). In contrast, if you are found to be more than 51 percent at fault for the accident, you will be barred from recovering compensation from the other party.
On the other hand, if you were found to be 20 percent at fault for the collision, you can seek compensation, but it will be reduced by the percentage of your fault for the accident. In this example, if you were found to be 20 percent at fault and it was determined that your losses totaled $100,000, you would only receive $80,000 from the other party.
Statute of Limitations for Bicycle Accidents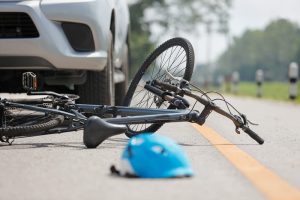 The statute of limitations for personal injury lawsuits in New Jersey allows a two-year period for filing suit. This means that a personal injury lawsuit must be filed within two years of the date of the bicycle accident. If the injured party tries to file suit after the deadline passes, their case may be dismissed, and they could lose the opportunity to pursue compensation through the court system.
Contact an Experienced Bicycle Accident Attorney Today
If you were injured in a bicycle accident in Passaic County that wasn't your fault, contact an experienced Clifton bicycle accident attorney from Brach Eichler Injury Lawyers. We are ready to use our experience and resources to fight for maximum compensation in your personal injury case.
If you were injured in a bicycle crash, you probably have medical bills piling up and might wonder if it's wise to hire an attorney. After all, you've heard that's expensive. Here at Brach Eichler Injury Lawyers, we work on contingency. That means you pay nothing upfront, and you won't owe us any fees unless we get money for you. If we don't get compensation for you, you'll owe us nothing.
If someone else's wrongdoing caused your injuries in a bicycle accident, contact us online today for a free consultation or call us at (973) 364-8300.