Written by: Brach Eichler Injury Lawyers
Last Updated : August 29, 2023
Jersey City Uber/Lyft Accident Lawyers
Whether you use ridesharing services like Uber and Lyft for work or a day of shopping at Newport Centre, there is no denying these services' convenience and relative privacy. By opening an app on your smartphone, you can book a direct trip while avoiding the crowds at the CNJ station.
Being injured in an Uber or Lyft vehicle accident can be a frightening and traumatic experience. It can also be more confusing than an accident that doesn't involve a ridesharing driver and company. In a Jersey City Uber/Lyft accident, you may have many avenues to seek compensation for your injuries and losses. You will need an experienced Jersey City personal injury attorney, like those at Brach Eichler Injury Lawyers, to discover the facts. We can learn the identities of all parties involved and the related insurance companies and go to work finding appropriate compensation for you.
Ridesharing options have increased in Jersey City due to rising demand. This also increases your odds of being injured in an accident involving an Uber or Lyft vehicle. After over 40 years in business in Jersey City, the Brach Eichler Injury Lawyers legal team has experience in all kinds of automobile accidents, including those involving Uber/Lyft vehicles in and around Hudson County.
If you were injured in a rideshare accident through no fault, call Brach Eichler Injury Lawyers at (201) 583-5765 today to schedule a free consultation. We'll discuss your case and review your options for moving forward.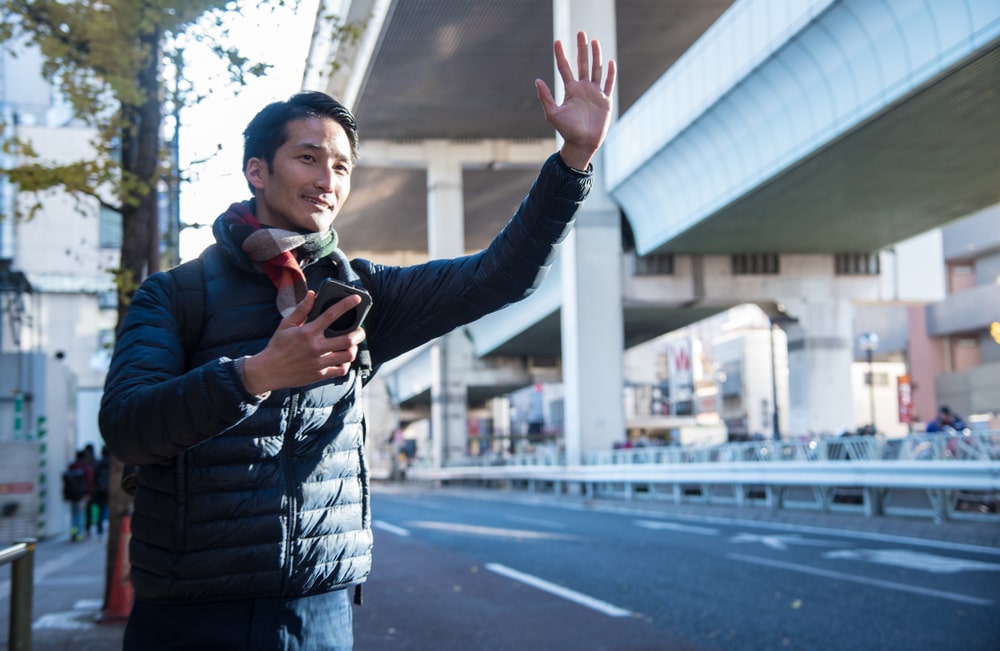 Types of Uber/Lyft Accident Cases Brach Eichler Injury Lawyers Handles
Logging into the Uber or Lyft digital network through a phone app can lead to distracted driving and carelessness, just one of the accidents that Brach Eichler Injury Lawyers handles.
Driving while intoxicated or under the influence
Failure to obey traffic signs
Failure to stop for pedestrians
Failure to yield the right of way
Following another vehicle too closely (tailgating)
Changing lanes carelessly
Road rage
Running a red or yellow traffic light
Unqualified or inexperienced drivers
Unsafe or illegal turns, including U-turns
Unsafe driving for weather conditions
Wrong-way driving
Other negligent or dangerous driving
Under state law, Uber and Lyft vehicles must be clearly identified, and drivers must carry detailed identification. If any of this is lacking, your claim and possible lawsuit are stronger. That's why contacting the attorneys at Brach Eichler Injury Lawyers immediately is important. The sooner you get us on board, the sooner we can gather information to build a strong case for you.
Compensation for Uber/Lyft Accident Cases
Both Uber and Lyft require their drivers to carry insurance that meets the minimum New Jersey requirements, but depending on the policy the driver chooses, it may not apply when that driver is working for Uber or Lyft without specific rideshare coverage or a rideshare endorsement.
Uber Lyft, and any other ridesharing companies offering their services in Jersey City must register as a New Jersey Transportation Network Company (TNC).  These companies fall under New Jersey's Transportation Network Company Safety and Regulatory Act if they "use a digital network to connect a rider to a driver to provide a prearranged ride." This Act is designed to increase the safety of the passengers and mandates specific TNC insurance requirements.
Any TNC operating in the state must apply for a permit from the New Jersey Motor Vehicle Commission (MVC). These permits are only valid for one year and then must be renewed. Uber/Lyft drivers do not need any special permit from the MVC – simply approval by Uber/Lyft according to each company's driver selection and approval policies and procedures.
The laws governing the TNC require Uber/Lyft to provide insurance to meet the TNC Safety and Regulatory Act requirements. According to these requirements, the insurance must cover the driver even when the driver does not yet have a passenger but is logged into the app (digital network) seeking a passenger and when the driver has a passenger.
Uber/Lyft coverage limits
The coverage limits for when the Uber/Lyft driver is carrying a passenger is $1.5 million in liability, plus another $1.5 million in underinsured/uninsured motorist coverage and at least $10,000 for medical payments per person per accident.
If the Uber/Lyft driver is logged into the app merely looking for a passenger but not driving with one, the coverage lowers to $50,000 for death or bodily injury per person, or $100,000 for death or bodily injury for the entire accident, and an additional $25,000 for property damage.
Uber/Lyft accident victims should receive compensation for their injuries, including medical expenses, lost wages, property damage, and pain and suffering. The legal team at Brach Eichler Injury Lawyers will file the correct claims for our clients to ensure this justice happens.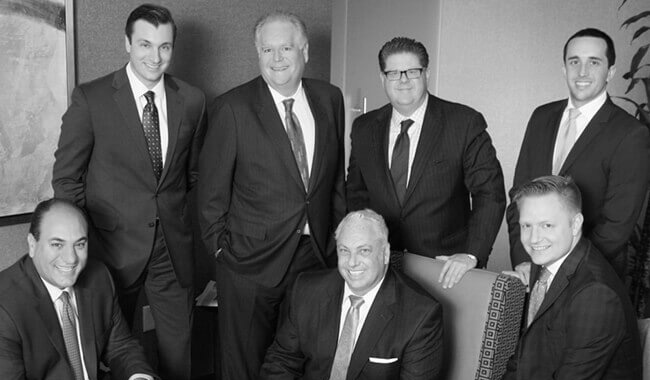 It's All About Results
We are the trial attorneys with the experience and knowledge to get you the results you deserve. At Brach Eichler Injury Lawyers, we take time to get to know you, as well as your case. We are committed to excellence. It is important for our team to understand your fears, concerns and expectations. We are always available to answer any questions, and are willing to come to you if you are unable to come to us.
Contact Our Experienced Law Firm
Who's at Fault for an Uber/Lyft Accident and Why it Makes a Difference in New Jersey?
New Jersey is a no-fault state, which means that if you are injured in an auto accident, you look to your insurance to cover your accident-related medical expenses. After that, you look to the at-fault driver's insurance for compensation beyond what your policy will cover.
If an Uber/Lyft driver causes an accident in which you're injured when they are merely looking for a passenger, you can look to their policy next. After you exhaust their coverage, you may pursue compensation from the Uber/Lyft company policies.
If an Uber/Lyft driver causes an accident in which you're injured when they have a passenger, you would go first through your insurance and then through the rideshare company's insurance policy.
If your Uber/Lyft driver is not at fault in an accident, you must seek compensation from the at-fault driver's insurance company. If the other driver does not have insurance or does not have enough policy coverage to cover your injuries and damages, you should seek a claim against the Uber/Lyft commercial policy.
Timing is very important in New Jersey if you need to file a lawsuit against any parties involved in an Uber/Lyft accident. In most cases, you must file a lawsuit within two years after the accident. Any claim filed in the courts after that will likely be dismissed, and with it, your opportunity to get compensation through the court system.
It's best not to wait to engage an attorney. It takes time to research the accident's facts and get all the appropriate parties into settlement negotiations. If you wait until settlement negotiations stall to engage an attorney, you may already have missed your two-year window.
Why Hiring an Attorney is Important After an Uber/Lyft Accident in New Jersey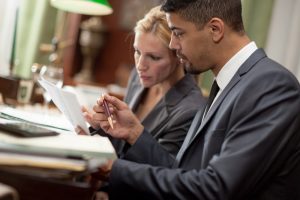 New Jersey also requires TNCs like Uber/Lyft to conduct criminal background and driving record checks on its drivers before hiring them. The attorneys at Brach Eichler Injury Lawyers can conduct an investigation to make sure that New Jersey Uber/Lyft operators meet all of these requirements. If they didn't, we may be able to pursue additional claims against them on your behalf.
If you are a passenger in an Uber/Lyft vehicle in Jersey City, you must gather certain evidence to be able to prove your claims:
Your driver's name and contact information, including their insurance information.
Contact information from any other drivers involved in the accident (including their insurance information).
Contact information from people who were at the scene and witnessed the accident. This information should be on the report if law enforcement showed up to write a traffic report. Get a copy from the officer or the police station.
A receipt from your ride.
A copy of the report about the accident that you make to the ridesharing company. You should be able to do this on your app if you have one. Take screenshots of the report.
If you can, get photographs of the ridesharing vehicle you were riding in, and other photos of the accident scene. If you are injured and cannot take photos, they should be in the accident report.
Additional steps you will want to take:
Seek medical treatment immediately. Do this even if you can walk away from the accident. Save all of your medical records and receipt.
Do not give any statement to an insurance company representative.
Contact the experienced Jersey City Uber/Lyft accident legal team at Brach Eichler Injury Lawyers.
Turn to the Experienced Team at Brach Eichler Injury Lawyers Following an Uber/Lyft Accident in Jersey City
Don't wait around and watch your bills pile up while trying to recover from your injuries and losses in an Uber/Lyft accident. You shouldn't have to focus on anything except your recovery. At Brach Eichler Injury Lawyers, we take on the burden of gathering all of the evidence from your accident and standing up to insurance companies whose job is to deny claims or pay out as little as possible.
We have extensive experience in fighting these battles and will fight for you. We also take the time to get to know you and make ourselves available to answer any questions or concerns you have. Call Brach Eichler Injury Lawyers today at (201) 583-5765 for your free consultation. If you can't come to us, we will come to you. We are ready to roll up our sleeves and get to work so you can get on the road to recovery.