New Jersey Shock and Electrocution Construction Accident Lawyers
Electrical injuries like shocks and electrocutions are one of the Occupational Safety and Health Administration's big four. The big four are the four leading causes of workplace injuries and fatalities in the U.S. Almost nine percent of employees are fatally injured in the workplace due to electrocution.
Unfortunately, construction workers encounter electrical hazards in the workplace regularly. Exposed wires, frayed or damaged power tool cords, overhead power lines, and overworked outlets are a few examples of the dangers construction workers face. Any one of these items can cause a significant electrical burn, shock, or explosion. These injuries are notoriously painful, and the recovery process can be long and difficult.
The New Jersey construction accident attorneys of Brach Eichler Injury Lawyers are committed to helping construction workers injured on the job exercise their rights and pursue meaningful compensation for their injuries. Our team will help investigate the cause of the accident and hold liable parties accountable for their negligent actions. We do it all while you focus on what matters. Your recovery.
For more information on what we may be able to do to help, contact our office at (973) 364-8300. The consultation is free.
Where Do Shock and Electrocution Dangers Come From?
You don't have to work on powerlines to be exposed to the potential dangers of shocks and electrocution. Construction sites contain a variety of hazards that can cause injuries to workers. Tools, frayed cords, even wet spots can all pose a danger to construction workers at the job site. Some of the most common ways that construction workers suffer electrocution injuries include:
Electrical tools that are operated while the cord or plug is improperly grounded
Electrical equipment that is not properly grounded
Electrical tools with frayed or stripped wiring or tools without proper cord insulation
Exposed or bare wires
Overloading extension cords
Hitting an underground power line while digging
Hitting an overhead power line
Operating tools near puddles or wet spots
Electrical wiring that is not placed in the proper polarity
Electrical circuits that do not have proper fuses or breakers attached
Handling old or faulty wiring
Defective electrical equipment
Working in inclement weather like lightning storms
Degree of Electrical Injuries
The severity of a construction worker's electric shock injuries will generally depend on the amount of electrical current they are exposed to. The stronger the current, the more severe the injury. The Occupational Safety and Health Administration outlines the effects of electrocution based on the strength of the current.
Below 1 milliampere – No detectable harm
1 milliampere – Mild tingling sensation
5 milliampere – Slight shock, jarring but generally not painful
6 – 25 milliampere (women) – Painful shock and potential for loss of muscle control
9- 30 milliampere (men) – Painful shock and generally the individual will not be able to "let go"
50 – 150 milliampere – Extremely painful shock, respiratory arrest, muscle contractions, potentially fatal.
1,000 – 4,300 milliampere – Heart rhythm can cease, muscle contractions, nerve damage, death is likely
10,000 milliampere – Cardiac arrest, serious burns, death is considered probable
Water is an excellent conductor of electricity. If the skin is wet or an individual is working in or around wet conditions, shocks and electrocutions can be even more severe.
Types of Injuries from Shock and Electrocution
Electrocution can cause a wide range of significant injuries. The severity of an electrical injury will generally depend on where the current comes into contact with the body, and how long the worker is exposed to the current. Some of the most common electrical injuries include:
Thermal burns
Arc or flash burns
Electrical burns
Loss of muscle control
Broken bones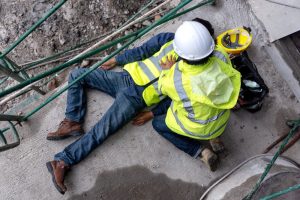 Shock and electrocution can also cause secondary medical problems. These problems may include:
Respiratory arrest
Cardiac arrest
Muscle damage
Nerve damage
Scarring
Death
The effects of electrocution can last long after the initial shock wears off. Electrical injuries can lead to significant scarring and disfigurement. They can also result in physical impairments and organ damage that may cause long-term medical complications in victims.
Compensation for Electrocution Injuries
Construction workers injured in electrocution accidents in the workplace may have several options available for recovering compensation. One option is to file a workers' compensation claim with their employer. New Jersey dictates that most employers carry workers' compensation insurance. These benefits are available to construction workers regardless of who was at fault for causing the accident. Worker's compensation tends to cover a portion of an individual's wages when they're off work because of the accident and their accident-related medical expenses.
Construction workers injured on the job may also be able to file a personal injury lawsuit to recover compensation for their injuries. If a third-party entity is at fault for causing the accident, they can be held financially accountable for their actions. Examples of third-party entities that may be responsible for causing an electrocution accident include:
General contractors
Subcontractors
Property owners
Equipment manufacturer
Parts manufacturers
If an outside company's negligence resulted in an electrocution accident, a victim may be able to recover money for the following:
Medical expenses
Lost wages
Loss of earning capacity
Emotional distress
Pain and suffering
In both instances, an experienced construction accident attorney can help you seek the maximum compensation possible for your circumstances. An attorney can aggressively negotiate with the workers' compensation insurer for the money you need. They can also investigate the accident to determine whether a third party is potentially liable.
Whether we are negotiating or pursuing legal action, the team at Brach Eichler Injury Lawyers will fight to protect your rights and go after the compensation you deserve.
Reach Out to an Experienced New Jersey Construction Accident Attorney
Electrocution injuries can change the course of your future, altering your career path and inhibiting your ability to work in construction again.
If you have been electrocuted while working at a construction site, contact the New Jersey team at Brach Eichler Injury Lawyers today. We strive to protect the rights of injured workers and recover the money they need to move forward with their lives. For a free and confidential consultation, contact our office by calling (973) 364-8300. We are ready to fight for you.