Written by: Brach Eichler Injury Lawyers
Last Updated : August 28, 2023
Jersey City T-Bone Accident Lawyers
You may be entitled to compensation if you've been injured in a T-bone accident caused by a negligent driver. The Jersey City car accident lawyers at Brach Eichler Injury Lawyers can help you get the full compensation owed after a T-bone car accident.
When you're injured in a T-bone accident that wasn't your fault, your first reaction is likely shock and pain. Next comes the realization that you've been injured and that your injuries will require treatment. And with that treatment comes medical bills. And if your injuries keep you off work, you're probably also worried about how you'll pay your regular bills, let alone all the new medical bills that seem to arrive every day. Don't worry. You don't have to go through this difficult period on your own.
The T-bone car accident attorneys of Brach Eichler Injury Lawyers handle cases much like yours every day. We are here to help you get through this situation, to provide legal guidance and support, and to help you get the full and fair compensation you deserve for the injuries you've endured. Call us today at (201) 583-5765 or contact us online for a free consultation. Our experienced lawyers are here, ready to fight on your behalf.
Do I Need a Lawyer?
T-bone crashes can be more dangerous than head-on collisions. In a typical car accident, a good amount of metal, other materials, and an airbag or two can potentially shield you from severe injuries. However, in the case of a T-bone accident, there is not much between you and another driver to protect you from catastrophic injury and even death.
You shouldn't have to pay for your medical bills and other expenses when you're injured in a crash that wasn't your fault. You can attempt to get money for your medical bills and other expenses from the insurance company of the driver who hit you, but that's a complicated, time-consuming process. No doubt you have other things to worry about than trying to coax an insurance adjuster to give you your entitled payments.
Call an Experienced Lawyer
If you are hurt in a T-bone car collision in Jersey City, you must immediately contact a skilled attorney. Whether or not you have a lawyer on your side may mean the difference between getting sufficient compensation to cover all your losses or not. Additionally, an experienced lawyer can help you sift through the difficult and lengthy process of preparing and filing a solid claim and then, if necessary, taking your case to trial.
Determining Who Is At Fault
You'll need to determine who was at fault for the accident that caused your injuries so you can figure out where to go to obtain compensation. It may seem straightforward to you that your T-bone car accident was the other driver's fault. For example, if you were driving on a green light and the other driver ran a red light illegally and collided with your vehicle, it is easy to see that you were guiltless in causing the collision. But appearances don't count. You have to prove that the other party was at fault. Gathering that evidence may be challenging. The other driver may also claim they had the right of way or that you were at fault and forced them to collide with your vehicle.
Without a lawyer, it may be difficult for you to prove the other driver's fault. When you hire Brach Eichler Injury Lawyers, you also hire our years of experience and significant resources. We can investigate the crash, gather the available evidence, and build as strong a case as possible to show that you are owed compensation. We can help you prove fault and advocate for your right to the full compensation you are entitled to.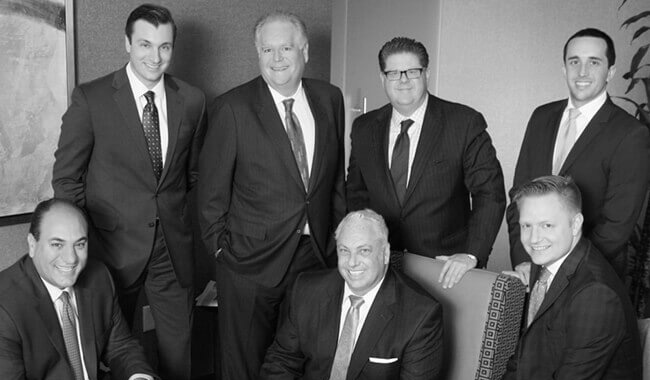 It's All About Results
We are the trial attorneys with the experience and knowledge to get you the results you deserve. At Brach Eichler Injury Lawyers, we take time to get to know you, as well as your case. We are committed to excellence. It is important for our team to understand your fears, concerns and expectations. We are always available to answer any questions, and are willing to come to you if you are unable to come to us.
Contact Our Experienced Law Firm
Why Choose Brach Eichler Injury Lawyers to Handle My Case?
Our attorneys at Brach Eichler Injury Lawyers intend to deliver justice to those injured in car accidents in Jersey City and the greater New Jersey area. Additionally, we are dedicated to getting you the highest compensation available following your accident.
Our firm has received well over $10 million in compensation for our clients. Top legal companies such as Chambers, Best Lawyers, and Super Lawyers recognize many of our practicing attorneys.
We are well-versed in personal injury cases. Many of our lawyers specialize in these types of cases, and we are prepared to fight tooth and nail to ensure that you and your case are properly cared for.
Compensation for T-Bone Car Accidents
Calculating the compensation you're owed after a T-bone accident can be tricky. When we take your case, we will consider both the severity of your accident and the injuries you sustained. The more severe the accident and your injuries, the more money you may be entitled to.
After a T-bone accident, you may have injuries that are so severe that you are unable to work in the present or the future. Additionally, you will likely take on several thousand dollars worth of medical bills and other expenses related to your accident. Unfortunately, these expensive medical bills and your inability to work may devastate you and your family financially.
When you have an attorney, we will do everything we can to help you secure the compensation you need to cover all your losses after your accident.
You may be eligible for compensation for any of these kinds of losses:
Current and future medical bills associated with the accident
Lost wages due to work missed as a result of your accident
Property damage
Pain and suffering
Loss of enjoyment of life
An experienced lawyer from Brach Eichler Injury Lawyers can evaluate your accident, injuries, and other losses to assess your claim's value accurately. We will guide you every step of the way, from filing the claim for compensation with the other party's insurance company to negotiating a satisfactory settlement. Or, if necessary, taking your case to trial.
Call the Attorneys at Brach Eichler Injury Lawyers Today
Following your T-bone accident, you must immediately contact an experienced T-bone car accident lawyer in Jersey City.
Call us today at (201) 583-5765 to schedule a free consultation. Our firm does not require you to pay anything until your case is won and you are paid the compensation owed.