Written by: Brach Eichler Injury Lawyers
Last Updated : November 28, 2023
Accidents involving a driver who flees can be challenging to handle. If you don't know who caused the crash, you don't know who to hold liable for your injuries. Additionally, you can't file an insurance claim or lawsuit against them. The Jersey City car accident lawyers of Brach Eichler Injury Lawyers understand the frustration you might feel in the aftermath of a hit-and-run accident. It can be confusing, stressful, and overwhelming. You can depend on our legal team to track down the negligent driver or determine what other options may be available to you for recovering the compensation you deserve.
You won't be alone during this traumatic time in your life. We will remain by your side from start to finish of your case. You'll have a dedicated advocate in your corner, fighting for justice. Our Jersey City hit and run accident lawyers believe in holding people accountable for their actions. We'll tirelessly work to reach the best possible outcome.
Call Brach Eichler Injury Lawyers at (201) 583-5765 for a free consultation and learn more about our services.
What to Do If the At-Fault Driver Leaves the Accident Scene
Unfortunately, sometimes drivers who hit someone else decide to flee the scene of an accident. New Jersey law requires all motorists to immediately stop if there are injuries or fatalities and wait for law enforcement to arrive. Leaving without reporting the crash or attempting to help the victims is a crime and could result in a fine or jail time.
If you suffered injuries in a hit-and-run accident, the most important thing you should do is remain calm. Although the initial shock could cloud your judgment, there are steps you'll need to take as soon as you leave the crash site to preserve all possible evidence for a claim or lawsuit. It's critical that you protect your rights and put yourself in the best possible position to recover the maximum available compensation.
Go to a nearby hospital or see your primary doctor and discuss your injuries and the right treatment plan. Begin treatment immediately after your initial evaluation. Gaps in treatment can negatively impact the outcome of your case. Insurance companies typically use them as valid reasons to offer a low settlement or deny a person's claim.
You should also hire a Jersey City hit and run accident lawyer within the first couple of days following the crash. While you're treating your injuries, we can focus on the legalities of your case. We'll investigate, gather evidence, and attempt to locate the at-fault driver. If we can figure out who caused the accident, we could file a claim with their liability insurance company.
Filing a Car Insurance Claim in Jersey City
New Jersey has a no-fault car insurance system. You must look to your own insurance company before filing a claim with the negligent motorist's insurer. Personal injury protection (PIP) is required coverage for all drivers in New Jersey. You could purchase a Standard Policy or Basic Policy. Each comes with different limits and coverage options.
A primary difference between the two is that the Basic Policy option doesn't allow the policyholder to file a lawsuit against the at-fault driver unless the victim's injury meets specific requirements. It could be challenging to sue someone after an accident if you chose to purchase this policy.
The minimum required limit for PIP insurance is $15,000. When you file a claim, you could receive upfront payment of your medical bills, prescription drug costs, lost wages, out-of-pocket expenses, and other costs associated with the accident. Once you exhaust the limit, you could file a liability claim to cover any remaining losses.
If we figure out who the other driver involved in the accident was, we could request a copy of their car insurance policy to determine the available coverage.
Filing a liability claim could get you compensation for:
Pain and suffering
Emotional distress
Property damage
If we're never able to track down the driver that caused your injuries, there might be another option for recovering the monetary value of your losses. Uninsured motorist coverage (UM) is optional and is available to anyone purchasing a car insurance policy. The minimum required limits are equal to the liability limits you chose. UM can be used when the at-fault driver doesn't carry liability coverage or the accident resulted from a collision with a hit-and-run driver.
Filing a UM claim could compensate for multiple losses, such as:
Medical expenses
Pain and suffering
Lost wages
Loss of earning capacity
Property damage
Brach Eichler Injury Lawyers can assist you with your insurance claims so that you recover the maximum compensation necessary to pay for your total losses. You should not be left with any bills to pay yourself. The insurance company should offer an adequate settlement, so you're not forced to pay out-of-pocket for your medical care and other costs.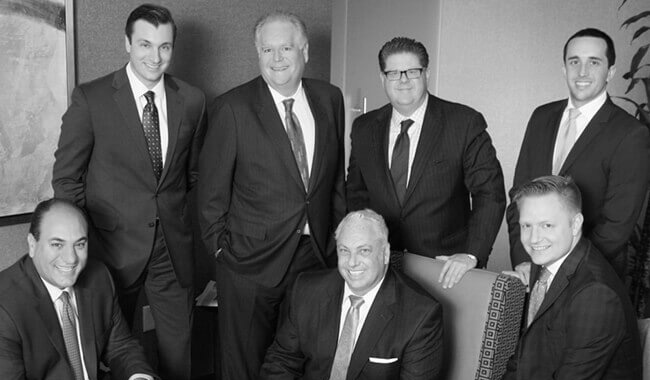 It's All About Results
We are the trial attorneys with the experience and knowledge to get you the results you deserve. At Brach Eichler Injury Lawyers, we take time to get to know you, as well as your case. We are committed to excellence. It is important for our team to understand your fears, concerns and expectations. We are always available to answer any questions, and are willing to come to you if you are unable to come to us.
Contact Our Experienced Law Firm
Deadline to File a Lawsuit
Sometimes, filing an insurance claim isn't enough. If we can't track down the other driver or the insurance company denies your claim, the next step is filing a lawsuit.
The statute of limitations to sue someone after a car accident in New Jersey is two years. That means there's a two-year timeframe from the accident date to initiate a lawsuit in court. Once the deadline passes, you'll likely lose your right to hold the at-fault party liable for their negligence through the court system.
Speak to an Experienced Jersey City Hit-and-Run Accident Lawyer
At Brach Eichler Injury Lawyers, we dedicate our time and energy to each case we take. You will feel like a priority with our personalized services and one-on-one attention. We won't let you go through this devastating experience alone. Our legal team will stand by you in the fight for justice. We're available 24 hours a day, seven days a week, so you can reach us whenever you need us. You can feel confident knowing you're in dedicated hands.
If a hit-and-run driver caused your injuries in a car crash, do not hesitate to reach out to Brach Eichler Injury Lawyers for legal representation. We have the experience and resources you need to secure a favorable outcome in your case. Call us at (201) 583-5765 for a free consultation.