New Jersey Medical Malpractice Wrongful Death Attorneys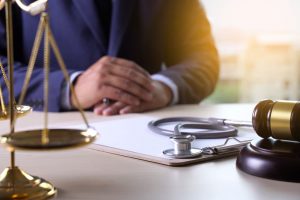 Losing a loved one is always painful. However, when that loved one has died because of the actions or inaction of a medical professional who failed to competently perform their duties, the loss of life is particularly tragic. You and your loved put your faith in the doctor's ability to provide competent care. Instead, your loved one lost their life. You could pursue justice and compensation for your loss.
The experienced New Jersey wrongful death lawyers of Brach Eichler Injury Lawyers understand that no amount of financial compensation will make up for the loss of your loved one. However, it is important to hold the negligent medical professionals accountable for their lack of competence. We could help you file a wrongful death claim to pursue compensation that might relieve any financial hardship that the preventable death of your loved one has caused you. Furthermore, holding the responsible parties accountable will make it less likely that such a tragedy will happen to others in the future.
Our lawyers recognize how difficult it can feel to contemplate legal action when you are still in the process of grieving your loss. That's why we offer a free consultation with an experienced and compassionate attorney in the privacy of our office so that you can discuss your case. Call us today at (973) 364-8300 or contact us online for your free consultation and let us help guide you through this difficult time.
What Is Medical Malpractice?
Medical malpractice occurs when a doctor or other medical professional fails to competently perform their medical duties, leading a patient to suffer some form of harm. When medical malpractice leads to the patient's death, the patient's loved ones are eligible to file a wrongful death claim.
To prove that your loved one died as a result of medical malpractice, you must be able to demonstrate the following:
Your loved one had a physician–patient relationship with the medical professional. In other words, your loved one hired the medical professional, and that person agreed to work for your loved one.
The medical professional or doctor was negligent. Demonstrating negligence is not about proving that the medical professional's work fell short of what might be considered the best possible care. Rather, it is about showing that the medical professional failed to provide the kind of care that a reasonably competent, skillful, and careful similarly qualified medical professional would have given your loved one under similar circumstances. In New Jersey, proving this point requires testimony from a medical expert who can declare under oath that the at-fault caregiver's care fell outside acceptable standards or treatment practices.
The medical professional's or doctor's negligence caused your loved one's death. You must be able to prove that the at-fault party's incompetence was more likely than another factor (such as a preexisting condition) to have been the direct cause of your loved one's death.
Common Types of Medical Malpractice
While a wide variety of situations can lead to a medical malpractice claim, most cases fall into one of the following three categories:
Failure to diagnose – If your loved one died due to an illness or condition that their doctor did not diagnose, and if a competent doctor would have made a correct diagnosis, you may have a viable medical malpractice claim.
Improper treatment – If your loved one received treatment from a doctor that no other competent doctor would have provided, the doctor might be liable for medical malpractice. Similarly, if the doctor administers a correct treatment but does so in an incompetent fashion, this may also constitute medical malpractice.
Failure to warn a patient of known risks – A doctor's duty is to warn a patient about known risks of a course of treatment or procedure and obtain their informed consent before proceeding with the treatment or procedure. If your loved one would not have elected to undergo the procedure if they had been properly informed of the risks but instead died due to one of the risks they should have known about, you may be eligible to file a medical malpractice claim against the doctor.
In all these circumstances, it is important to remember that the incompetent action must be the likely cause of your loved one's death in order for it to qualify as a viable wrongful death claim. If the doctor performed their duties incompetently, but your loved one's death was caused by another factor, your claim will probably be rejected. The legal team at Brach Eichler Injury Lawyers can help you make a determination about the viability of your case.
Who Is Eligible to File a Wrongful Death Lawsuit?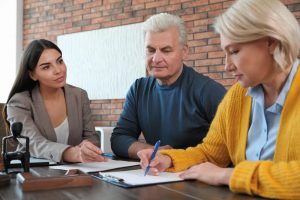 New Jersey law allows only specific relatives to file wrongful death actions. These are:
The surviving spouse and children
If no spouse or children survive the decedent, then the decedent's surviving parents
If no parents survive the decedent, then the victim's surviving siblings, nieces, or nephews
Importantly, in order to have standing to file a wrongful death claim, the would-be plaintiff must have one of these relationships and must also prove that they were financially dependent on the decedent.
Compensation Available for Wrongful Death
In New Jersey, wrongful death plaintiffs may only recover economic damages. These include compensation for:
Loss of income, including wages and benefits that the victim would have earned and contributed to the survivors, minus any income taxes and amounts the decedent would have spent on personal maintenance.
Loss of services, including assistance, guidance, and training the victim would have provided.
Reasonable funeral and medical expenses.
Contact a New Jersey Wrongful Death Attorney Today
If you have lost a loved one due to the incompetence of a medical professional in New Jersey, you should not be forced to suffer financially when you are already feeling the weight of grief. The experienced wrongful death lawyers at Brach Eichler Injury Lawyers are here to help you get through this difficult time with the compassion and dignity you deserve.
New Jersey law limits the time in which survivors are able to file a wrongful death claim to two years from the date the victim passed. Therefore, it is important that you contact us as soon as you feel you are able, so that we can begin taking the steps that are needed to get you the justice you are owed. Call us at (973) 364-8300 or contact us online for a free consultation and let us get to work for you.