Written by: Brach Eichler Injury Lawyers
Last Updated : August 28, 2023
Jersey City Uninsured Motorist Accident Lawyers
What happens if you're involved in a car crash with an uninsured driver? You might worry that you can't recover compensation or hold them liable for their actions. The Jersey City car accident lawyers of Brach Eichler Injury Lawyers are familiar with cases like this. We have the experience and resources to determine all your available legal options and pursue the financial award you deserve.
A car accident can lead to significant financial struggles, especially if you can't afford the upfront payment for your medical treatment. If you don't have health insurance, you could end up in debt because of the expense of treating your injuries. The undue stress of the financial burden and the crash can affect your job, family, and emotional well-being.
The Jersey City uninsured motorist accident lawyers of Brach Eichler Injury Lawyers can take on your case and help you hold the at-fault driver accountable for the suffering you were forced to endure. Call us today at (201) 583-5765 for your free consultation.
Filing a Car Insurance Claim
Typically, if someone else causes a car accident, you could file a claim with their liability insurance company. However, New Jersey is a bit different than most states. It's one of several states that follows a no-fault system. That means you must file a claim with your own insurance company before turning to the at-fault driver for compensation.
When you file a personal injury claim (PIP), the payments required for the cost of medical treatment, prescription drugs, out-of-pocket expenses, lost wages, and other financial costs are covered up to the limit on your policy. The minimum required limit is $15,000, but there's an option to purchase more coverage when you buy your insurance policy.
Under normal circumstances, after exhausting your limits, you could then file a liability claim. However, what happens if you discovered that the negligent driver doesn't carry liability insurance? If you have remaining losses your PIP claim didn't cover, you'll need to find other sources of compensation.
Uninsured motorist (UM) is optional insurance coverage in New Jersey. If you chose to add it to your policy, it could provide the compensation you need for various losses, such as:
Property damage
Out-of-pocket costs
Lost wages
Pain and suffering
Every car insurance company is different. It's crucial to review your policy before filing a claim. Brach Eichler Injury Lawyers can handle that for you. We'll determine the available coverage and which losses you can seek compensation for. Not all policies cover the same monetary losses.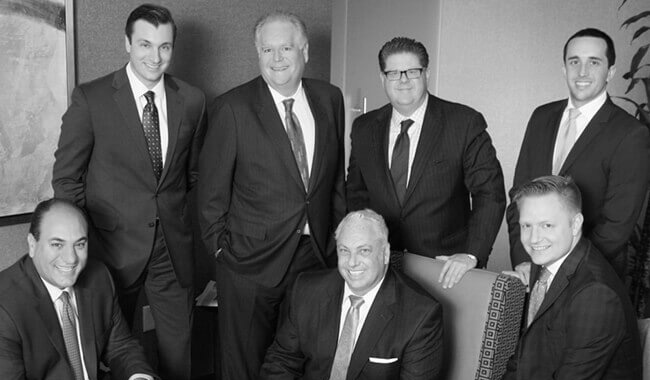 It's All About Results
We are the trial attorneys with the experience and knowledge to get you the results you deserve. At Brach Eichler Injury Lawyers, we take time to get to know you, as well as your case. We are committed to excellence. It is important for our team to understand your fears, concerns and expectations. We are always available to answer any questions, and are willing to come to you if you are unable to come to us.
Contact Our Experienced Law Firm
Filing a Lawsuit Against the Uninsured Motorist
Filing an insurance claim isn't your only option after a car accident. You could file a lawsuit if the at-fault driver doesn't have insurance. You must follow a strict deadline called a statute of limitations. New Jersey has a two-year statute, meaning you must file suit within two years of the crash date. If the timeframe passes and you try to initiate legal action, the court will likely dismiss your case.
Lawsuits not only allow for the recovery of monetary losses but might also provide punitive damages if particular circumstances exist. Instead of compensating you for your losses, these damages are a financial award the jury provides to punish the at-fault driver for their actions. They will only issue a judgment for punitive damages if you provide clear and convincing evidence that the other driver acted with malice or a willful or wanton disregard for other people.
How to Handle an Accident with an Uninsured Motorist
Most people don't understand the steps they need to take after a car accident. You might think seeing your doctor is the only necessary step. However, there's so much more to this type of case. Once you leave the accident scene, go to the hospital for an evaluation of your injuries. Ask the doctor for their recommendation of a treatment plan and begin it right away. Also, be sure to hire a Jersey City uninsured motorist accident lawyer. While you're attending your doctor's appointments, the team of lawyers at Brach Eichler Injury Lawyers can take on the legal aspects of your case.
It's vital that you avoid posting anything on social media. Believe it or not, insurance companies and defense attorneys look at an accident victim's online accounts for evidence to disprove an injury. They might find a recent photo that discounts your claim of a broken bone or head trauma.
You should keep copies of all documentation related to the case. That includes hospital records, rehabilitation records, surgical reports, imaging tests, and billing statements. Brach Eichler Injury Lawyers can also request copies of everything to prove that you suffered an injury and what treatment you required to recover.
If the insurance company calls you or requests that you sign any forms, give them our contact information. We can handle the communication with them on your behalf. Many companies use sneaky tactics to get claimants to admit fault for the crash or waive their rights to the maximum available insurance coverage. We can speak with them throughout the entire process, so you don't say or do the wrong thing that negatively affects your case.
Contact Us for a Free Consultation
The Jersey City uninsured motorist accident lawyers of Brach Eichler Injury Lawyers offer an initial consultation for free. You can receive the legal advice and guidance you need to make an informed decision about what to do after a car crash. We take cases on contingency. If you choose to hire us, you won't have to worry about upfront fees or costs. We don't get paid unless you get paid.
At Brach Eichler Injury Lawyers, we take personal injury cases seriously. You will be our top priority from the second you walk into our offices. What happened to you is unfair, and it might seem like there's no solution in sight. You can depend on our legal team to exhaust all resources and tirelessly work to achieve your desired outcome.
We've been able to recover over $300 million for accident victims throughout New Jersey. Multiple organizations, including Super Lawyers and the Multi-Million Dollar Advocates Forum, have given us awards for the dependable services we provide and the case results we've achieved.
If an uninsured motorist caused your injuries in a car accident in Jersey City, call (201) 583-5765 to discuss your case during a free consultation and learn how we can help you in your time of need.