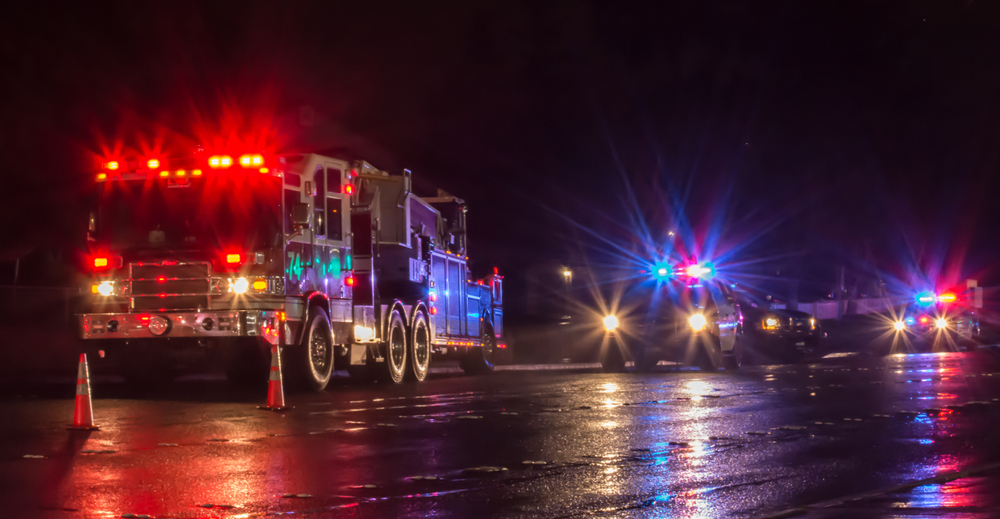 Newark – Partial Collapse of NJ Mansion Hurts Firefighters
A partial collapse that happened during a fire inside a historic mansion in Newark last Thursday October 17 left a couple of firefighters injured.
A group of firefighters responded to the fire that started just before 8 p.m. at a three-story building in the 100 block of Clinton Avenue. The building affected by the fire, Kastner Mansion, was a historic mansion built around 1890, according to the city's public safety department.
Witnesses at the scene say that flames had ignited the top floor of the Kastner Mansion, before engulfing most of the building. One group of firefighters were briefly trapped inside the blaze when the first-story ceiling of the building gave way, partially collapsing the building. After a brief scuttle, the firefighters were able to free themselves from the wreckage and get out with minor injuries. One firefighter suffered from a knee injury, whicle another firefighter suffered from an injury just above the eye.
It took Newark firefighters, together with members of the Bloomfield and Elizabeth fire departments four hours to put the blaze under control. Thankfully, the building is currently vacant and no civilians were harmed.
We are incredibly happy that no one was seriously hurt in the fire. Firefighting can be a very dangerous job and injuries while on the job can be very common. Buildings react very differently to fires, some keep their integrity and some may collapse because of the blaze. There may also be toxic fumes that seep out because of the heat from the flames. This is why injuries can occur, and chronic illnesses may develop from inhaling those toxic fumes. firefighters can file a workers' compensation claim for these injuries. Time is of the essence when filing these claims as insurance companies may decline a claim for an accident that did not happen recently.
We at Brach Eichler, LLC admire firefighters for the bravery they posses and the safety they provide people.
If someone you care about was killed or severely injured in an accident, there may be a lot going through your head. The NJ injury attorneys of Brach Eichler Injury Lawyers have helped people like you fight for justice. We will discuss all of your legal options with you, free of charge. Call (973) 364-8300 to get in touch with one of our knowledgeable attorneys.
Note: This blog reports on the types of cases our firm has extensive experience handling. It is painful to learn of the prevalence of these serious accidents, and it is our sincere hope that future catastrophes can be avoided. Our blog posts are written from scouring recent news stories. As more information is revealed, these stories may be updated. If the information in this blog article is outdated or false, please let us know so we can add updates or corrections.
Disclaimer: By showing the frequency of these serious accidents, Brach Eichler Injury Lawyers hopes that more will be done to prevent them. Another aim is to give readers information that can be used to help them reduce the likelihood they are involved in a serious accident. Content on our blog is not legal advice.