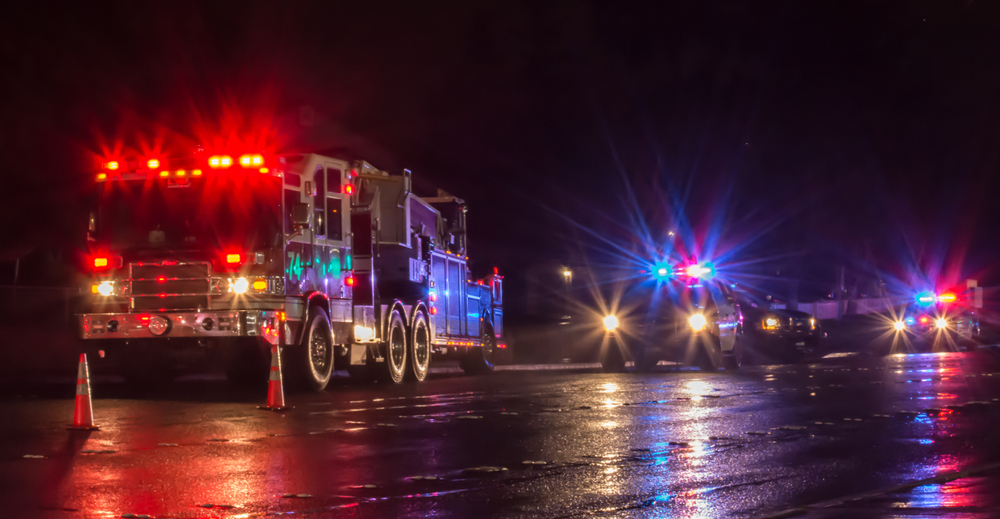 Three firefighters from Linden were sent to the hospital after their fire truck was hit by a tractor-trailer on the New Jersey Turnpike Tuesday morning, October 29.
Details are still hazy about the crash involving a fire truck and a tractor-trailer that happened on the New Jersey Turnpike, State Police said in a statement. State Police added that the investigation done with Linden police discovered that the truck which was responding to a call on the NJ Turnpike was turning onto the Wood Avenue emergency access road when it was hit by the tractor-trailer at around 5:10 p.m.
State Police continued that one of the fire fighters suffered from heavy injuries and had to be cut out from the truck using emergency equipment. Two other firefighters also sustained minor injuries from the crash. All three firefighters were brought to the University Hospital in Newark, where their injuries were not considered as life-threatening. All three firefighters are expected to make full recovery.
The firefighters said they were responding to a motor vehicle crash at the northbound lane of the New Jersey Turnpike, near milepost 99.2, according to police Lt. Christopher Guenther.
We would like to send our sympathies to the firefighters hurt in this accident, and we hope for their speedy recovery from his accident. Being injured due to a crash can be very stressful to deal with. Medical bills and insurance claims can be hard difficult to sort out. The New Jersey Turnpike is one of the most common areas where crashes occur. New Jersey State Police reports that 71 crashes occurred in the New Jersey Turnpike in 2017 alone. New Jersey State Police reminds drivers to be more careful and focused when driving on the New Jersey Turnpike, as the high speeds can make it hard to avoid crashes from happening. We can all help make the roads of New Jersey safer by following laws and being focused on the road.
If someone you care about was killed or severely injured in an accident, there may be a lot going through your head. The NJ injury attorneys of Brach Eichler Injury Lawyers have helped people like you fight for justice. We will discuss all of your legal options with you, free of charge. Call (973) 364-8300 to get in touch with one of our knowledgeable attorneys.
Note: This blog reports on the types of cases our firm has extensive experience handling. It is painful to learn of the prevalence of these serious accidents, and it is our sincere hope that future catastrophes can be avoided. Our blog posts are written from scouring recent news stories. As more information is revealed, these stories may be updated. If the information in this blog article is outdated or false, please let us know so we can add updates or corrections.
Disclaimer: By showing the frequency of these serious accidents, Brach Eichler Injury Lawyers hopes that more will be done to prevent them. Another aim is to give readers information that can be used to help them reduce the likelihood they are involved in a serious accident. Content on our blog is not legal advice.