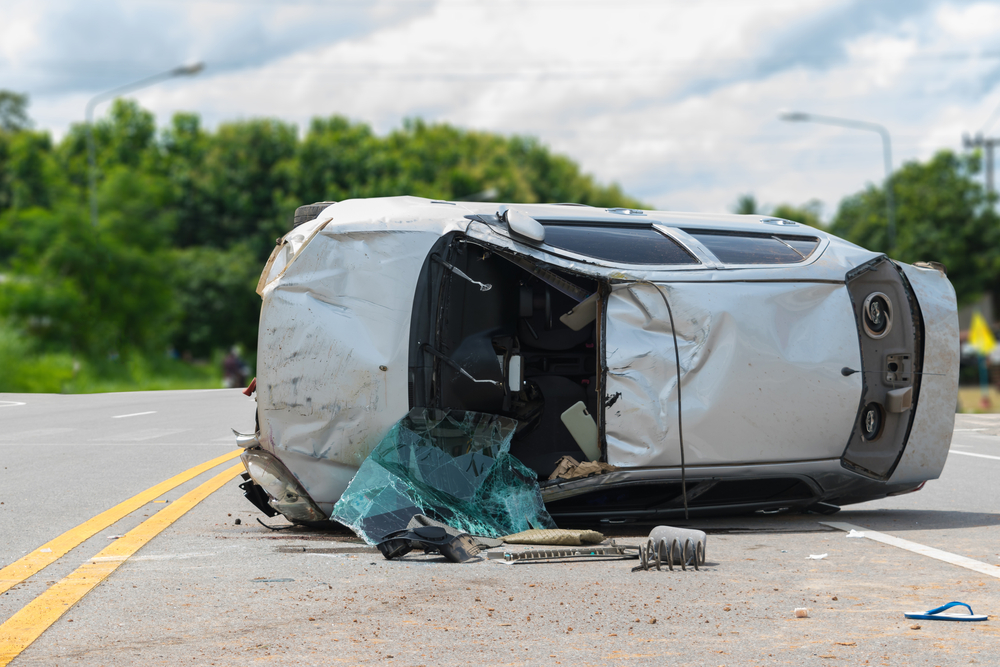 The driver of a Honda Accord was extremely thankful to the good Samaritans who stopped and helped her after a crash in Edgewater Wednesday morning, October 30.
Edgewater Police Chief Donald Martin said that witnesses of the accident told authorities that the accident happened around 8 a.m. on River Road near Glenwood Avenue. The victim was driving her Honda Accord when it hit a Tesla's rear passenger side tire. The victim's vehicle then flipped and landed on its side, witnesses continued.
A few of the witnesses of the crash stopped and went to help the driver of the Honda Accord. One of the witnesses, 52 year-old Russell Otero, said that when they got to the overturned vehicle, there was a woman trapped inside. Otero then climbed inside the vehicle and tried to calm the driver who was stuck and hanging with her seat belt on. Otero added that the couldn't unlock the seat belt to free the driver, so he did everything he could to calm the understandably shocked and crying driver.
The other good Samaritans helped hold the car steady so that it would not fall onto its roof.
When emergency medical services arrived, they examined the victim and determined she did not suffer from life-threatening injuries. The victim was taken to a local area hospital.
It's extremely heartwarming when good Samaritans show up and help victims of a crash. Crashes can be very scary and having helpful faces in the scene of the accident can make all the difference. Car crashes can be more dangerous whenever the vehicle starts to flip on its side, or overturn. Centrifugal forces from the crash can contribute to injuries like broken bones, brain injuries, and at times, death. Police continue to remind drivers to be more careful on the road and to avoid being distracted by things like mobile phones. We hope the driver recovers well from the accident.
If someone you care about was killed or severely injured in an accident, there may be a lot going through your head. The NJ injury attorneys of Brach Eichler Injury Lawyers have helped people like you fight for justice. We will discuss all of your legal options with you, free of charge. Call (973) 364-8300 to get in touch with one of our knowledgeable attorneys.
Note: This blog reports on the types of cases our firm has extensive experience handling. It is painful to learn of the prevalence of these serious accidents, and it is our sincere hope that future catastrophes can be avoided. Our blog posts are written from scouring recent news stories. As more information is revealed, these stories may be updated. If the information in this blog article is outdated or false, please let us know so we can add updates or corrections.
Disclaimer: By showing the frequency of these serious accidents, Brach Eichler Injury Lawyers hopes that more will be done to prevent them. Another aim is to give readers information that can be used to help them reduce the likelihood they are involved in a serious accident. Content on our blog is not legal advice.